App of the Week: Nike, the All-in-one Health App
Whether you are trying to reach a fitness goal, wanting to eat healthier or need motivation to get a use out of those running shoes you bought a year ago, the Nike Training Club app can help.
The app has so much content that it compares and even rival competitors' subscription based apps all while being completely free (expect, of course, for the powerful brand loyalty).
So if you're on the lookout for a new health app companion or an (almost) personal trainer to guide you from couch potato to athletic superstar, don't let Nike Training Club pass you by.
The Nike Training Club from premium to free
At its release the Nike Training Club app used to be offered in a free version with limited access and a premium $14.95/month subscription to get access to all the workout routines.
Once the pandemic hit, gyms locked up and offices closed across the world, Nike changed their strategy and offered the premium features free for 90 days to help people stay in shape while being cooped up indoors. Nike sportswear sales quickly soared after abandoning the paid subscription model and Nike as a result decided to offer the app for free moving forward.
That's your luck, because the app is packed with information about strength training, high intensity interval training, yoga workouts, nutrition and wellness tips and more.
Their new strategy combined with a fluent UI and logical UX made their app a market winner and the reason we have chosen it as App of the Week.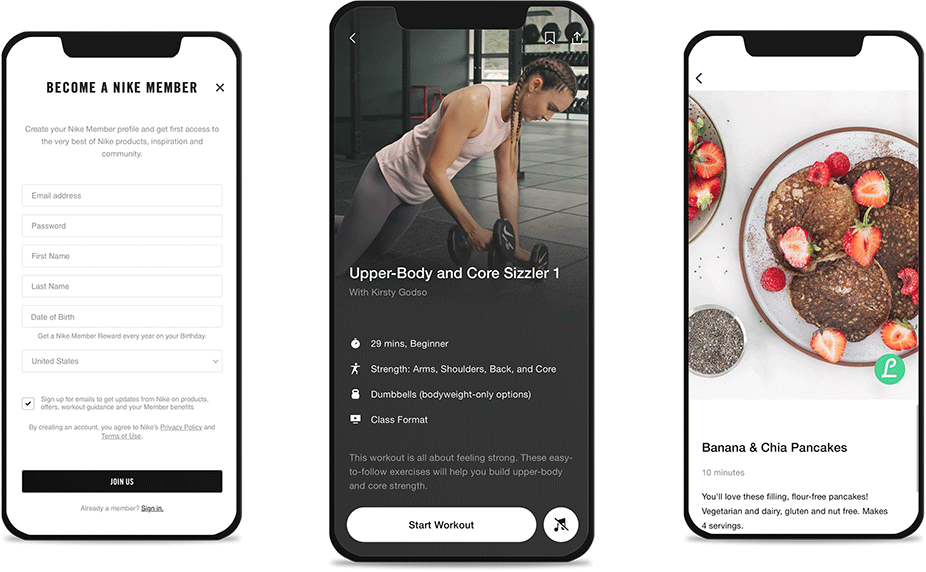 App install, smart watch and TV
When you first start the app, you'll sign up for an account. It'll then ask you about your sex and how many times you want to work out a week. It uses this information to customize workout plans for you to try.
If you are an Apple Watch owner you can sync the app to your watch and start monitoring heart rate, calorie burn and more exercise statistics.
You can also display all workout videos on your TV either by Airplay on iOS or Chromecast on Android.
Plenty of workouts in the app
In the main menu you can choose to dive right into the workout programs. The programs range from beginner, intermediate to advanced and can be selected based on muscle group, workout focus (endurance, mobility, strength or yoga) or equipment usage (basic, full equipment or no equipment)
Each workout is a well-choreographed video session guided by a trainer and his or her workout buddies. The instructions explained throughout the workout are easy to understand and you can get away with the occasional glance at the video because they are well explained. Every workout is so engaging that you almost are surprised once the timer reaches 0 and the class is over.
Fortunately, there are plenty of workout videos to choose from (currently 435), so chances are you will not run out of fresh content.
Healthy recipes for the fitness minded
The app is accompanied by healthy recipes low in calories and high in proteins. Each recipe includes the time to make it, what ingredients are needed and how much, instructions on how to make it and nutritional information. There's a strong focus on vegetarian and gluten free recipes.
There is also a library of nutrition tips articles, such as "A Simple Way to Eat Healthier" and "5 Ways to Eat a Little Healthier Today". They will have helpful advise on how to not feel deprived of food, shifting focus to other food groups and re-framing that treating yourself doesn't mean giving up desserts.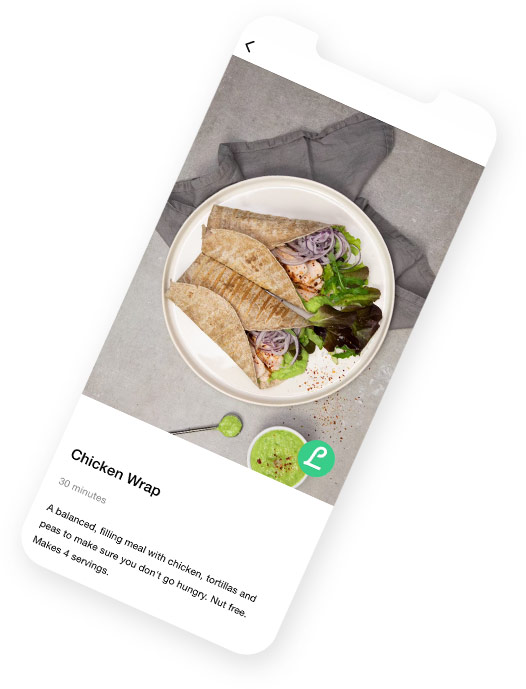 How the Nike Training Club app motivates you
The great thing about Nike Training club is that the app is not trying to shame you into working out. It does send push notification reminders, but you can turn those off if they bother you. Instead Nike is motivating you by awarding achievements and trophies as you progress. It's very video-game like but it's a strategy that has been proven to work.
Get your own personal trainer to fit your schedule
The app also has personal trainers you can make use of. Each trainer has a specialty and is introduced with a bio, expertise, personality, and a link to workouts. Some have a short 1-minute video introducing them and showcasing their personalities.
You can dive right into working out with any of the instructions via their workout routine videos, but some of them expand the workout with a carefully assembled workout program.
The programs are split into stages, for example 6 stages, working out 4 times a week with each workout taking 45-75 minutes. With every program the equipment needed, the level of difficulty and a description of each stage is explained.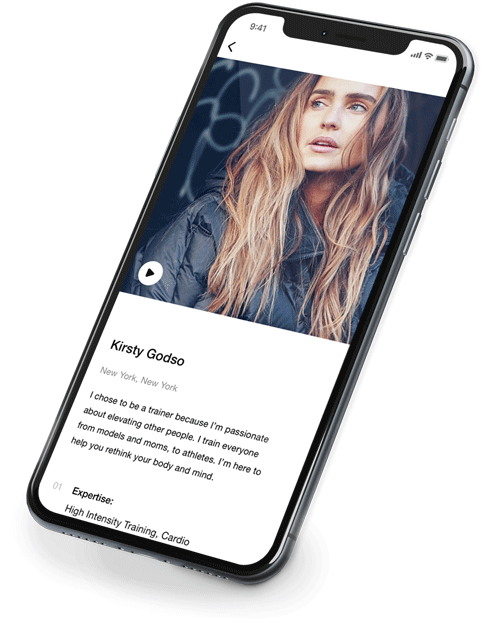 What is Nike's incentive to offer a free app?
Nike is of course not posting hundreds of thousands of dollars into a free app for the incentive of just helping people out.
As mentioned in the beginning of this article, Nike quickly noticed growth in their sportswear sales after the app became free for everyone.
To make it easier for people to buy their products, Nike included a shopping section in their app where it's easy to make a purchase.
You can't really blame them for wanting to recoup the costs to build an app, fill it with professional content and continuously maintain it. They are a business after all and you are not obligated to purchase anything to reap all the benefits.
Conclusion
The Nike app has won Apple's prestigious Editors' Choice Award in the Health & Fitness category repeatedly and we can see why. Besides being rich in information, the UI is very easy on the eyes and the UX is thoughtfully executed with an easy-to-maneuver experience for even the most technologically challenged. It's the same values we target in every app we build for our app clients.
There's no excuse not to get started on your exercise regime. Go to the Apple App Store or Google Play Store and download the app. Good luck on your new health venture.
But enough said about others' apps, let's talk about yours.
Inspire Visual is an established award-winning mobile app development company. We've been in business since 2015 and the founders long before that.
If you are thinking about building a health app, we are your go-to team and can handle your project from A to Z. We build apps from small to enterprise in all verticals, so get in touch today via email or phone, so we can talk to you about your app idea!
---
About Inspire Visual
At Inspire Visual, we believe that compelling design, functionality and content help drive effective results. That's why we work hard to provide innovative, visually inspiring and functionally sound solutions to address your marketing challenges and extend your brand's reach.
We offer decades of experience helping brands worldwide with websites, mobile app development, email marketing, direct mail campaigns, brand identity design, UI/UX, graphic design, print design, tradeshow design and more. We feel privileged to be allowed into our clients' businesses, and we strive to provide personal service and close collaboration throughout your project.
Call 407.476.1950 or email [email protected] to contact us, so we can meet you, learn more about your business and answer any questions you have. We'd love to connect with you!
YOU MAY ALSO LIKE
Inspire Visual
Developing an app today is hard work for you or your app development agency. It requires a good understanding of the competitor landscape for any app category and how to take advantage of best practices, to remain relevant and exciting to the picky app users of today.
Inspire Visual
The online food delivery market is thriving and the popularity of using restaurant delivery apps keeps growing. Today, at-home restaurant ordering already accounts for 12 billion U.S. dollars spread across 50 million hungry app users. Restaurant owners are flocking to stick with the times and offer the food online. For good reason, the mobile app food delivery market is experiencing rapid growth and showing no signs of slowing down. The best time to get started was yesterday, the second-best time is today.
Are you ready to talk about your project?

Hello, I'm Angela, co-founder of Inspire Visual! Let's have a chat about your project. Send an email or fill out the form to get started. Talk soon!