Web Development Services
Let us help you build cross-platform and responsive mobile-friendly websites that will look good no matter which device it is accessed from. Using the latest technology stacks and web features our services include:
WordPress Development
We're experts at building secure and SEO optimized websites for the most popular CMS platform WordPress. Our team develops high-performing and easy-to-manage WordPress websites.
Shopify Development
Whether you want to add Shopify to your current website or looking to start a new store, we can set it up, so you don't have to worry about payment integration, product setup, and more.
WooCommerce Development
Our team can build a stunning WooCommerce based site with focus on security, automated processes, and beautiful product listings to help convert your visitors to paying customers.
Drupal Development
Our seasoned Drupal developers build modern and feature-rich websites. With our knowledge and integration of the latest features our Drupal clients are always a step ahead of the competition.
Magento Development
With in-depth knowledge Magento, our development team customize user-friendly Magento stores to fit any business model. We build secure online stores with optimal conversion rates.
Opencart Development
We have an Opencart team specialized in delivering unique, high-performing, and scalable solutions to get a competitive edge. We develop from small to large enterprise solutions.
Requirements and Project Planning
Requirements gathering
Conceptualizing
Client approval
UI/UX Design
Designs based on wireframes
Client feedback and revisions
Client approval
Development
Website coding
Testing
Quality assurance
Client Approval
Launch
Web Development Tech Stacks
Choosing the right tech stacks is imperative for the overall website strength. Our tech stacks are chosen based on on experience and best industry practices.


















































What makes us unique?
We have been working with website design and development since the mid-90's, when flashing text and animated GIFs were the rage. A lot has happened since then, and today's complex websites require an in-depth knowledge of every technology in the market. Whether it's Angular, Ruby on Rails, React, ASP.net or another front or back-end web technology, our senior developers know it like the back of their hand.
Inspire Visual strive to be the best web development company we can be. We listen to every client's requirements and build customized result-driven websites based on clear communication throughout our projects. With us, you'll get a personal project manager, so you will always have the same point-of-contact.
We can help with any size web development project, from small WordPress based businesses, to large enterprise projects with complex database, security, and feature requirements for government entities, eCommerce, nonprofit organizations, and more.
Miami City Ballet Case Study
Miami City Ballet contacted Inspire Visual because they wanted an exciting new website promoting their new Nutcracker production.
Our team worked tirelessly on a tight timeline to design and develop the website, collect and organize large quantities of assets, and finally unveil a website offering a sneak peek into the magical world of the new ballet as it was being built.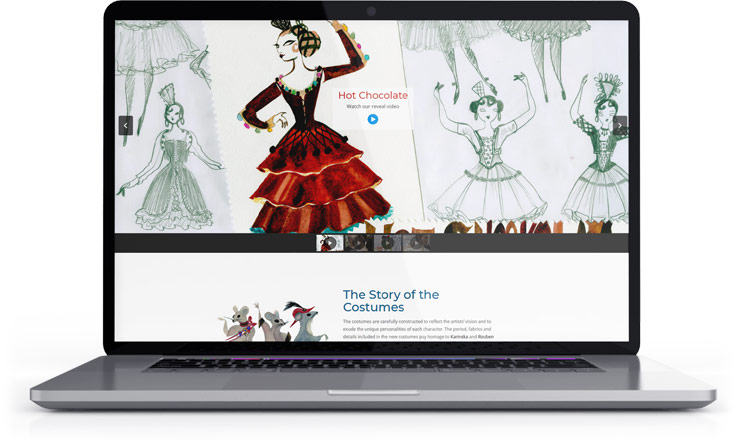 More Advantages to Working With Us

Top Web Developer
We have worked on web development since the mid-90s, so we know what it takes to make a visually inspiring and technologically sound website. We are proud to have earned our reputation as a trusted web developer, and we will continue to live up to it.

Cost Savings
From our network of talented developers, we assemble the team who are experts at your specific requirements. That means you avoid the high markups and inefficiencies of traditional web development agencies where you pay for "everyone in the building". The cost-savings are passed onto you, helping improve your bottom line.

Customized Project Teams
When we start on a project, we build a custom team of well-developed talent with specialized skillsets built specifically for your needs. We only use the most senior web developers, designers, quality assurance pros and project managers on all of our web projects.
You'll also get the same point of contact and personal service throughout your entire project.

Project Transparency
Transparency is important to us, so you never lose sight of where we are in your website's progression. We can work with both Waterfall and Agile project management or we can recommend the best process for your project. We also pride ourselves on being able to integrate our team into your firm's established processes.
Frequently Asked Questions About Web Development
Ready to Build Your Website?
Contact us today to get a free, no risk quote on your web development project, and we'll explain how our development process works.
or call us now at 407.476.1950
Clients We've Enjoyed Helping






Clients We've Enjoyed Helping