MOBILE APP DEVELOPMENT: Top 5 Strategies for Effective Mobile App User Engagement
Over the past decade, the number of mobile app downloads has increased from 141 billion in 2016 to 204 billion according to App Annie's State of Mobile 2020 Report. With a 45% increase over just 4 years, the mobile app market is growing fast.
Whether you have a mobile app already or is going to build a new one, knowing how to optimize your user engagement is important for your app's success.
An abundance of app choices
Between Google's Play Store and Apples App Store, there are over four million apps available for download. In such a saturated landscape, the number one priority is to remain relevant, competitive and valuable over the long term.
Success is measured by more than downloads
In the past, the success metric for an app was the number of downloads. Today, whether you're about to launch a new mobile app or have had an app in the app store for years, it is vital to keep engaging your users. You want to encourage long-term commitment and great reviews to retain users so they don't switch to a competitor.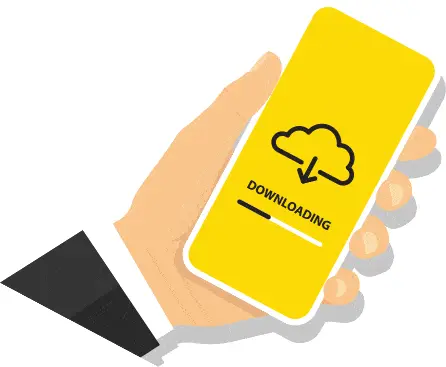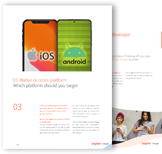 FREE EBOOK
Subscribe to our newsletter and get the free 40 page eBook "How to Launch an App" in your inbox.
2022 Guide to mobile app success
Keep reading to learn about user engagement, what it can do for you and techniques you can use to maximize its effect.
What is mobile app user engagement?
User engagement is the measure of user activity with your mobile app. It's a metric that quantifies how many active users you have and how frequently they are using your application.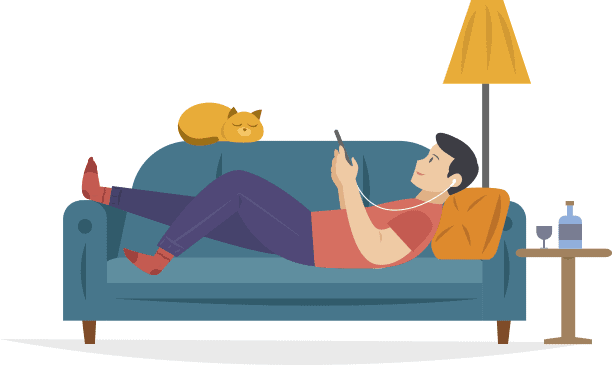 User engagement – the stats
Maintaining healthy user engagement levels is no mean feat. It's estimated that mobile app retention is around 20% in the first quarter after launch across all business sectors. In other words, you lose 80% of users after just 90 days.
Uninstalling
Further, a report by metrics company, Localytics contends that a fifth of apps are uninstalled after just one use. The first week is crucial because if your app is only used one-time in this period, it means the risk of the app being uninstalled is 60% higher.
Many choices for consumers
The stats might seem discouraging at first. They are an indicator that consumers have an abundance of choices available and plenty to weed out. Unquestionably, user engagement is a top priority and should be essential for app developers to drive user conversion and monetization.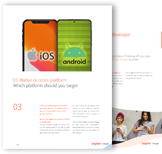 FREE EBOOK
Subscribe to our newsletter and get the free 40 page eBook "How to Launch an App" in your inbox.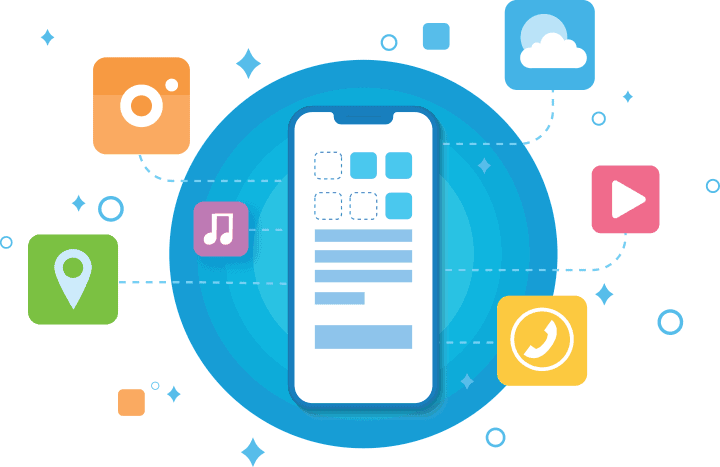 5 easy ways to ensure results
Implement the 5 tips below and you're likely to see your app's engagement numbers measurable increase.
1. Make onboarding easy
Time spent making your app easy to download and understand from the get-go is time well spent. First impressions count, so an app that's simple to launch, navigate, and get to grips with will dramatically decrease abandon rates. If your app is awkward and clunky, users will quickly give up and move onto an alternative.
For example, try to avoid having people go through a rigorous sign-up form on the first screen. For sign-ups, introduce some of your content first to get them interested in your app and then have them sign in. It's about having them become as familiar and invested in your app before you give them tasks to complete.
2. Personalization
Talking about sign-ups, adding a personal touch to your mobile app goes a long way in keeping users engaged. Personalization is a given on any platform that aims to create a personalized experience, and the same applies to apps.
Don't forget user names
Add usernames to the welcome screen and use an analytics tool to enable you to offer users recommendations based on their search history preferences. Deploying GPS will likewise enable you to add further personalization to the interface based on the user's location and language.
Get more conversions
Personalization's like these can also be added to marketing emails and push notifications in place of generic system messages. Basic personalization sees an increase at a nearly 10% click-through-rate (CTR). Sprinkle in emoji's and all of a sudden, the CTR can jump to 70% according to Clevertap.
3. Push notifications
A study by Accengage shows that the average opt-in rate of push notifications is 67.5%. Worth noting is there's a 43.9% opt-in on Apple's iOS devices while it's a staggering 91.1% on Google's Android devices.
Reports suggest that almost 80% of users aged 18 to 44 have their cell phones within reach 22 hours a day. If they get a notification, they will almost always respond by picking up their phone to look.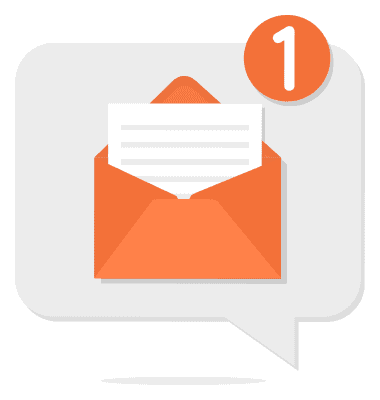 Use push notifications
The importance of push notifications cannot be overestimated. In terms of generating user activity, push notifications can be used in a myriad of ways. From reminders to new information, and nudges to use certain app features. Stats suggest push notifications can boost user engagement by almost 90%.
But be careful
Strategize when you should use push notifications. It's estimated that the average US smartphone owner receives almost 50 push notifications each day.
Don't bombard your users
Too many notifications can have the opposite effect and lead to users muting your notifications or in worst-case scenario, uninstalling your app. You don't want to add frustration to the already high number of push notifications. Every notification should include value to the app user and they should be sent with appropriate time in-between.
A study, albeit older, from Localytics shows that if you send a push notification between 2 and 5 times a week, nearly half will opt-out of receiving further messages.
32% will stop using the app altogether if they receive between 6 and 10 notifications in a week.
Target your notifications
A carefully crafted push notification strategy can deliver the right results for you. Appropriate and well thought out push notifications will almost inevitably see measurable growth for user activity.
4. Offer rewards for activity
Following onboarding and personalization are incentives that reward user activity. You will experience more effective user engagement if you offer incentives in return for activities completed in your app.

Who doesn't want to get an exciting freebie once in a while?
There is strong evidence that app engagement campaigns that offer users a better overall deal will enjoy more success.
Which rewards are most effective?
The bonuses and incentives you can offer very much depend on your type of app. For example, an e-commerce app could offer specific discounts, gift cards, early access to special offers. Game apps are known for offering in-game skins, character optimizations, in-game currency etc. for dedicated players spending a lot of time on the games.
Whatever your app's purpose, there's always room to offer rewards. You just have to think what would entice your users without breaking the bank. Make sure not to offer incentives that is perceived as giving no real value to the user.
5. Keep updating your app
Most popular mobile app makers are well aware that keeping users engaged is an ongoing process. Another important step is to keep updating your app.
You have to be on top of bug-fixes to ensure your app continues to function well. With every new operating system (OS) and device release, new features are introduced and old are going obsolete.
It's your job to make sure your app is staying up to date, both to avoid crashes during use from using obsolete code, but also to take advantage of the latest and greatest features in every OS release.
Avoid uninstalls
If you don't, you risk users uninstalling your app due to frustration over crashes or functionality that will no longer match your competitors.
Listen to your users
Be sure to collect user feedback. Not only is it good practice and useful marketing intel, but it also shows you are willing to listen and respond. Reacting to feedback by, for example, including requested features in an update, will go a long way to retaining users.
Also, since they are the real users, their points are oftentimes also valid app improvement ideas you would normally pay a focus group to get.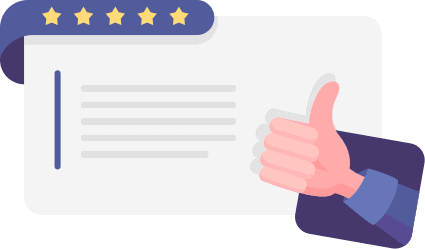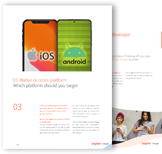 FREE EBOOK
Subscribe to our newsletter and get the free 40 page eBook "How to Launch an App" in your inbox.
Conclusion
The mobile app sector is a very crowded and competitive landscape these days. Users have ever-increasing expectations, making the job of effective user engagement all the more challenging and complicated. Getting app downloads is not enough; you must work consistently at retaining users to build loyalty for your brand.
By owning an app, it is crucial to strike the right balance between app quality and how it's presented for your users. Getting it right by focusing on both will help convert new and inactive users into long-term active users. It will also significantly improve the longevity and value of your mobile app.
We at Inspire Visual are experts at making apps. We hand-pick resources specific for every project and only use senior talent.
Learn more about our app development phases and our core strengths that set us above our competition.
Get it touch with us today to discuss your app project. We'd love to help you realize your new app.
---
About Inspire Visual
At Inspire Visual, we believe that compelling design, functionality and content help drive effective results. That's why we work hard to provide innovative, visually inspiring and functionally sound solutions to address your marketing challenges and extend your brand's reach.
We offer decades of experience helping brands worldwide with websites, mobile app development, email marketing, direct mail campaigns, brand identity design, UI/UX, graphic design, print design, tradeshow design and more. We feel privileged to be allowed into our clients' businesses, and we strive to provide personal service and close collaboration throughout your project.
Call 407.476.1950 or email [email protected] to contact us, so we can meet you, learn more about your business and answer any questions you have. We'd love to connect with you!
YOU MAY ALSO LIKE
Inspire Visual
Behind every successful app, there is a carefully crafted app user interface. You may not give it much thought when you use an app, but creating an intuitive and appealing user interface takes a long time and requires a lot of revisions before getting that final design nailed down.
Inspire Visual
Developing an app today is hard work for you or your app development agency. It requires a good understanding of the competitor landscape for any app category and how to take advantage of best practices, to remain relevant and exciting to the picky app users of today.
Are you ready to talk about your project?


Hello, I'm Angela, co-founder of Inspire Visual! Let's have a chat about your project. Send an email or fill out the form to get started. Talk soon!