AUGMENTED REALITY:
How iPhone 12 Pro Will Transform Augmented Reality Technology Using Lidar
The latest iPhone 12 Pro (and iPad Pro) supported by iOS 14 has a brand-new sensor supporting Lidar (Light Detection and Ranging). While the technology isn't new, it is on smart phones (Android doesn't have it).
Lidar enables detection of objects and 3D scanning in real-time, but what does that mean for apps? Read on and we'll tell you.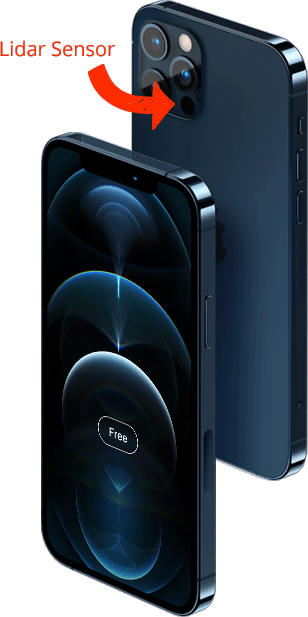 A quick run-down of Lidar technology
Lidar was pioneered back in 1963 and was first created to measure clouds and pollution. Later astronauts used it to map the surface of the moon.
A lot has happened since then and now Lidar is widely used, for example in agriculture to analyze crops, autonomous vehicles to navigate the roads and even your robotic vacuum to map your house most efficiently when it vacuums.
No matter the usage, its core principle remain the same; to measure and create 3D representations of the world we live in.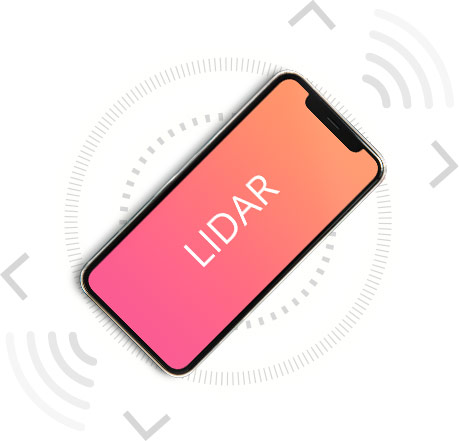 So what does that mean for iPhones?
The Lidar scanner in the iPhone 12 Pro has a 16-foot range, that will interpret a deep understanding of the environment which will be used in vision algorithms.
The reason Apple decided to include Lidar technology on iPhones is to improve the already sophisticated Augmented Reality apps available in the app store.
The technology will also be helpful for photography apps creating depth and immersion as a minimum.
More advanced apps can add realistic layovers of objects, which can be positioned and sized correctly based on the Lidar captured data and app algorithms used.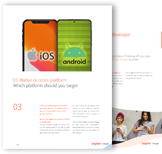 FREE EBOOK
Subscribe to our newsletter and get the free 40 page eBook "How to Launch an App" in your inbox.
Who would benefit from Lidar on iPhones?
Any current augmented reality app adding the Lidar technology would equal that app on steroids.
While the until-now used augmented reality apps have worked by taking data from a 2D picture and converting it into a 3D space, Lidar create photo-realistic spaces on the fly.
Realtors will benefit greatly if they wanted to showcase a home with a virtual 3D tour. It would be a much faster process to map a home and put it online, which would bring cost-savings thanks to the efficiency factor.
Interior designers will be able go to a client's home, capture the current floor plan using Lidar and bring in furniture, appliances etc. They can then remodel the home in real-time on their screen or back at the office.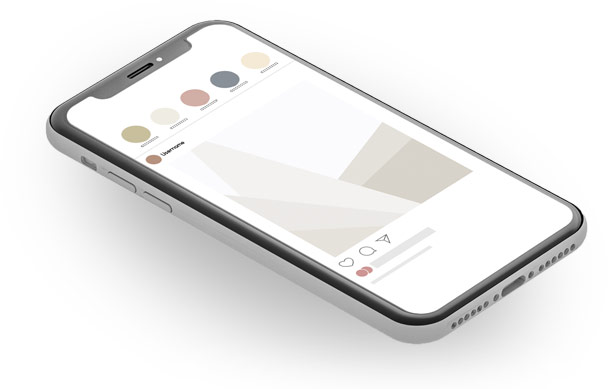 Any retailer or manufacturer wanting to showcase their product in a customer's home, can make the entire process much easier and photo-realistic as well. The easier it is to use, the more people will get on-board with the technology, and ultimately result in increased sales.
Other industries this is going to influence in addition to real estate and design are health care, manufacturing, travel and tourism, game development, and entertainment industry.
Are there other benefits on the iPhone 12 from Lidar?
Yes, Apple stated that Lidar improves low-light scenes and makes autofocus 6 times faster.
The night portrait mode also gets a significant quality boost due to the depth-sensing technology.
Just take a look at the photo below taken in low-light. It has a lit up focus on the subject, depth and a rich vibrant colored background.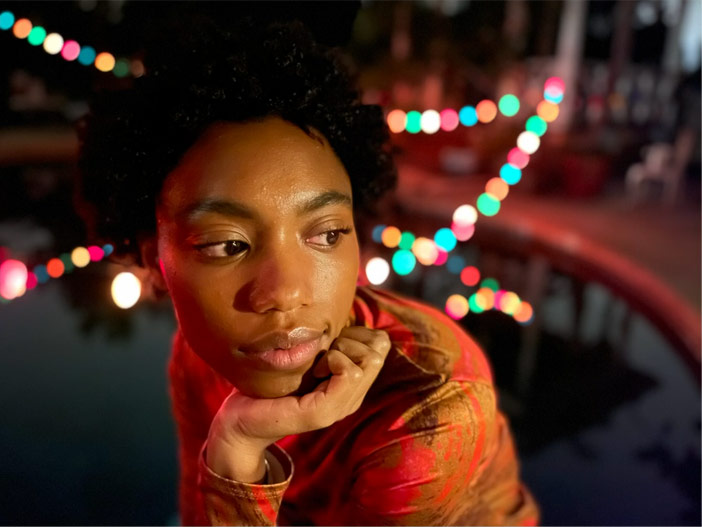 Eventually Apple may include 3D photo data in the EXIF information that is already stored with every picture you take.
EXIF is the information that tells when and where the photo was taken, which camera was used, focus, shutter speed and more.
With 3D photo data included, it would be possible to recreate scenes in 3D years after the photo was taken. Quite helpful, if you need to recreate a certain project that was otherwise lost.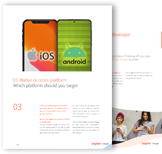 FREE EBOOK
Subscribe to our newsletter and get the free 40 page eBook "How to Launch an App" in your inbox.
When can we expect to see apps taking advantage of Lidar?
Apps are currently being mass developed for this new technology. Some apps already embracing the technology, Snapchat being one of them.
In Snapchat it's possible to play with flowers and grasses on your table and floor or let birds fly around in your home. Every object is sized to its placement in your room.
On a more practical note, the Canvas app takes full advantage of Lidar. Being a pocket 3D room scanner app, it can capture thousands of measurements per second and combine them into a single 3D photo. The 3D photo can then be used to do an immersive walk-through or – if you are an architect – exported to CAD files.
Canvas is a favorite app among interior designers, architects, general contractors and practically anyone who would benefit from 3D representations.
Apple's own Measure app is also taking advantage of Lidar. With the app installed you can transform your phone to a precise measuring tape. Use the app to measure the length, height or width of any objects or person. No more worries if you are out and about needing a ruler. Just bring our your phone and start measuring.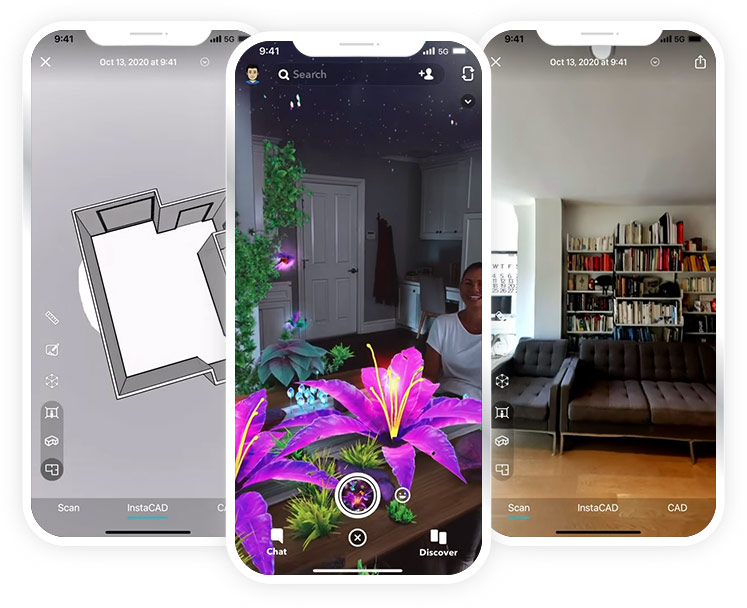 Both paid and free apps are being published every day in the app store, and you can expect to see a lot more app offerings as the market grows and people get their hands on the Lidar compatible iPhone 12 / iPad.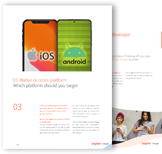 FREE EBOOK
Subscribe to our newsletter and get the free 40 page eBook "How to Launch an App" in your inbox.
Conclusion
The first generation of Augmented Reality was introduced to smart phones by Apple on iOS in 2017 and Google on Android the same year.
With the introduction of Lidar, augmented reality has just moved to the next generation of augmented reality on smart phones.
At Inspire Visual we will keep experimenting with augmented reality, to stay at the forefront of app technology. As leading app developers, we take pride in staying on top of upcoming and promising app technologies, so we can keep developing apps that are stable, polished and ground-breaking.
Augmented reality is forecast to see an explosive growth to a market size of $192.7 billion in 2022. We can build your next augmented reality app if you want to be part of the massive growth and customer potential. We're easy to get a hold of, just give us a call or reach out with questions. We'd love to talk to you about your app idea!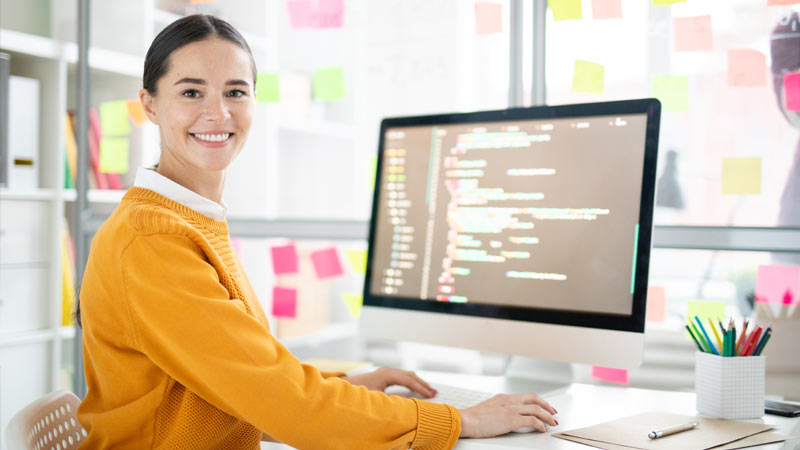 ---
About Inspire Visual
At Inspire Visual, we believe that compelling design, functionality and content help drive effective results. That's why we work hard to provide innovative, visually inspiring and functionally sound solutions to address your marketing challenges and extend your brand's reach.
We offer decades of experience helping brands worldwide with websites, mobile app development, email marketing, direct mail campaigns, brand identity design, UI/UX, graphic design, print design, tradeshow design and more. We feel privileged to be allowed into our clients' businesses, and we strive to provide personal service and close collaboration throughout your project.
Call 407.476.1950 or email [email protected] to contact us, so we can meet you, learn more about your business and answer any questions you have. We'd love to connect with you!
YOU MAY ALSO LIKE
Inspire Visual
Developing an app today is hard work for you or your app development agency. It requires a good understanding of the competitor landscape for any app category and how to take advantage of best practices, to remain relevant and exciting to the picky app users of today.
Inspire Visual
The online food delivery market is thriving and the popularity of using restaurant delivery apps keeps growing. Today, at-home restaurant ordering already accounts for 12 billion U.S. dollars spread across 50 million hungry app users. Restaurant owners are flocking to stick with the times and offer the food online. For good reason, the mobile app food delivery market is experiencing rapid growth and showing no signs of slowing down. The best time to get started was yesterday, the second-best time is today.
Are you ready to talk about your project?

Hello, I'm Angela, co-founder of Inspire Visual! Let's have a chat about your project. Send an email or fill out the form to get started. Talk soon!