BLOG:
The 10 Best iOS 15 Features You Don't Want to Miss
iOS 15 and iPadOS 15 are jam-packed with features and they are both being released to your iPhone and iPad this fall. In this particular release, Apple is not focusing on a big visual overhaul of iOS 14, but instead introducing really cool new features that'll make your device even more versatile.
We're taking a closer look at all the great new tools you'll be able to take advantage of, including a heavily upgraded FaceTime experience, new Apple Maps with 3D view in cities, sleeker notifications design, Live Text, and finally better privacy with offline Siri integration on select device models.
Which iPhone and iPad models will get iOS 15?
Last year, iOS 13 owners could enjoy that iOS 14 was compatible with all iOS 13 phone models. We're happy to say that history will repeat itself for iOS 15, since it will run on all iOS 14 compatible models starting with the iPhone 6s Plus and iPad Air 2 – both released in 2014.
We'll provide a full list of compatible devices at the end of this article.
1. FaceTime
When FaceTime was introduced in the iPhone 4 in 2010 it was a milestone for iPhone users. Sure, we had Skype to make video calls, but integrated free FaceTime audio and video calls between Apple users was a landmark. With iOS 15, FaceTime will be getting its biggest update ever.
The new FaceTime feature we'll go into is SharePlay. In its simplest form, SharePlay is a screen recorder that shares what you see on your iPhone or iPad with the other party on the call. That's pretty nifty in certain situations when you are looking at something on your phone that you need the other participant(s) on your call to be able to see real-time.
But that's not all: with FaceTime in iOS 15, you will also be able to share movie and TV shows so you can watch them with your friends.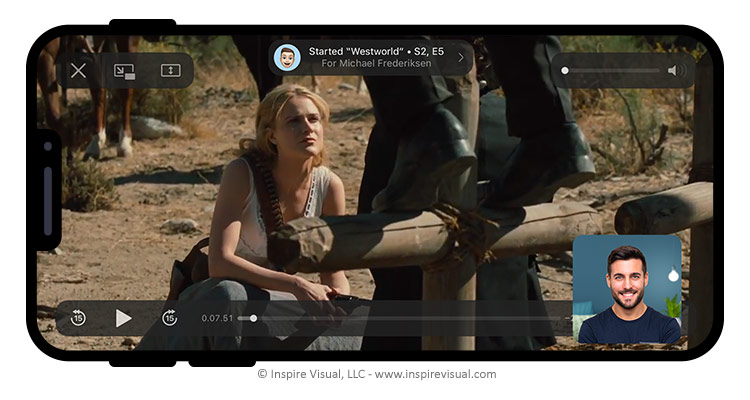 So far Disney+, Hulu, HBO Max, Twitch and others are supporting the feature. Netflix is likely to follow, but does not yet have SharePlay in its app.

SharePlay is readily available for any app developer to include, and it's not only interesting for audio and video related apps: collaboration apps will be able to share whiteboards, planning tools and more within a team.
Spatial audio will also be available and make for better conference calls. Spatial audio makes the audio sound like it's coming from the direction of the speaker's location (so if, for example, you are on a FaceTime call with a group of people who are all in the same room, it will be easier to differentiate who's talking). To further increase the quality of audio in calls, there will be a voice isolation mode, which works the same way as noise cancellation headphones to block out background noises.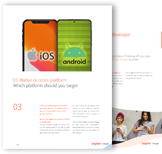 DO YOU LIKE THIS ARTICLE?
Sign up to to be the first to receive more exciting articles. We don't share your email, that's a promise!
2. Visual Look Up
You may remember Google Goggles, an image recognition mobile app developed by Google in 2010. It enabled you to take a picture of an object or place to get more information about it in the app.
Google ended support for the app in 2018, but Apple saw a feature that was worth including in their new iOS 15, and they are calling it Visual Look Up.
With Visual Look Up, you can go to your photo roll or take a picture to get detailed information about what you are looking at. It excels in recognizing landmarks, nature, books, art, and pets.
This tool can be your tour guide on vacations or just a smart companion when you're out and about.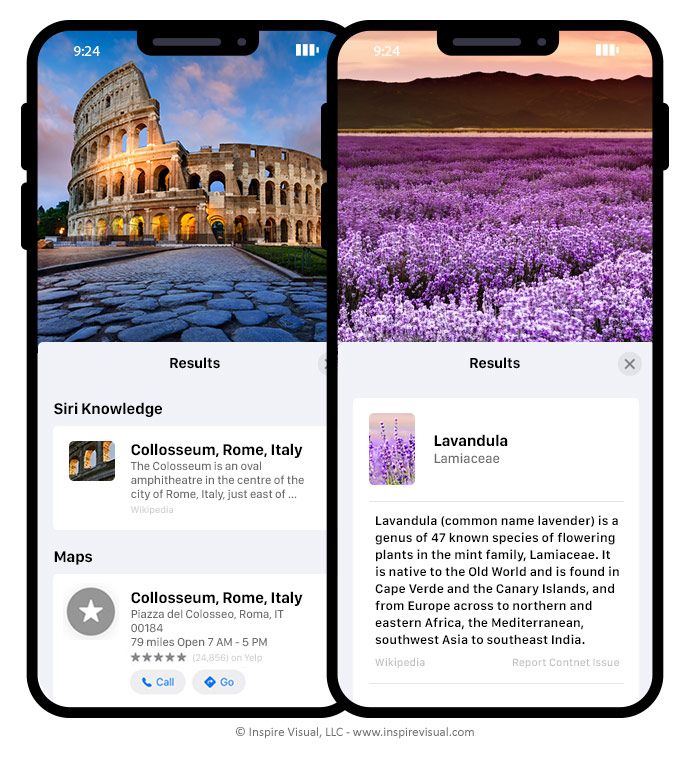 3. Live Text
Apple's new Live Text feature recognizes text from your photos and makes it dynamic. Converting static text to dynamic text opens up a world of possibilities for copy/paste, looking up information or translating.
Real life usage examples are: translating signs or recipes, capturing a phone number and placing the call right away or getting information on objects around you when you combine it with Visual Look Up.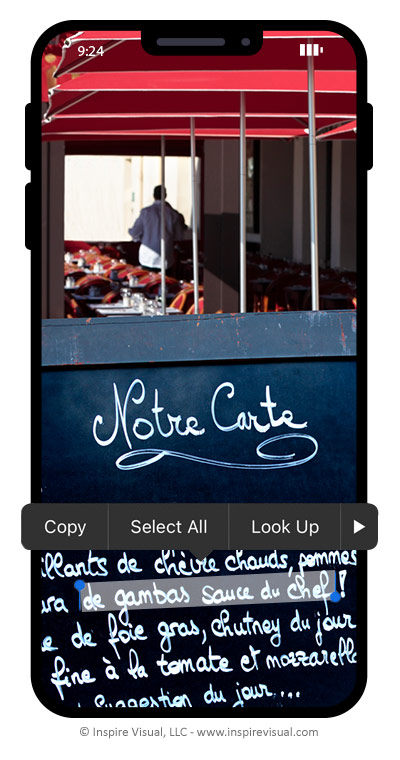 4. Apple Maps
Back when iOS 6 hit the market, Apple had also included Apple Maps to replace Google Maps. At first sight, it looked like the better option with features not seen in Google Maps.
Turn-by-turn navigation, fly-over 3D buildings and vector maps were promising, but it showed out to be a publisher's nightmare in giving wrong directions, incorrect visuals of roads, buildings and more.
Apple quickly redeemed themselves, correcting the many issues, and it has been a solid app ever since.
With iOS 15, you can now explore cities in more detail than ever. View roads, trees, buildings and entire neighborhoods up close in the beautiful visual style Apple is known for. Selected landmarks are available in 3D to give you a better understanding of the structure.
Directions from A to B also have more detail than they once did. Now you're able to see turn lanes, bike paths, and cross-walks for better navigation in cities. You'll also be able to see live incidents such as accidents or traffic jams to guide you around it for a better driving experience.
For pedestrians, there are step-by-step directions with augmented reality built in. Meaning you can point your camera and get visual arrows and names overlaid to show the path to your destination.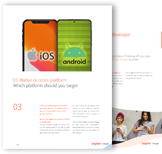 DO YOU LIKE THIS ARTICLE?
Sign up to to be the first to receive more exciting articles. We don't share your email, that's a promise!
5. Health app
The health app is useful and has become really advanced with the popularity of Apple's smart watches which are able to measure heart rate, ECG, blood pressure, and blood oxygen level.
The new iOS 15 health app works with the systems doctors already use, so you'll be able to share your health data with your doctor and healthcare professionals easily.
The shareable data includes health records, lab results, sleep patterns, trending heart rate and much more.
It is especially useful if you have sick or older relatives and you want to be involved and alerted if any health changes occur.
The health app can also help give you a better night's sleep. You can manage your sleep schedule and bedtime routine and track your sleeping respiratory rate to see how well you sleep and if changes needs to be made.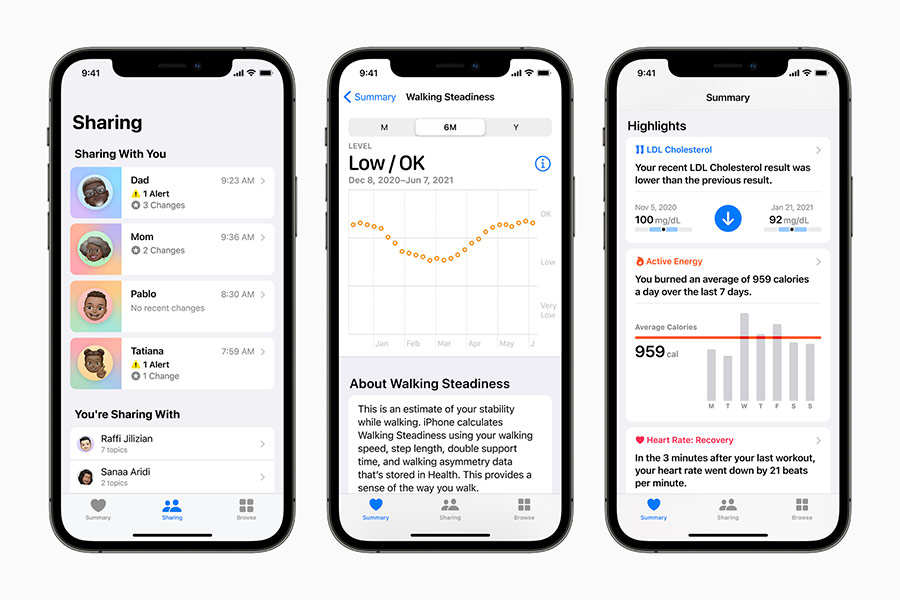 6. Safari
The new Safari browser introduces a new tab bar design.
Screen estate is valuable — especially on iPhone's where every pixel counts. The new redesigned tab bar will take up less space and be located at the bottom of your screen. When scrolling, it will disappear and not reappear again until you decide to turn it on by tapping the screen.
You'll also be able to organize your tabs into groups for a better overview of open browser sessions, plus they will sync across devices, so you can pick up where you left off on another device.
One of the really exciting things is that iOS 15 and iPadOS 15 will bring web browser extensions to the mobile browser. Web extensions are used to add more functionality to the browser based on the user's needs and are useful for things like blocking ads, protecting your privacy, downloading videos, and so much more.
The web extensions will be available in the App Store in a new category called Extensions.

Apple is also including Intelligent Tracking Prevention to prevent the oh so prevalent incidence of trackers profiling you based on your IP address. This tracking practice is widely used across the web to follow your everyday online behavior, so any anti-tracking technology is a welcome addition in our opinion.
Voice search will also be available. Just tap the microphone in the search bar, say what you are searching for and the results will populate in the browser.
7. Messages and Memojis
One of the most used apps on iPad and iPhone is Messages, so it's only logical that it should get a lot of new features in iOS15, and here Apple certainly delivers.
In iOS 15, when you receive a message with multiple photos attached, they will no longer be listed in a long vertical row you have to scroll through.
Instead, photos will be shown in a new collage design with one photo on top, the rest behind (slightly visible, like a deck of cards) and with a small headline listing how many photos are in the stack. You will then be able to swipe sideways to look at each photo without scrolling up and down in your messages. Pretty cool for an intuitive, non-intrusive way to display photos in messages.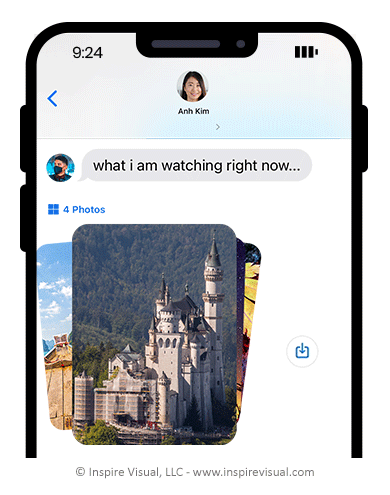 Another big update is the Shared with You feature. Now any content, image or links shared in the messages app will also appear in a Shared with You section in the corresponding app.
For example, if someone shares a podcast link, clicking that link will take you to the Shared with You section in the Podcasts app, so you easily can access content your friends have suggested instead of having to search through an entire message thread for one or more particular recommendations.
Shared with You is available in Safari, Photos, Podcasts, Apple Music, and the Apple TV app.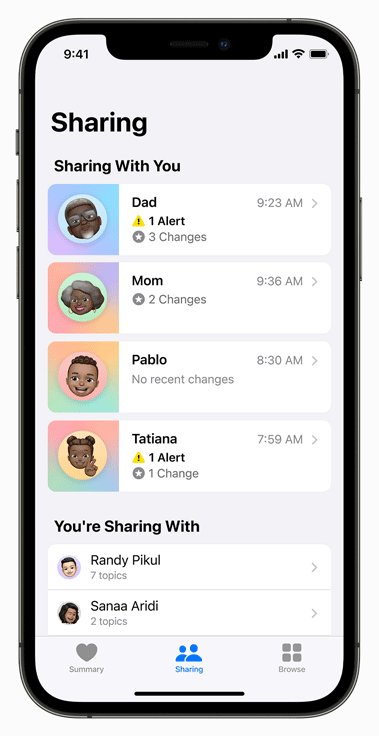 For those loving the Memojis, you'll get to customize your avatar even more than before. Dress your Memoji in over 40 outfits and choose between 3 new glasses styles, multicolored headgear, individually colored eyes and more.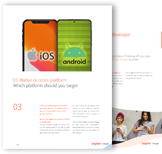 DO YOU LIKE THIS ARTICLE?
Sign up to to be the first to receive more exciting articles. We don't share your email, that's a promise!
8. Privacy
We applaud Apple's attention to privacy measures in what seems like a free-for-all data hoarding market.
It's no secret you are the product in anything labeled "free" — most notably the Facebook platform. But Facebook is far from the only one, and in iOS 15 you'll quickly be able to find out how much apps just love to track your behavior.
By going straight to the App Privacy Report in Settings, you'll be able to learn how often apps access your location, camera, contacts, photos, and microphone for the past week.
You can also learn what third-party domains each app communicates with and when the last time they did so was.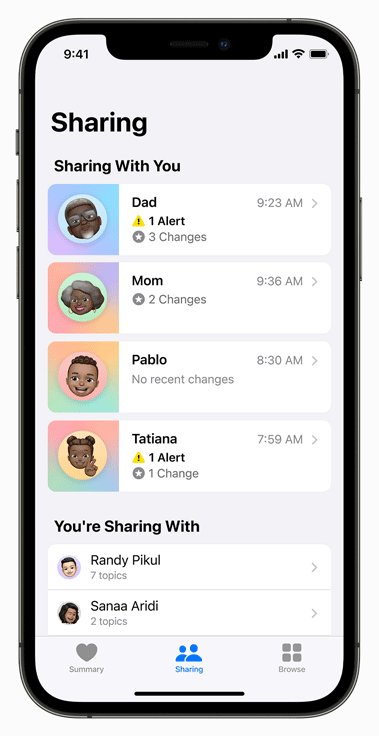 In Mail there's also Mail Privacy Protection technology embedded in iOS 15 to prevent email senders from learning about your Mail activity. For example, it's common practice for senders of marketing emails to be able to see how many times you opened their email. With Mail Privacy Protection enabled they can't link that information to you any longer, because your IP address will be hidden. That also prevents them from linking your other online activities or determine your location which is IP based, just like a street address.
9. Siri
The virtual assistant Siri was originally a third-party app introduced in the App Store in 2010. Apple saw its potential right away and acquired it just two months later to be integrated in iPhone 4 in 2011.
Siri has always worked by recording your request and sending it to a server for data processing, thus relying on having a network connection for speech recognition.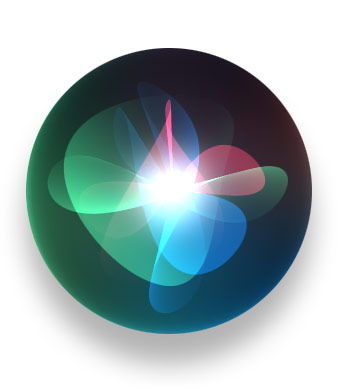 On iPhone's and iPad's with the A12 chip, it is now possible to do in-device speech recognition, meaning the audio recorded will never leave your iPhone or iPad.
While Siri won't be able to perform all tasks without an internet connection, there are many tasks she can do while you're offline — and quicker than ever before: messaging, initiating phone calls, changing settings, and audio control.
10. Focus
The new Focus feature may not sound exciting at first, and granted it's not as flashy as some of the other features being released, but we bet you are going to be able to find a use for it.
With Focus, you can set your phone to react according to your current activity. So if you're driving, you may not want to be alerted about incoming messages or get app notifications. If you're sleeping, you can have everything turned off except for emergency calls etc.
Besides the pre-defined rules for driving, fitness, gaming, and reading, you can also set up custom rules for your specific needs.
Your Focus status will even be displayed in Messages, so contacts can see why you are not answering right away.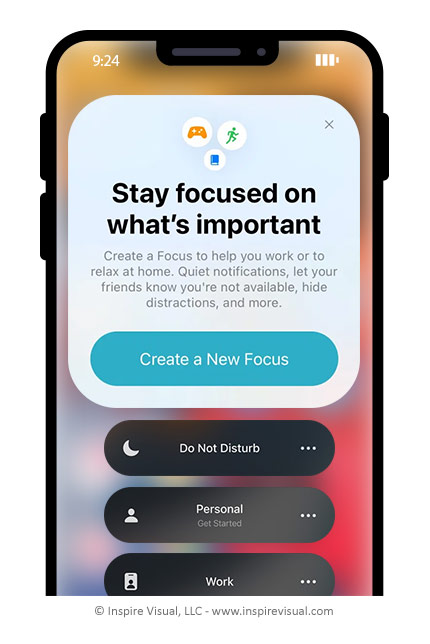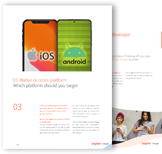 DO YOU LIKE THIS ARTICLE?
Sign up to to be the first to receive more exciting articles. We don't share your email, that's a promise!
Conclusion
We have come to expect a lot from Apple since they released the iPhone back in 2007 and since they have consistently upped their game with each new iOS update (except for a few bumps along the way).
iOS 15 is no exception – Apple once again shows why they are the leaders in the mobile market when it comes to delivering new and exciting, more complex functionality in intuitive packaging while remaining committed to protecting their users' privacy.
It's also impressive that iOS 15 and iPadOS 15 are backwards compatible with devices released 7 years ago. Google's Android system is generally only compatible with devices half that age.
iOS 15 and iPadOS 15 became available to the general public in the fall of 2021.
The latest iOS 16 is coming soon. Read all about the cool new features Apple is introducing in iOS 16.
iOS 15 compatible iPhones
iPhone SE 2020
iPhone 11
iPhone 11 Pro
Phone 11 Pro Max
Phone Xs
iPhone Xs Max
iPhone XR
iPhone X
iPhone 8
iPhone 8 Plus
iPhone 7
iPhone 7 Plus
iPhone 6s
iPhone 6s Plus
iPhone SE
iOS 15 compatible iPods
iPod Touch 7th Generation
iPadOS 15 compatible tablets
iPad Pro 12.9-inch (4th generation)
iPad Pro 11-inch (2nd generation)
iPad Pro 12.9-inch (3rd generation)
iPad Pro 11-inch (1st generation)
iPad Pro 12.9-inch (2nd generation)
iPad Pro 12.9-inch (1st generation)
iPad Pro 10.5-inch
iPad Pro 9.7-inch
iPad (7th generation)
iPad (6th generation)
iPad (5th generation)
iPad mini (5th generation)
iPad mini 4
iPad Air (3rd generation)
iPad Air 2
---
About Inspire Visual
At Inspire Visual, we believe that compelling design, functionality and content help drive effective results. That's why we work hard to provide innovative, visually inspiring and functionally sound solutions to address your marketing challenges and extend your brand's reach.
We offer decades of experience helping brands worldwide with websites, mobile app development, email marketing, direct mail campaigns, brand identity design, UI/UX, graphic design, print design, tradeshow design and more. We feel privileged to be allowed into our clients' businesses, and we strive to provide personal service and close collaboration throughout your project.
Call 407.476.1950 or email [email protected] to contact us, so we can meet you, learn more about your business and answer any questions you have. We'd love to connect with you!
YOU MAY ALSO LIKE
Inspire Visual
Behind every successful app, there is a carefully crafted app user interface. You may not give it much thought when you use an app, but creating an intuitive and appealing user interface takes a long time and requires a lot of revisions before getting that final design nailed down.
Inspire Visual
Developing an app today is hard work for you or your app development agency. It requires a good understanding of the competitor landscape for any app category and how to take advantage of best practices, to remain relevant and exciting to the picky app users of today.
Are you ready to talk about your project?


Hello, I'm Angela, co-founder of Inspire Visual! Let's have a chat about your project. Send an email or fill out the form to get started. Talk soon!