App of the Week: App of the Week: Yummly Recipes & Cooking Tools
If you dream of having an assistant in the kitchen while cooking, Yummly might become your new favorite app. It is filled with features to make your daily task of preparing meals much easier.
Yummly is as close to an artificial intelligence cooking app as you can get with today's technology. Search its database of more than 2 million recipes, and it gives suggestions on what to cook based on the ingredients in your refrigerator and according to your meal preferences. Yummly even integrates with smart device compatible ranges.
Let's take a closer look.
How much does Yummly cost?
The app is free to download and you'll be able to use basic features and view many recipes without doling out any money. However, if you want access to more customized features like recommended recipes, integrated meal planning, scheduling, shopping tools and cooking instructions, you'll have to pay $4.99/month for their subscription model.
You do get a chance to try out the premium features with a 30-day trial, so you can make sure they are worth the extra cost.

Yummly wants to know about your food preferences
When you start using Yummly, it's like meeting a new friend. It doesn't know anything about you and asks a lot of questions. It may seem a bit tedious at first to enter your culinary preferences into the app, but once it knows about your food allergies, special diets, and favorite foods, the payoff is that your recommended recipes are highly customized.
The learning doesn't stop there, though. As you use the app and hit the Yum button (equivalent to a 'favorites' button), the app will get progressively better at guessing your preferences.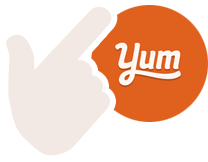 The app moves in your tempo
Each recipe includes a step-by-step guide and each step waits for you click a button to proceed, so you are not rushed like you might be in a YouTube video that just keeps playing and has to continually be paused, for example. Some of the recipes include video tutorials, which are also divided into steps and with stopping points that pause the video until you're ready.
The previously mentioned 'Yum' button doesn't just learn what you like, it also functions as a bookmark button and will store your favorites in a recipe box.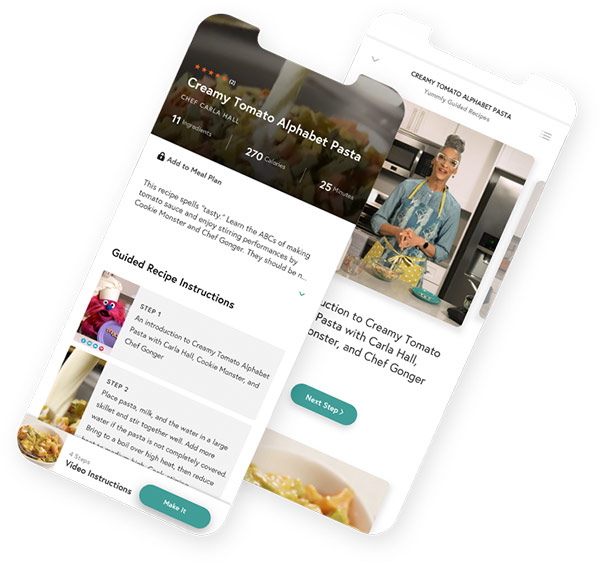 Making a dish from your refrigerator's content
If you don't want to head to the store and want a recipe based on what's already in your refrigerator, you can enter that in an ingredients list. Yummly will use that list to come up with a recipe that matches.
There's even a camera icon you can click to scan the contents of your fridge, so you don't have to enter the items manually!
Easily create a shopping list and order missing items
If you find a great looking recipe and don't have all the ingredients, you can add them to a shopping list from within the app. It's simple: from within the shopping list, simply enter your zip code and click "order ingredients." That will send the content of your shopping cart into the app of a local grocery store of your choice (if you have that grocery store's app on your phone). From there, you finalize the purchase (pick up or delivery).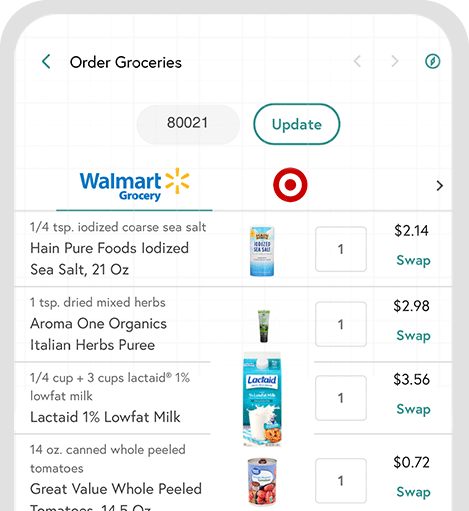 Smart device integration is impressive
Whirlpool purchased Yummly in 2017 to strengthen the integration between the app and their smart devices. Today they offer a line of smart ovens and ranges compatible with the smart phone app.
After syncing your appliance with the app, it controls your oven or range based on the recipe you choose by 1) turning it on at the temperature specified in your recipe, 2) sending you notifications to explain upcoming recipe steps and 3) letting you know when timers are done and it's time to proceed.
Keeping track of your intake
For the health conscious eater, the app can integrate with Apple's Health app. It exports nutrition and servings information so you can track your intake of calories and servings daily, whether your goal is to loose weight while on a diet or you just want to maintain your current healthy lifestyle.
Conclusion
Yummly pulls a massive directory of 2 million recipes from the most popular recipe sites on the internet, including Allrecipes, Food52, Epicurious and more.
The app is easy to navigate and wrapped in a nice modern design, each recipe accompanied with a large enticing photo of the completed meal. The app responds immediately to user interaction and is very snappy overall.
Yummly won the Apple App Store Editors' Award for a good reason: it is equally as appealing as it is easy to use – whether you're a 15-year-old or an 85-year-old. Happy Cooking!
But enough said about others' apps…let's talk about yours.
Whether you are building a new app or re-doing your old app for Android, iOS or both devices, we can help. We have extensive experience with creating quality, high-performing apps.
And, if you'd like to learn more about what it takes to build an app, give us a call or reach out with questions. We'd love to talk to you about your app idea!
---
About Inspire Visual
At Inspire Visual, we believe that compelling design, functionality and content help drive effective results. That's why we work hard to provide innovative, visually inspiring and functionally sound solutions to address your marketing challenges and extend your brand's reach.
We offer decades of experience helping brands worldwide with websites, mobile app development, email marketing, direct mail campaigns, brand identity design, UI/UX, graphic design, print design, tradeshow design and more. We feel privileged to be allowed into our clients' businesses, and we strive to provide personal service and close collaboration throughout your project.
Call 407.476.1950 or email [email protected] to contact us, so we can meet you, learn more about your business and answer any questions you have. We'd love to connect with you!
YOU MAY ALSO LIKE
Inspire Visual
iOS 15 and iPadOS 15 are jam-packed with features and they are both being released to your iPhone and iPad this fall. This time Apple is not focusing on the big visual overhaul of iOS 14, but instead making the focal point about introducing really cool new features that'll make your device even more versatile. We're taking a closer look at all the greatness you'll be able to use, including a heavily upgraded FaceTime experience, new Apple Maps with 3D view in cities, sleeker notifications design, Live Text enabling you to copy/paste text from images and - of course we dare say - better privacy with offline Siri integration on select device models.
Inspire Visual
If you dream of having an assistant in the kitchen while cooking, Yummly might be your new favorite app. It is filled with features to make your everyday life preparing meals much easier. Yummly is as close to an artificial intelligence cooking app as you can get with today's technology. Looking in its database of more than 2 million recipes, it gives suggestions on what you can cook up based on the ingredients in your refrigerator and your meal preferences. It even integrates with smart device compatible ranges.