How to Launch an App: The Definitive Guide
Welcome to the complete guide on how to launch an app successfully. Whether you are targeting iOS or Android devices, we explain everything in an easy-to-understand language.
The strategies in this article will teach you how to launch an app with more confidence and more likelihood for successful outcomes.
Sit back, relax and enjoy. We have a great insights to share, so let's get started…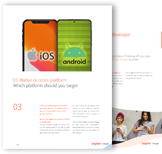 FREE EBOOK
Subscribe to our newsletter and get the free 40 page eBook "How to Launch an App" in your inbox.
Chapter 1 Build your app strategy
With over 2.5 million apps in the Google Play store and 1.85 million apps on iOS, you are competing for the spotlight.
Doing thorough market research is going to make a big difference and it's a vital component of the early research into how to make a successful app release.
A big part of knowing how to launch an app that will be successful starts with 3 basic questions. Our app clients answer these questions to help focus their market research efforts and so should you:
What problems are you solving that are not already solved by your competition?
Who is your target audience?
What are the current leading marketplace apps strengths and weaknesses?
These questions are also applied for those of you who wants to figure out how to relaunch a mobile app after a previous unsuccessful attempt.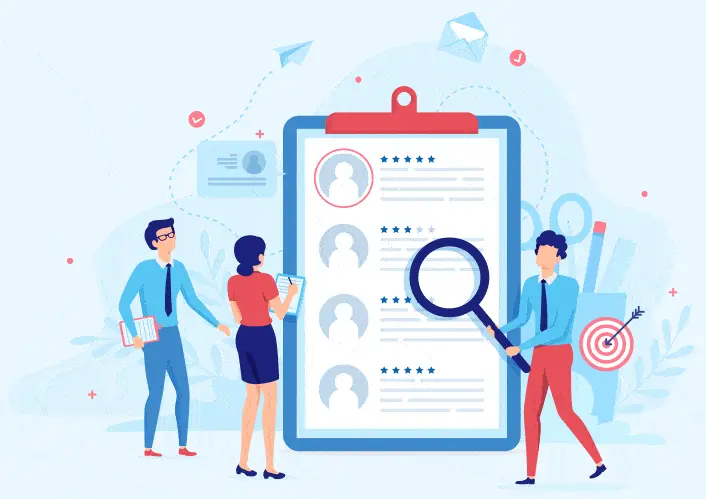 1: What problems are you solving that are not already solved by your competition?
Having a core feature not included in your competitor's app can really set you apart. Or maybe it's a combination of two or more competitors' apps who have existing features, but they are not offered in a single app.
Find out what problems exist that your app will solve for users. How will your app be special, stand out and engage users better than other similar apps?
Be sure you have put in the research time needed to assure your app is solving key, real-world problems app users are facing.
2: Who is your target audience?
Knowing your target audience sets the tone for both your app and marketing strategy.
A simplified example: an app's design and functionality should be very different for an 18-year old vs. a 65-year old, and your marketing strategy should be, too.
Your marketing strategy defines marketing language, imagery, social channels and in short, your entire marketing campaign.
We'll go more in-depth on how to use this information in Chapter 3: Market Your App.
3: What are the current leading marketplace apps strengths and weaknesses?
There is a wealth of information you can get for free by looking at your top competitors strengths and weaknesses.
Check out reviews of the top ranking apps in the app stores. They are a goldmine for learning what app users like and don't like about your competitors apps.
If people say the apps are missing features or are emphasizing the usefulness of other features, make a note of that; for example: is the UI is confusing to navigate, do they wish there was tablet support, are they raving about certain features etc.
You can set up a worksheet to collect your insights, or use the worksheet we have already created for you.
Use it as your template for gathering priceless information about your competitors' app strengths and weaknesses.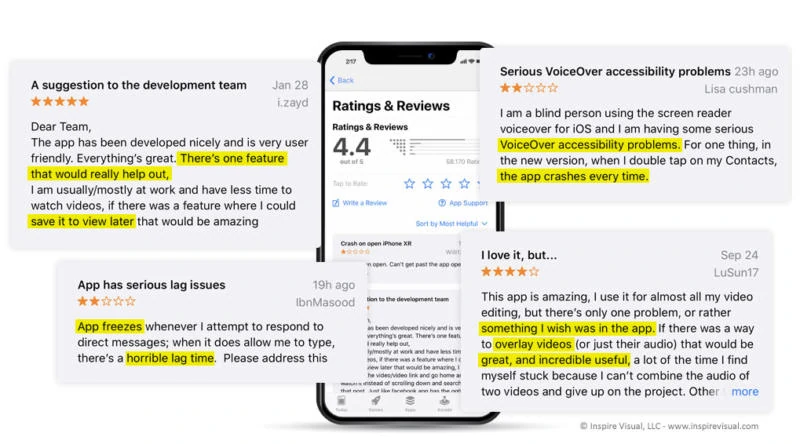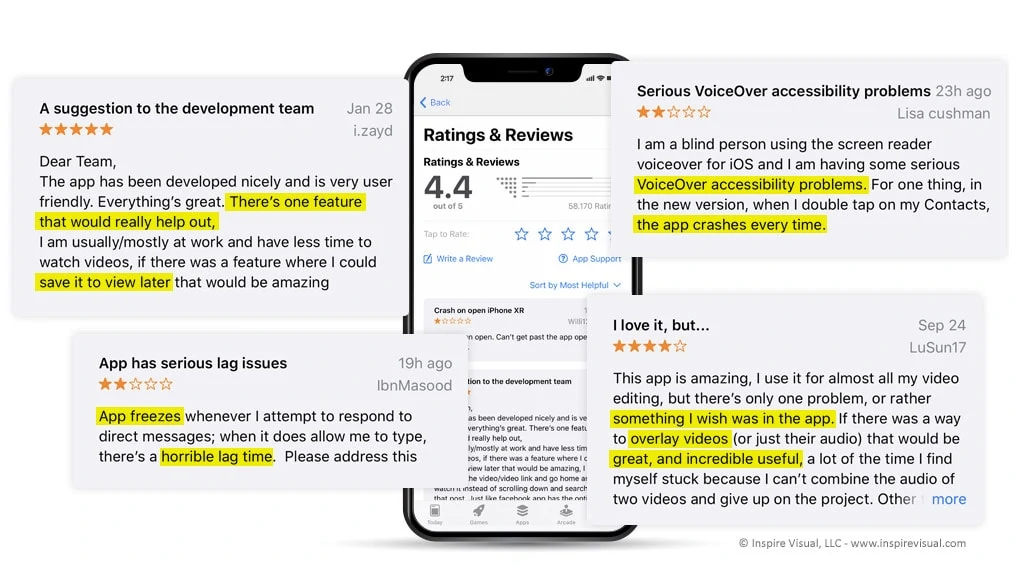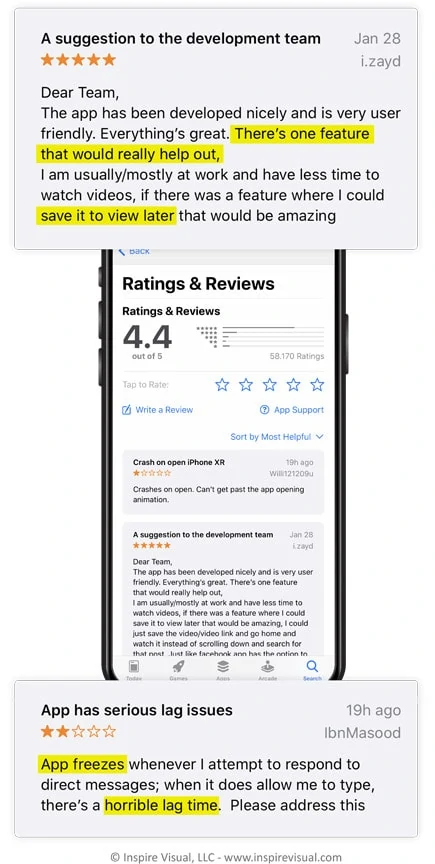 Do your own free competitor research to find wanted features and complaints.
Detailed market research tools
In addition to doing your own research from reviews, you can also use detailed mobile data analytics tools for your research.
These tools organize your competition into categories and can show what markets are experiencing the largest growth, which keyword strategies your competitors are using, and a lot more. All of this can help you tailor your app marketing strategy.
Free mobile data analytics tools
Some free options are Flurry, SimilarWeb (paid plans also available) and Apple Analytics (iOS only).
Paid mobile data analytics tools
Some paid options are AppAnnie, SensorTower and AppTopia.
Cost of the top 3 mobile data analytics tools for market research

Company Name: App Annie
Location: San Francisco, US
Free Option: Yes, free limited plan, including app store tracking, basic app store reviews, basic app store optimization (ASO), and email support.
Cost for small businesses: No plan available.
Cost for full plan: $10,000 annually and up. Exact cost requires a sales call consultation to discuss data needs.
Notes: The cost for the premium plan varies based on the number of app comparisons wanted, the number of countries included in search results, number of app categories, your country location and company size. The types of data you want also dictates cost, for example usage vs revenue, downloads vs. advertising and more.

Company Name: SensorTower
Location: San Francisco, US
Free Option: Yes, free limited plan includes top charts, featured apps, app publisher information and app profiles.
Cost for small businesses: $79/month for 5 apps tracked or $399/month for 20 apps tracked. 25% discount with annual subscriptions. More info here.
Cost for enterprise: $25,000 annually and up. Exact cost requires a sales call consultation.
Notes: Small businesses get information based on payment ($79 or $399) on apps tracked (5 or 20), keywords tracked (80 or 400), email support, email alerts, keyword spy, keyword research and keyword optimization. Information is pulled for both Apple's App Store and Google Play.
Company: Apptopia
Location: Massachusetts, US
Free Option: Yes, one free report on the top 5 competitors.
Cost for small businesses: No plan available.
Cost for premium plan: $2,000/month for the starter plan and $3,600/month for the radar plan.
Notes: The two paid plans covers all apps, countries, categories and one additional user. The data set includes number of downloads, daily/monthly active users, in-app purchase revenue, app store rank, and more.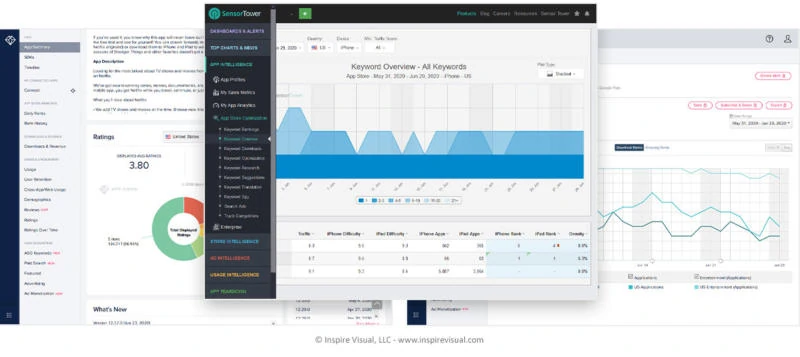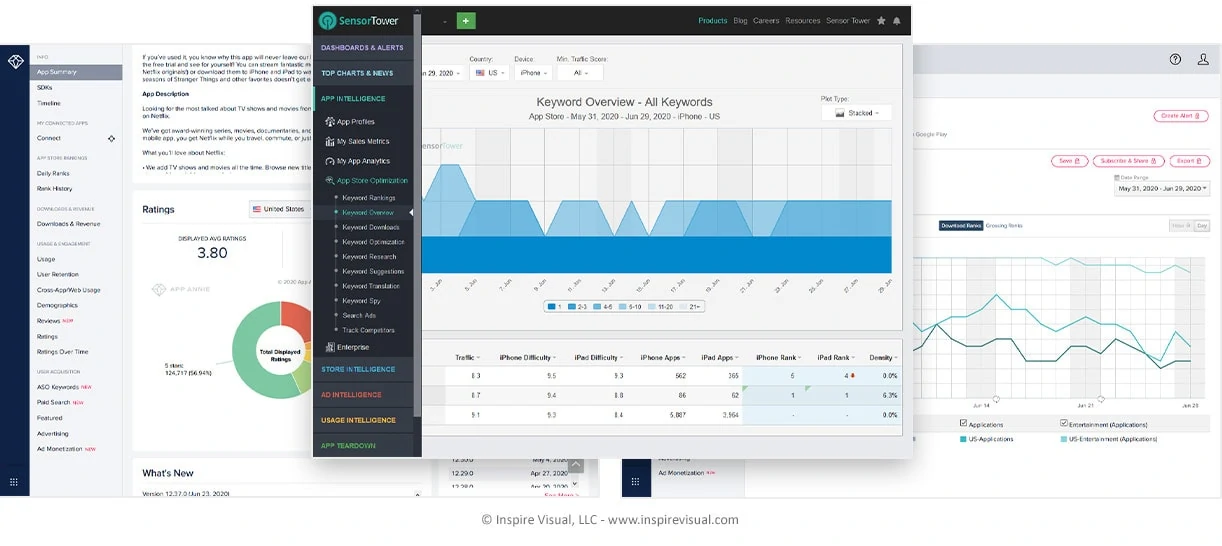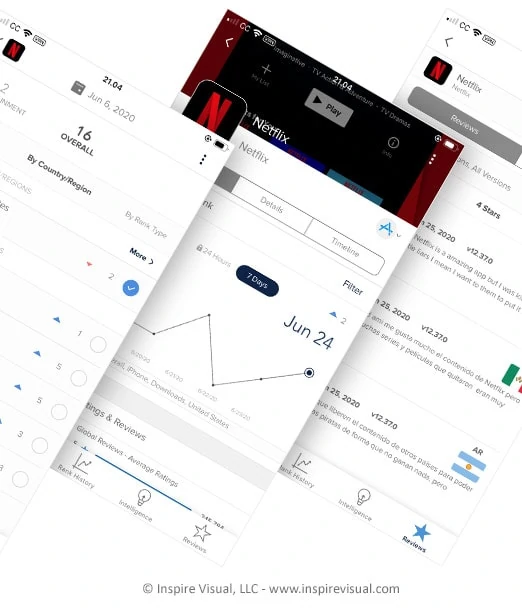 Paid platforms often offer complex analysis tools.
Chapter 2 Define your app goals
Is your app going to be used for B2C, B2B or stand-alone app monetization?
Before we help our clients launch an app, we suggest they consider which strategy they want to apply for their specific app purpose. You can benefit from using learning about these strategies before launching your app.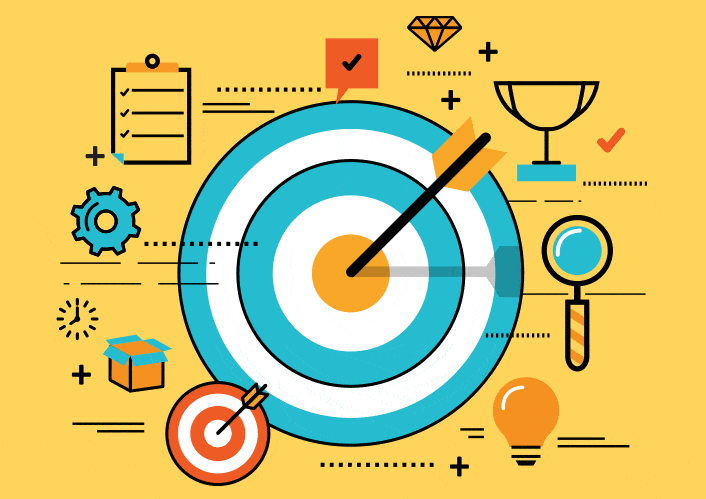 B2C (business-to-consumer) apps
Some popular apps in this category are Amazon, Starbucks and Netflix. These apps support already established companies' sales channels.
Apps in this category are usually free to use, since they are created solely to make it easier for consumers to purchase a product or service.
B2B (business-to-business) apps
There are two kinds of B2B apps:
Those available on an App store for businesses to download, which require login credentials to enter (like digital cash registers at store fronts) and;
Those only available to employees, which are usually not available for app store download by the public (like inventory control or other internal tasks).
Stand-alone apps (i.e. monetize on my app)
We'll get into this app category in more detail than B2C and B2B, because it offers so many options.
If your preference is monetization from the app itself, you have several revenue-based models to choose from.
The most popular revenue-based models are:
Don't change your revenue model unless the user benefits too
Once you choose an app revenue model, you are not locked in for the rest of the life of your app, but be aware that there is an impact to your users perception of your app if you change from one model to another.
We'll usually recommend our app clients not to change from a one-time payment app to a subscription-based model as it will enrage users who's already paid for the app.
A more accepted way would be to change an app from a free app with ads to a freemium model without ads.
Revenue Model: Subscription (most popular)
According to the State of Mobile 2020 report, of the top 250 US apps by spend through in-app subscriptions, there was an overwhelming 79% on Google Play and 94% on the Apple App Store based on the subscription model.
It is by far the most popular model to offer your product on a subscription basis. Combine it with a free trial period to entice users and prove the app's worth, and you've got a strong revenue-based contender.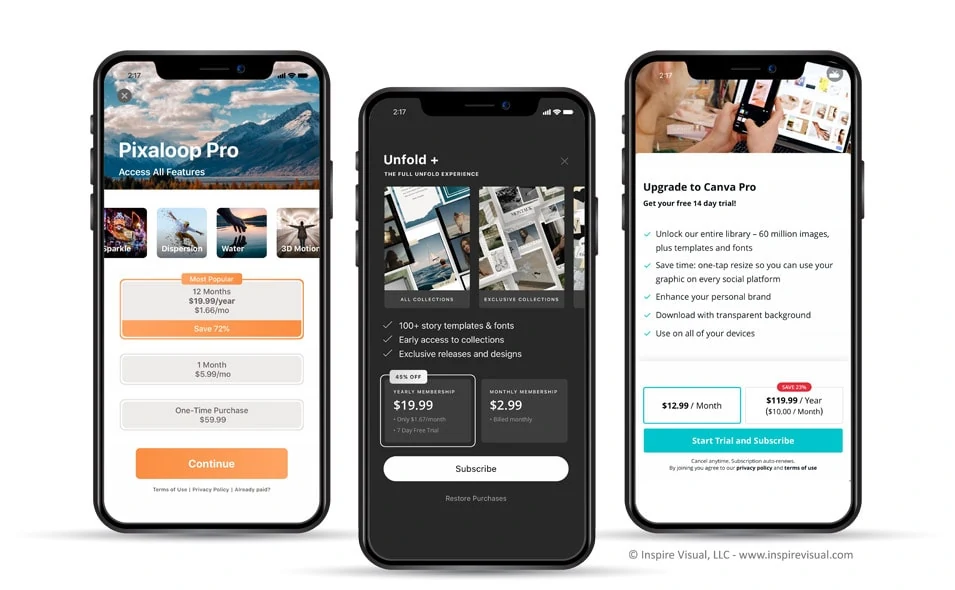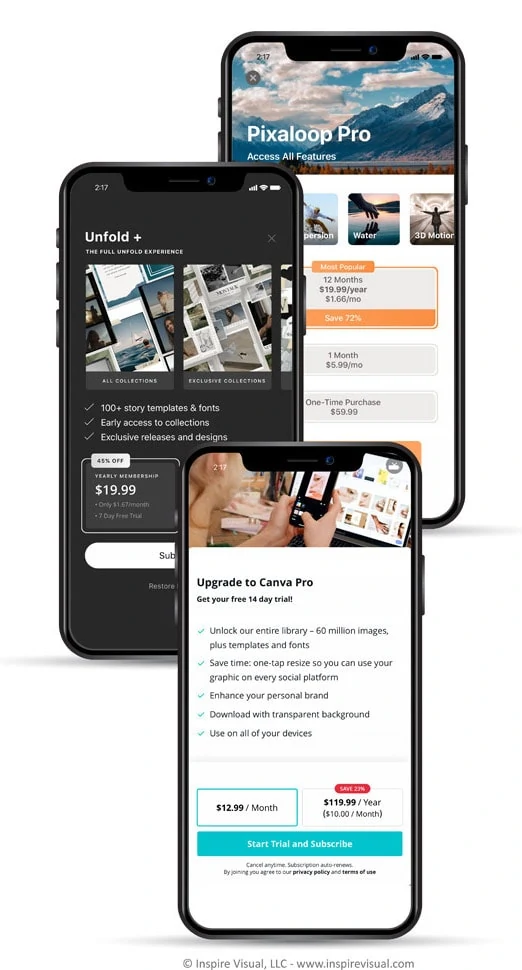 The subscription model is usually offered with a free trial, 1 month and annual payments.
PROS TO A SUBSCRIPTION BASED REVENUE MODEL
Minimal up front cost to the user
Apps earn higher revenue than other paid models
Option to offer discounts to loyal users by offering discounts on longer subscription periods
Recurring income
CONS TO A SUBSCRIPTION BASED REVENUE MODEL
May need to keep pushing new content and features to satisfy subscribers
Your customer support must be rock-solid or subscribers may not feel they get their money's worth
Some app categories are not fit for this model, examples are: single purpose apps (tv-remote, calculator etc.), gaming and shopping apps
Revenue Model: Free with ads
Most of the major mobile ad networks offer 5 formats:
Banner
These ads are usually text and images displayed at the top or bottom of an app.
Native
Mostly perceived as the least intrusive ad. They mimic the UI of the app with a small "sponsored" text added (popular with Facebook and Instagram).
Interstitial
They are full-screen ads shown between transitions in the app (IMDB and Duolingo use this).
Offer wall
Usually placed on a separate page the user has to click to get to. It lists multiple offers with in-app rewards to each choice; for example, in-game currency for clicking an ad.
Video
These are used in the native or interstitial formats above. They draw attention and engagement, but many users find them annoying due to their intrusion.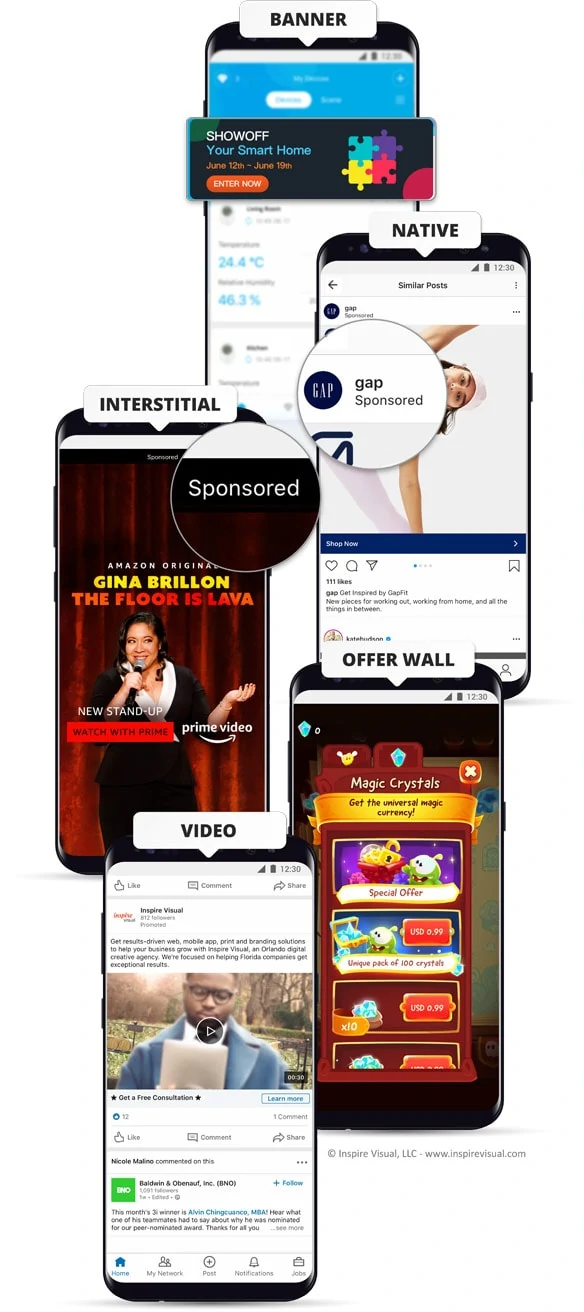 The five most used advertisement methods in apps.
PROS TO A FREE WITH ADS REVENUE MODEL
You can offer a premium app with all features for free
You can offer the option to turn off ads with a subscription or paid version
CONS TO A FREE WITH ADS REVENUE MODEL
Ads can be seen as intrusive and take up important app screen space
Can negatively affect the user experience and stop users coming back to an otherwise good app
Revenue Model: One-time paid app
This was at one time the most popular option: the user pays for the app one time and afterward, it's free for life.
This model works best for certain markets with limited life cycles. For example, if you target pregnancy or education, your user-base will be refreshed organically on an ongoing basis.
PROS TO A ONE-TIME PAYMENT REVENUE MODEL
The maintenance costs are lower as users don't expect as much renewed content
Users are more engaged than with free alternatives
Cleaner UI with no ads
CONS TO A ONE-TIME PAYMENT REVENUE MODEL
Marketing costs and upkeep are higher
You must showcase the value of your app up front. 5-star reviews, screenshots and videos are important
Few downloads per day compared to the other options
Difficult to convert to another app revenue model later — you're likely to upset current users and need to generate new users
Revenue Model: Affiliate marketing
With affiliate marketing, you are offering a free app but are paid by affiliates either by a certain action or sale the user completes.
Apps offering links to discounted products are often seen in this category. SlickDeals is one of the popular apps in this category.
PROS TO AN AFFILIATE MARKETING REVENUE MODEL
Free app with potential for a fast-growing user-base
Customer service costs are low or non-existent
CONS TO AN AFFILIATE MARKETING REVENUE MODEL
Random income pattern
No control of products offered
Revenue Model: Freemium
The Freemium method is increasing in popularity; some popular successful Freemium apps include Fortnite and Skype.
You can use these apps for free, but to unlock the full features or services you have to pay.
PROS TO A FREEMIUM REVENUE MODEL
Easier to get a large user base and get people interested
No cost or risk to try your product
Flexible because it can be converted to the other models without as much risk for backlash from your user base
CONS TO A FREEMIUM REVENUE MODEL
Some users will never convert to paying customers
You need to offer constant value to gain revenue
There's a fine balance with this paid model between offering too many vs too few features
In summary…
If you are trying to grow your user base and reach millions of people, Freemium or Free with Ads revenue models increase the user adoption numbers the fastest.
If you are targeting a smaller niche market, the Subscription or One-Time Paid revenue models might be a better choice.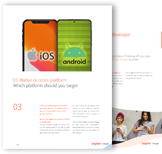 FREE EBOOK
Subscribe to our newsletter and get the free 40 page eBook "How to Launch an App" in your inbox.
Chapter 3 Decide native or cross-platform
When you're deciding how to build an app, a key decision you need to make early on is what platform(s) you are going to build on.
You can choose to release on Android with a 47.3% market share or iOS with a 52.5% market share. But why not release on both and get a 99.8% market saturation?
We can develop apps natively on each platform, (basically developing two apps). Or, we can build one cross-platform app to deploy on both platforms at once.
There are advantages and disadvantages to both native and cross-platform development and in sync with our client, we always choose the one optimal for their situation.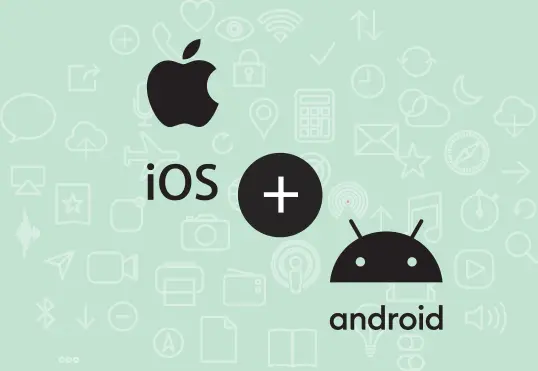 Native apps
A native app is an app build specifically for the platform it is going to run on.
You can get a performance boost by developing your app natively on Android and iOS, mostly due to code optimization and access to new features introduced by Google and Apple.
Optimized and quick reacting apps
We put great effort in to developing fast reacting apps. Speed is very important since users will delete the app if it's unresponsive or slow.
Programming languages
For iOS, the programming language is called Swift while Android has a plethora of different options such as Java, Kotlin, C/C++, just to name a few.
User interface and user experience
As for user interface (UI) and user experience (UX), there are differences between Android and iOS: gestures and visual components, like radio buttons, are some examples.
We've studied both platforms guidelines in detail to make sure app users get what they expect in terms of usability, for apps developed for that platform.
Over the last few years, more and more apps have moved to a unified experience on both platforms making similar or identical UIs.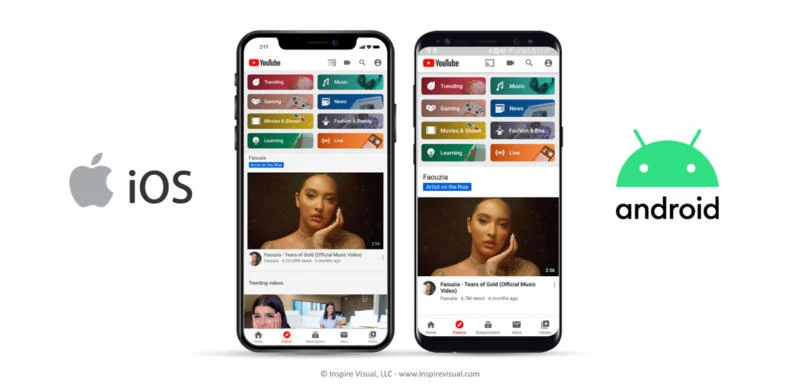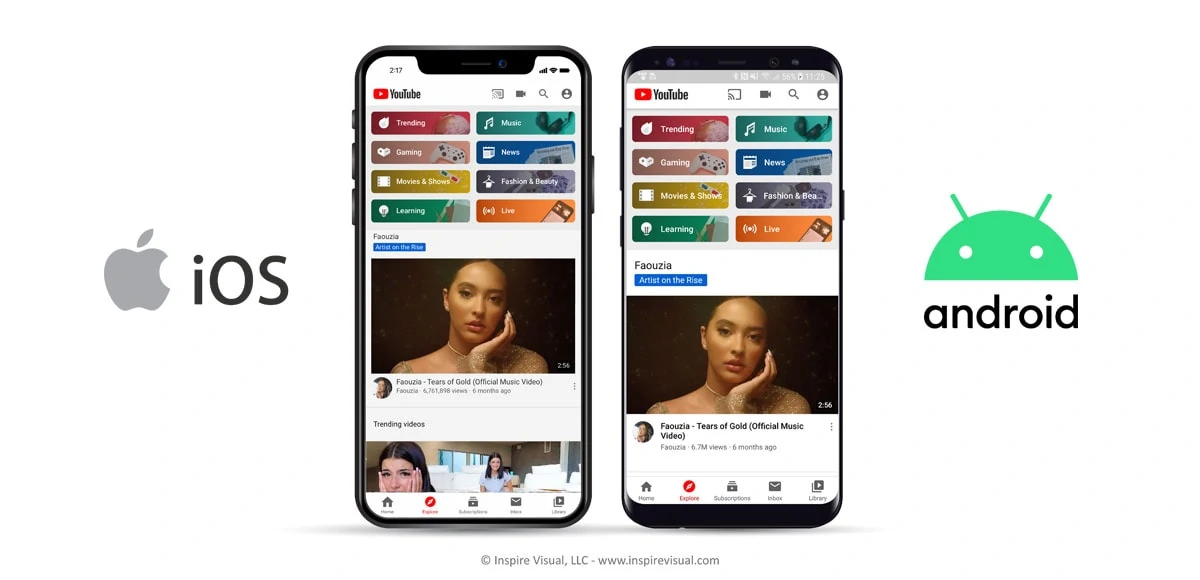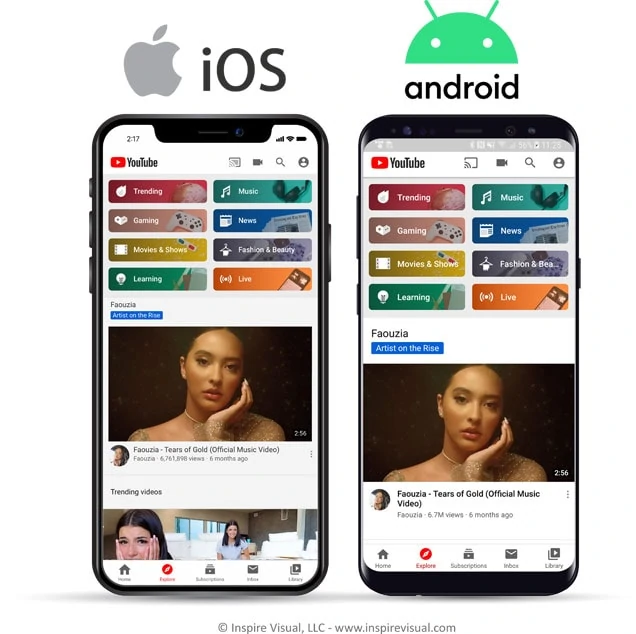 More and more apps define their own UI/UX experiences and make them identical on both platforms.
PROS OF A NATIVE APP
Faster implementation of new features after Android and iOS releases new OS versions
Stable app with less risk of crashes
Better positioning on the app marketplace due to high performance and user experience
CONS OF A NATIVE APP
Costs more to develop
Missed market share if there is only budget for iOS or Android app
Cross-platform apps
A cross-platform app is one app built to work on both platforms. The biggest advantages to building this kind of app are cost savings, faster development time and a seamless experience between Android and iOS.
When our app designers create cross-platform UIs, there are few to no noticeable differences between the Android and iOS UI.
We know Material Design on Android and Human Interface on iOS
Even though Android has its Material Design language, while iOS has its Human Interface guideline, the best way to design is not adhering strictly to either.
Instead, we make a UI that works on both platforms. Some apps already doing this are Instagram, YouTube and AirBnB.
Some cross-platform development kits are better than others
There are numerous cross-platform development kits to choose from, but there are 3 stand-outs our app developers favor due to the availability of features and support.
We go into more detail about these in our guest blog post on UpCity, "Best Mobile App Technologies: The Definitive Guide," but here's a quick rundown below.
Top 3 cross-platform development kits
PROS OF USING CROSS-PLATFORM DEVELOPMENT
Larger user base with less effort
Quicker development time if targeting both platforms
Cost savings
CONS OF USING CROSS-PLATFORM DEVELOPMENT
Larger app size
Compatibility issues with third-party libraries and tools
Stability issues
What's the best option?
It depends on what your most important value parameters are. Our recommendations based on years of app development is to use:
Native app development, if your priority is to get faster access to new features, whereas with a cross-platform app, you have to wait until the features are implemented in the development kits.
Cross-platform development, to allow for your app's potential user base to be much larger. Also, if you want to develop for both Android and iOS there are cost and time savings involved in development as well as future app updates by using one code-base only.
If you are still unsure, you may need to do more in-depth analysis of your app requirements to determine which option is best for you – or get professional advice from an app agency like ours.
Chapter 4 Select the right app developer
Once you're ready to start the exciting process of kicking off your app project, you'll need to determine what type of help to enlist with your project.
How do you know whether you should attempt to go it alone and build your own team or enlist the help of a skilled app development company offering mobile app development services?
Your budget, timeline and skill level of in-house resources will help you determine the right level of support.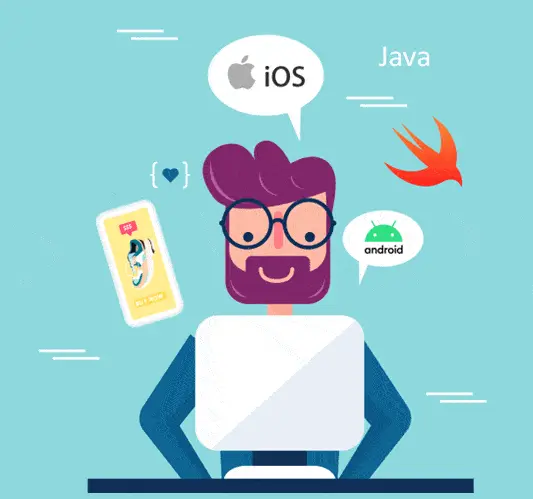 How much does it cost?
Our most frequently asked question is "how much does it cost to develop an app?" Well, it all depends.
That depends on several factors
How many features and screens will there be? What is the complexity of the features? Is back-end integration needed? Does the app need to work on both mobile and tablet? What about Android and iOS? How about portrait vs landscape? And so on.
And first you'll need a requirements document
Before you can get a realistic price, you need to build the requirements document, which details every feature and functionality. We can also create an app requirements document for you, but of course at a cost.
Estimates are possible without detailed information
We also offer our customers estimates based on them not providing detailed information, which at least gives them an idea of whether it's an economic feasible idea they can move forward with.
To give you an idea of app development, a survey of 12 mobile application development companies found that an app takes on average 7 months to complete and with an average cost of $171,450.
Examples of app development costs based on level of complexity
Remember these numbers are the initial cost for developing the app. There are also ongoing maintenance costs and updates the app requires, so you need to budget that in as well.
Build your own team
If you have a small budget the most realistic option might be to hire freelancers.
Depending on your budget, you may have to consider working with individuals in India, China or Eastern Europe. Popular sites for finding freelance help are Fiver, Peopleperhour and Upworks.
Be aware of the pitfalls in this category. There is a high likelihood of resources over-promising and under-delivering.
Be careful of using too cheap labor
The overhead for managing these resources can be very time consuming and the quality of the output low, with often very junior people promising to be able to perform just about any task under the sun and on unrealistic timelines.
Reviews can easily be deceiving
Be critical when you read reviews of the freelancers on the sites. It's a common tactic for some freelancers to pressure their clients into leaving good reviews before they'll deliver source code.
The risk of hiring a non US based app development firm
This is also true even if you have a contract that outlines your requirements and legal agreements. Many mobile app developers in far-away locations do not fear litigation if they break a contract.
Project management can be taxing
Unless you are an experienced project manager with in-depth app development experience, it might also be difficult to do quality assurance and sign-off on best practices.
The freelance approach is not recommended for a professional app
Of course you could say we have conflicting interest being a mobile app firm, but we cannot recommend the freelance approach at all.
The freelance market is generally a market of broken promises and lost dreams. It's also true that the less you pay, the greater the risk of your app ever being completed, so you end up having spend your money without anything to show for it.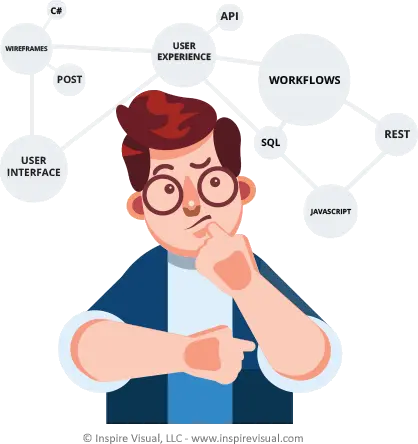 Some common terminology you need to know when developing an app.
Hire an app development agency
For the least worry and work on your part, you'll want to hire an experienced app development agency.
Get a professional team for a professional app
At Inspire Visual we assign a dedicated and custom-built project team, which depending on project size can consist of a project manager, UI/UX designer, developer(s) and QA professional(s).
Our app developers are all senior talent to ensure a quality-built app made in a shorter development time than our competitors. We have found employing senior developers makes for a much better app result and happier clients.
From our many years of being recognized as an trusted mobile app development firm we know what it takes to launch an app.
We have a good handle on the whole process and we will reduce your time and effort in producing and launching your app.
All phases of the app project are handled for a stress-free experience
For example, when we take on a new app project at Inspire Visual, we manage all phases of the work that our clients need help with. Just a few examples include:
Providing strategic guidance based on real-world experience
helping define and solidify requirements
defining best practices in design and development and assuring these are adhered to throughout the project
guaranteeing the work is high quality at each and every phase

Be cautious of seemingly US based companies, not all are
Be aware if you look for mobile app development companies online that a lot of seemingly US-based companies are only store-fronts for entirely foreign-based companies, mostly app development teams working out of India who have seemingly legitimate US addresses and phone numbers (but ultimately direct your call to India).
Unless you do some detective work online, you might not find out until you have already started the process.
The contractual advantage of hiring a US based app development firm
If you hire an app development agency like ours based in the US, you will be operating under US law, and we are liable to uphold all contract requirements.
If you are not sure if you need a large or small agency to work on your app project, check out our article "What do small agencies offer that the big guys can't."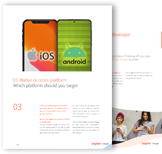 FREE EBOOK
Subscribe to our newsletter and get the free 40 page eBook "How to Launch an App" in your inbox.
Chapter 5 Market your app
Even though you're going to have the best app ever since sliced bread, it doesn't help if no one will ever hear about it.
That's why it's so important to know how to market apps and build a strong marketing strategy.
There are several aspects key to this which we will get into below.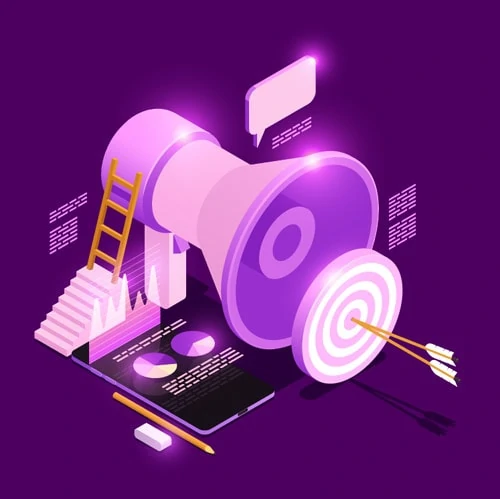 Understand your customers
We touched a bit on this topic in the first chapter. For effective mobile app marketing, you first need to create strong user personas for your marketing strategy to work its best with your core audience.
The user persona is a fictional person based on your average user.
For iOS or Android apps it should include demographics such as name, age, occupation, bio, likes/dislikes, technical skill and interests.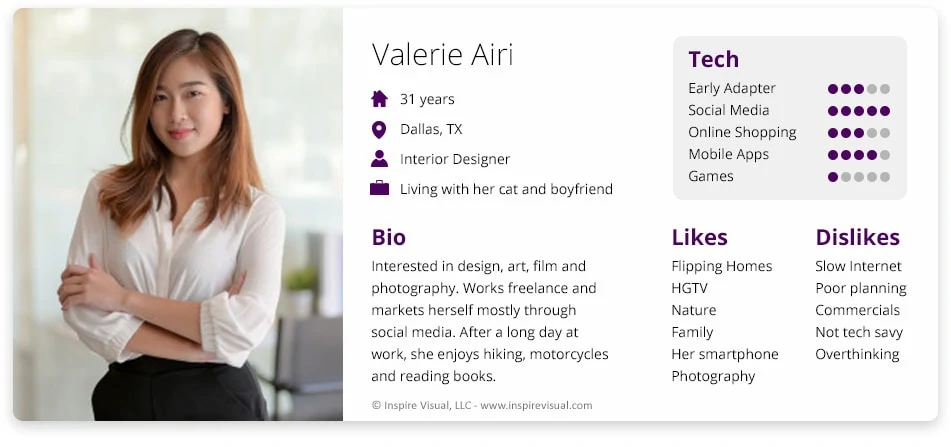 Create user personas to frame your app strategy.
Let's look at one of the customer parameters: age
In a study, Instagram is shown to have a 75% engagement from 18- to 24-year olds, but only 8% engagement from 65+ group.
At the same time, Facebook see a 76% engagement from 18- to 24-year olds and a much larger 46% engagement by the 65+ group.
The difference in targeting an age on the wrong platform
If your target demographic's age group is the young audience, there is not much difference between Instagram and Facebook, but if you are targeting seniors you can expect to reach more users on Facebook.
Include all the other parameters from your top user personas, and you can really customize your mobile application marketing strategy to maximize results.
The most popular social media platforms

Facebook, YouTube continue to be the most widely used online platforms among U.S. adults
Use of different online platforms by demographic groups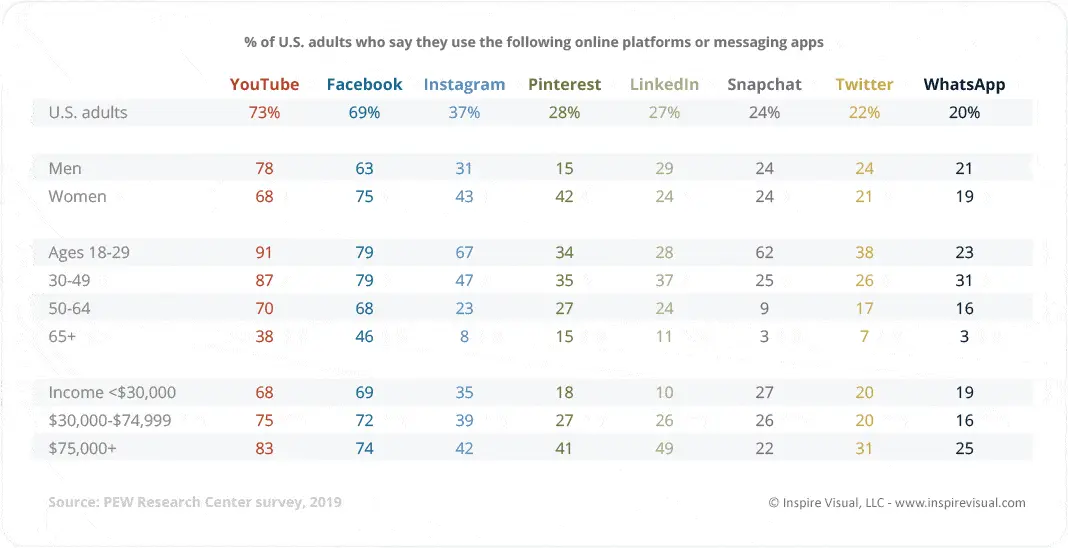 Knowing social media demographics can optimize your marketing spend.
Create a landing page for your app
Once you have your user persona work completed, you can start developing your Android or iOS app's presence on the web with your demographic in mind.
You will need a landing page to show detailed information about your mobile app. This should be available both pre- and post-launch.
The highlights your app should feature on the landing page
Feature key highlights, app screenshots and videos as soon as they become available. Include a simple sign-up form and encourage users to receive an alert with download links once your app is launched.
If you need help figuring out how to build your new website, check out our article "Consider your future needs when deciding how to build your website." or let us do it for you. We've built websites and landing pages since the '90s.
Test-run your app on alternative app stores
iOS users only have one app store for iOS apps; the Apple Store, but Android apps have a wide variety of app stores to choose from.
Each of these app stores have different demographics and purposes. If you want more detail about that, check out this great article "The 10 Best Alternative App Stores for Android".
The reason test-runs of apps are beneficial before the official launch
The reason for doing test-runs of your app on these smaller app stores is to get feedback from real users and perform app store optimization. That feedback will allow you to fine-tune your app and its presentation with screenshots, videos and great descriptions before launching on the largest Android app store; Google Play.
The strengths of using alternative Android app stores
By using alternative app stores, you can eliminate the worst hick-ups new apps sometimes experience. That will minimize initial negative feedback and low ratings on the official Android app store.
Familiarity with the app store process benefits your app
This is another area Inspire Visual is experts at. We know the entire app store review and requirements for Apple and Google as well as third-party app Android app stores.
Promote your app on social media
You don't need to be represented on every platform available. Focus on the ones with the highest engagement from your key audience.
Send out regular updates to stir interest
Post tailored and exciting updates regularly during development to announce the exciting app launch for Android or/or iOS devices. Display features that will generate interest and encourage users to share with their network.
Great looking screenshots are a must-do item
Unless you are trying to beat a competitor to market, also share screenshots and ask for feedback. Think of it as access to free focus groups with an interest in your app.
Gather a list of interested future app users from email sign-ups
Similar to your landing page, have people do early sign-ups here, too. All you need is an email sign up for strategically placed on your landing page.
Launching an application is hard work if you do it right, but it'll make the difference between success or failure.

Target select social media platforms with highest engagement.
Spread the word
Create a press kit using materials from your landing page and social app campaign.
What a good press kit should include
We always recommend our app clients to make sure their press kit includes a logo, screenshots, feature highlights, short app description, links to landing page and social channels and your contact information. If you have any videos showcasing the app, that's the icing on the cake.
Who to send your press kit to
When everything is ready, send your app launch press release to mobile and industry journalists and bloggers. Let them know you are available for any questions/interviews and feedback.
Generate initial buzz and maintain it with regular app news
Keep in mind, it's a good pre-launch opportunity to generate buzz as early as possible to increase reach, but you have to be able to keep the interest up in the launching stage with continuous app updates – otherwise it's a wasted effort.
So, plan your timing carefully.
Chapter 6App launch – lift off!
You have built your app strategy, defined your app goals, developed and marketed your app. Now it's time for the final step. Launching your app to the market place!
These are the final steps we apply at the end of every app development phase – unless our clients prefer and are comfortable doing it themselves.
We'll share our methods here, first with a step-by-step guide for Android and then for iOS.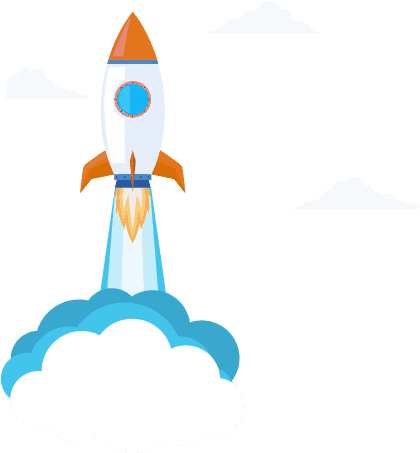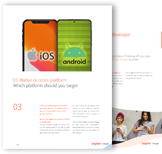 FREE EBOOK
Subscribe to our newsletter and get the free 40 page eBook "How to Launch an App" in your inbox.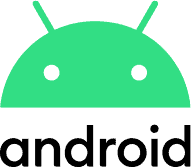 How to do final quality assurance on Android
There are three test phases available for Android:
Internal Testing
Closed Testing
Open Testing
These tests are set up in Google Play Console.
Internal testing (limit: 100 testers)
We usually do this by publishing an alpha version of the app to a small team within your company and/or a small group of friends. They need a Google or G Suite account to join the test.
Builds in Internal Testing are not delayed by Beta reviews by Google, enabling us to push builds more quickly.
Closed test (limit: 100,000 testers)
We increase the number of testers to a larger group, but still with a group of employees or trusted users. This phase is subject to a beta review process by Google, which fortunately usually only takes a few hours.
Open test (limit: none)
This test is for the largest group to test the most stable version of your app. In this last test phase your app will go public in the Play Store, so this is where we make sure your Play Store page looks finished.
The app store's beta testers feedback is not public, giving us an option to get real-world use feedback with a chance to fix any last issues before the official launch. Feedback does not affect the app's rating or reviews.
This is the perfect testing scenario for launching applications and testing them thoroughly in a controlled setting.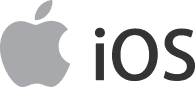 How to do final quality assurance on iOS
Before going public on the iOS app store, Apple offers two types of tests for iOS:
Internal Testing
Public Testing
We use TestFlight, which is Apple's testing management tool, for both methods.
Internal testing (limit: 25 testers)
This part is usually confined to within your company or a selected group of friends. They can test on up to 30 devices each.
From TestFlight we invite users either by using their email address or sending them a shared link.
Testers are instantly notified of any new builds and Apple does not have to review app builds every time. This makes the whole process of launching applications much faster than the public testing below, so we make sure to do this in-depth before moving on to public testing.
Public testing (limit: 10,000 testers)
We increase the number of testers to a larger group. We can either use your own resources or hire testers. They can be invited via email or a shared link.
When doing public testing, all beta builds are subject to Apple's acceptance to make sure it follows the App Store Review Guidelines. It usually takes from a couple of hours to a day.
Submitting your app
When we're ready to submit your app, we make sure your app follows Google Play's Policies for Android apps and the App Store Review Guidelines for iOS apps.
This is where the app is added to a category and details are included for your audience about how your pricing works (if your app is a paid app).
We also help our clients provide the availability of languages available, how to contact you and what your Privacy Policy entails.
Once these steps are finalized, Google and/or Apple will review your app to make sure it follows guidelines before they release it.
If anything bounces back, we'll address it right away and send the app back for another review.
The review and approval process generally takes from 7-14 days. At this point we're done with your app and it's ready for the spotlight — this is an exciting time for everyone!
Conclusion
Mobile app audiences today have come to expect professional, fully functional apps – even apps that are free or may only cost a dollar to download.
Start a marketing campaign before or during development, not after
A mobile app launch is a cyclical process that requires reassessment as market demands change. App launch activities should happen long before the release date.
Your app launch strategy should include many touch points to build awareness with potential users long before the product is ready to launch.
Don't neglect ongoing app maintenance and feature add-ons
Moreover, your mobile app may need to be updated and relaunched regularly with new updates and features; otherwise you may have a hard time keeping your users engaged.
Though you do need to put in the time and effort to do it right the first time, it's an exciting and rewarding (and oftentimes lucrative) undertaking.
The app market is booming and growing larger every year
The smart device market and app sales are projected to have continual growth in the coming years.
The app market is wide open to those who have a great idea that solves a real problem for their audience – and that does so effectively.
Making informed decisions right from the beginning keeps you from spending more time, effort and money than necessary.
Do you have more questions about how to develop and launch an app?
We hope our guide on how to launch an app has given you new knowledge and confidence to help you move forward with your app idea.
Do you still have questions about how to launch an app? If you need more help with any part of the process, reach out to Inspire Visual and our team would love to assist.
We offer iOS and Android app development services in both native and cross-platform solutions.
---
About Inspire Visual
At Inspire Visual, we believe that compelling design, functionality and content help drive effective results. That's why we work hard to provide innovative, visually inspiring and functionally sound solutions to address your marketing challenges and extend your brand's reach.
We offer decades of experience helping brands worldwide with websites, mobile app development, email marketing, direct mail campaigns, brand identity design, UI/UX, graphic design, print design, tradeshow design and more. We feel privileged to be allowed into our clients' businesses, and we strive to provide personal service and close collaboration throughout your project.
Call 407.476.1950 or email [email protected] to contact us, so we can meet you, learn more about your business and answer any questions you have. We'd love to connect with you!
YOU MAY ALSO LIKE
Inspire Visual
Behind every successful app, there is a carefully crafted app user interface. You may not give it much thought when you use an app, but creating an intuitive and appealing user interface takes a long time and requires a lot of revisions before getting that final design nailed down.
Inspire Visual
Developing an app today is hard work for you or your app development agency. It requires a good understanding of the competitor landscape for any app category and how to take advantage of best practices, to remain relevant and exciting to the picky app users of today.
Are you ready to talk about your project?


Hello, I'm Angela, co-founder of Inspire Visual! Let's have a chat about your project. Send an email or fill out the form to get started. Talk soon!