BLOG:
The First Preview of Android 12
Android 12 Developer Preview 1 (DP1), the 12th major version and the latest Android update of the Android operating system has just been released by Google. We got our hands on the developer preview and can reveal the brand new features introduced with this next Android update, Android 12, also code-named "Snow Cone".
Google release these developer previews to test out features before the official Android software update of their stable release. The Android 12 release date will likely be this August or September. It gives us a first look at Android 12 into what everyone can expect on their Android devices soon.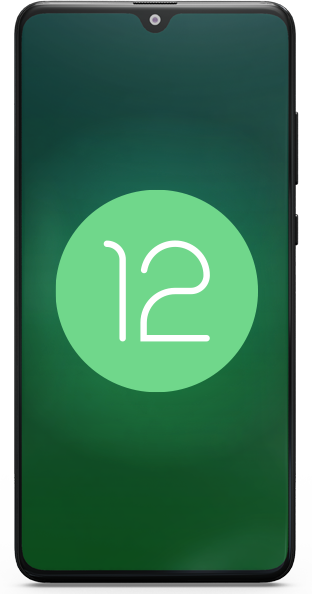 Exciting new material NEXT design
There has not been a major redesign of the Android UI since the change from Holo to Material Design in 2014 until now. The new Android OS will introduce an overhauled UI with a lot of visual upgrades and new transitional animations.
In the latest Android 12 update, the Android UI now has a bluish tint across all system screens. In Quick Settings the inactive icons are light blue and active icons are dark blue. If the contrast is too stark, it's possible to decrease it using the Reduce Bright Colors setting in Quick Settings.
You can also enable a feature flag that activates Silky Home. Silky Home change the entire interface to be much more one-hand friendly, with larger headers and relocating the buttons/toggles further down the screen which makes navigation on larger screen devices easier.
Silky Home is currently only available in the Settings app, but it's likely to be adopted to other sections in the OS in later OS releases and likely end up included in third-party apps as well.
Another big design change is that widgets are getting a redesign as well. Google has probably been eyeing the success of Apple's Widgets overhaul last year, and it's likely they have been taking notes and that's why they are redesigned Widgets to be more user friendly.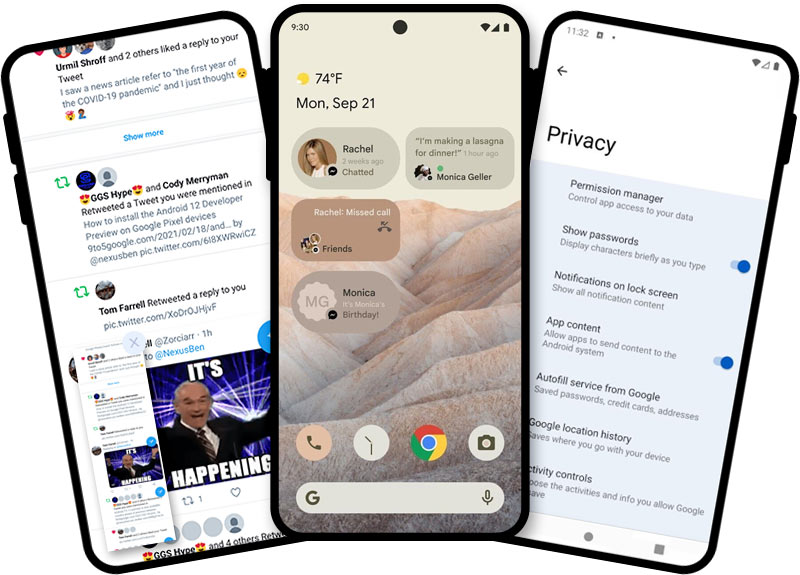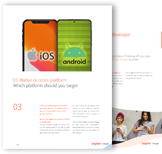 FREE EBOOK
Subscribe to our newsletter and get the free 40 page eBook "How to Launch an App" in your inbox.
Take full screen captures with the scrolling screenshot feature
Scrolling Screenshots is another somewhat new feature. It was actually confirmed to be introduced by Google as a native feature over 2 years ago after Android 10 was just released. The feature encountered various challenges in development and was never introduced in Android 11.
In Android 12 DP1 Scrolling Screenshots are not enabled by default. Once enabled, a scroll button is overlaying the UI and it makes it possible to take screenshots of an entire scrollable page, not just what you are seeing on the screen.
The Android 12 feature is still buggy and does not not work in Chrome for example. It works great in Settings and almost a hundred percent in Twitter, except for showing the compose icon repeatedly.
The Scrolling Screenshots feature will either be stable by the official Android 12 release date and work across all apps or yet again be disabled for a future Android OS release.
Hide unimportant notifications with the snooze button
If you receive a lot of notifications or just like to hide unimportant notifications to look at later, you'll be able to with Android 12. There's a new snooze button in the Notifications Panel where you can adjust the snooze duration between 15 minutes to 2 hours until the notification will pop up again.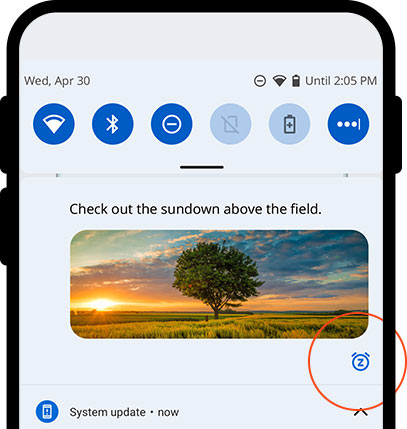 Updated picture-in-picture mode
Picture-in-Picture allows you to watch videos in a floating window while you multitask for example by answering a message.
While Picture-in-Picture has been available since Android 8, it has not received any improvements since and it's been pretty basic compared to Android 12's new Picture-in-Picture mode.
Now a new pinch-to-resize functionality has been added. It makes it possible to resize the floating window to your liking.
The second new feature added is called Stash. It makes it possible to drag your PiP window to the edge of your screen, like on Apple's iOS.
As expected the new PiP mode is still buggy in the Android 12 Developer Preview, but it's likely to be refined over the next 4-5 months and ready for release in the official Android 12 stable release.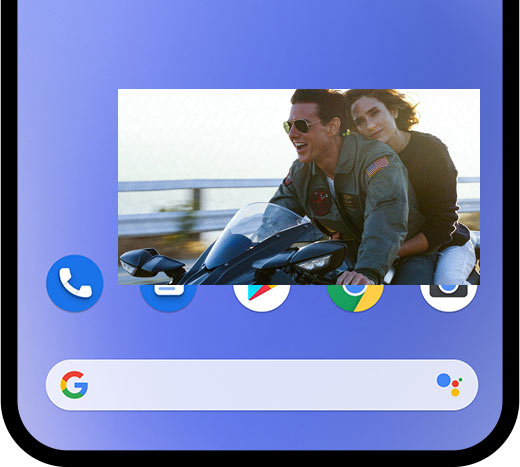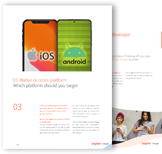 FREE EBOOK
Subscribe to our newsletter and get the free 40 page eBook "How to Launch an App" in your inbox.
Share passwords easily with wi-fi password sharing
Apple released Wi-Fi password sharing in iOS11 back in September 2017. Google is finally introducing the same functionality in Android 12. You could argue why it's been taking Google so long to embed such a useful feature, but at least it's finally here.
For those of you not in the know, Wi-Fi password sharing allows you to share the password of the network you are connected to with someone else awaiting connection without having to manually type the password. You just have to tap a "share network" button and they'll get instant access.
Brand new phone call notifications
With the Android 12 update a neat feature was introduced. It's not glamorous, but just one of those helpful features that will make everyday life with your Android phone a little easier.
The new feature allow apps to prioritize active calls by showing a prominent chip in the status bar. The chip will show the duration of the call and you just have to tap it to return to your call. Easy Peasy.
You will also be able to enjoy image support for notifications, meaning for the first time small images can be added to the notifications area.
For those who value privacy, privacy indicators are a welcome addition
As with the Wi-Fi password sharing, Google really is eyeing some of the useful features offered on iOS. Privacy Indicators already been on iPhones and iPods for a long time is now also part of Android 12, though it's disabled by default in the Developer Preview.
Privacy Indicators are extremely useful to protect consumers' privacy. In their essence they are a text box that pops up on your screen if an app wants to use your camera or microphone. You can then choose to Cancel or Turn On access.
We can hope this feature expands to status indicators, also known from iOS. Status indicators show up at the top of your screen and alerts you when apps are using either your microphone or camera.
Hopefully both the Privacy Indicators will be enabled and available by the official release once tested thoroughly.
Better image compression and faster downloads with AVIF image support
Less flashy but just as important is the optimization of image formats (image decoding). Smaller images both save your monthly data plan usage and also speeds up rendering of websites.
In Android 12, Google will support the next-gen image format AV1 Image Format (AVIF). AVIF is a better compression format than JPG, resulting in smaller files and better looking images.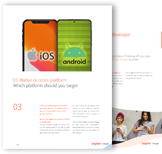 FREE EBOOK
Subscribe to our newsletter and get the free 40 page eBook "How to Launch an App" in your inbox.
Conclusion
These are major features introduced in the brand-new Android 12 OS and they are a welcome addition to an already powerful OS. From our experience, the Android 12 stability seems as expected in an Android 12 beta version. The few bugs will surely be ironed out by the official release of the latest Android update.
We will be experimenting and getting more familiar with the Android 12 OS, so we can continue to develop apps that are both stable, polished and ground-breaking, but getting an early start also makes us able to take advantage of all the new features as leading app developers.
And, if you'd like to learn more about what it takes to build an app, give us a call or reach out with questions. We'd love to talk to you about your app idea!
---
About Inspire Visual
At Inspire Visual, we believe that compelling design, functionality and content help drive effective results. That's why we work hard to provide innovative, visually inspiring and functionally sound solutions to address your marketing challenges and extend your brand's reach.
We offer decades of experience helping brands worldwide with websites, mobile app development, email marketing, direct mail campaigns, brand identity design, UI/UX, graphic design, print design, tradeshow design and more. We feel privileged to be allowed into our clients' businesses, and we strive to provide personal service and close collaboration throughout your project.
Call 407.476.1950 or email [email protected] to contact us, so we can meet you, learn more about your business and answer any questions you have. We'd love to connect with you!
YOU MAY ALSO LIKE
Inspire Visual
Developing an app today is hard work for you or your app development agency. It requires a good understanding of the competitor landscape for any app category and how to take advantage of best practices, to remain relevant and exciting to the picky app users of today.
Inspire Visual
The online food delivery market is thriving and the popularity of using restaurant delivery apps keeps growing. Today, at-home restaurant ordering already accounts for 12 billion U.S. dollars spread across 50 million hungry app users. Restaurant owners are flocking to stick with the times and offer the food online. For good reason, the mobile app food delivery market is experiencing rapid growth and showing no signs of slowing down. The best time to get started was yesterday, the second-best time is today.
Are you ready to talk about your project?

Hello, I'm Angela, co-founder of Inspire Visual! Let's have a chat about your project. Send an email or fill out the form to get started. Talk soon!