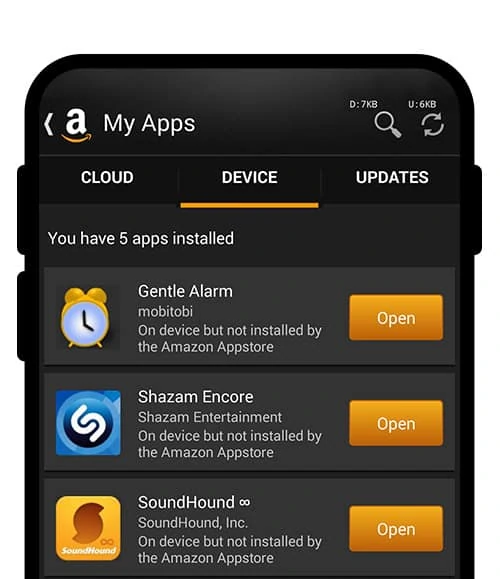 The world's largest retailer opened its Amazon App Store in 2011. The app store is pre-installed on Amazon's Fire devices and is a worthy contender to Google's Play store.
With the release of Windows 11, Microsoft announced that its Microsoft store would allow access to the Amazon App Store, making it possible to run Android apps on a Windows-based PC.
There are currently more than 480,000 available apps in the Amazon App Store, including popular apps Minecraft, YouTube, Facebook, Instagram, Roblox, Spotify and much more.
The virtual currency Amazon Coins can be used to buy apps, games, and in-app purchases. Amazon Coins can be purchased as gift cards or rewarded through various channels.
One of the differentiators of the Amazon App Store is that besides the common APK apps, you can also submit HTML5 web apps to their app store.
Every new app is reviewed by Amazon staff before being published. That helps ensure they are safe to use and will work without hiccups.
Depending on the app type, we recommend many of our APK or HTML5 web app clients post their apps on the Amazon App Store to reach a wider audience. Some apps are not suited for the store, but we assist in making the right decision based on the type of app.
We also help app publishers meet publishing requirements, including uploading images, descriptions, tags, etc.
You can install the Amazon App Store here and gain access to it from your Android phone.

---
About Inspire Visual
At Inspire Visual, we believe that compelling design, functionality and content help drive effective results. That's why we work hard to provide innovative, visually inspiring and functionally sound solutions to address your marketing challenges and extend your brand's reach.
We offer decades of experience helping brands worldwide with websites, mobile app development, email marketing, direct mail campaigns, brand identity design, UI/UX, graphic design, print design, tradeshow design and more. We feel privileged to be allowed into our clients' businesses, and we strive to provide personal service and close collaboration throughout your project.
Call 407.476.1950 or email [email protected] to contact us, so we can meet you, learn more about your business and answer any questions you have. We'd love to connect with you!
YOU MAY ALSO LIKE
Inspire Visual
Behind every successful app, there is a carefully crafted app user interface. You may not give it much thought when you use an app, but creating an intuitive and appealing user interface takes a long time and requires a lot of revisions before getting that final design nailed down.
Inspire Visual
Developing an app today is hard work for you or your app development agency. It requires a good understanding of the competitor landscape for any app category and how to take advantage of best practices, to remain relevant and exciting to the picky app users of today.
Are you ready to talk about your project?


Hello, I'm Angela, co-founder of Inspire Visual! Let's have a chat about your project. Send an email or fill out the form to get started. Talk soon!