BLOG:
The 10 Best Alternative App Stores for Android
Hands down the largest and most popular app store for Android is Google Play with a massive collection of over 2.5 million apps. With a good app strategy and solid user engagement plan you are well equipped for having success in the Play store.
However, if you are launching an app, there is great potential in the alternative app stores. With less competition and smaller or no fees you shouldn't underestimate the importance of these stores.
Or if you are searching for great APK store alternatives to download APK apps, you'll have some excellent choices in this list.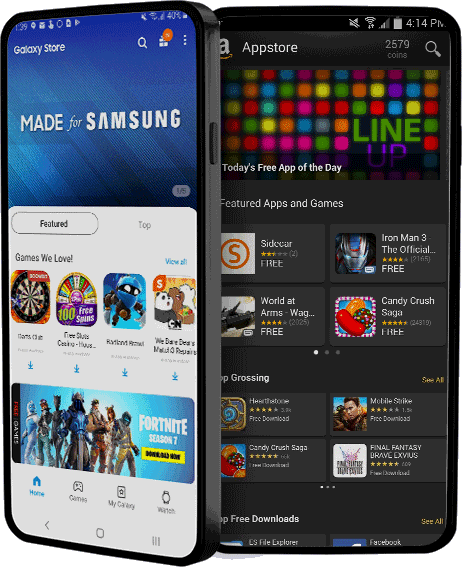 The best Google Play alternatives for Android
The reason for Google Play's large success is partly because it is the official Android app store and come pre-installed on most Android phones. It's also the easiest way to install an APK app on your phone (APK is the file type of Android apps).
The downside to Google Play is the competition is really strong and it can be hard for a newcomer to get exposure.
What many people don't know is there are alternative app stores available and installing an app APK through them is not difficult.
Each app APK store has a significant number of monthly active users and if you have an app idea, there's no reason why you shouldn't launch it on those platforms to get a larger audience. Or if you're just looking for great apps that may not be available on the official store.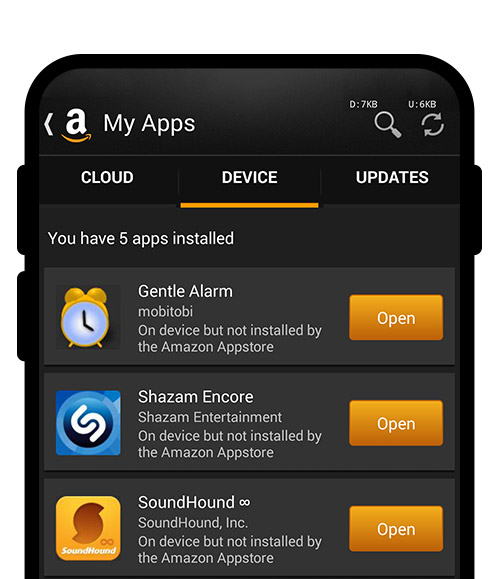 Amazon App Store
The world's largest retailer opened its Amazon App Store in 2011. The app store is pre-installed on Amazon's own Fire devices and a worthy contender to Google's Play store.
There are currently more than 455,000 available apps in the Amazon App Store, including popular apps Minecraft, YouTube, Facebook, Instagram, Roblox. Spotify and much more.
The virtual currency Amazon Coins can be used to buy apps, games, and in-app purchases. Amazon Coins can either be purchased like a gift card or rewarded through various channels.
One of the differentiators of the Amazon App Store is that besides the common APK apps, you can also submit HTML5 web apps to their app store.
If you have an APK app or HTML5 web app you want to publish on the Amazon App Store or you want access to download APK apps in the Amazon App Store you can do it here.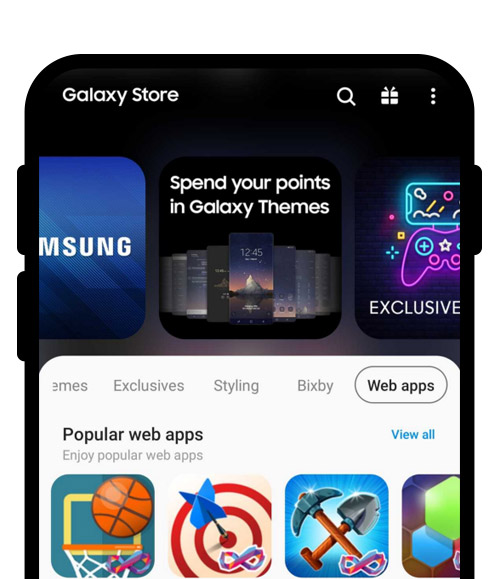 Galaxy Store
Samsung, the largest manufacturer of Android phones, launched their own store in 2009. Access to it comes bundled when you buy a Samsung Galaxy smart phone or Gear watch and the store is available in 125 countries. The catch is that the APK apps are only available to Samsung owners.
The store positions itself as a high-end APK app store not allowing low-quality apps to be listed. An issue Google Play is plagued by with over 50% of its apps being unrated and few downloads to follow.
A big advantage of publishing on the Galaxy Store is you will have less competition and immediate access to all Samsung Galaxy and Gear owners.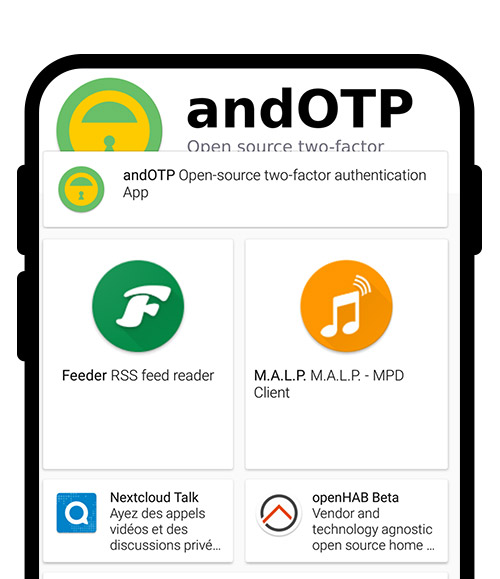 F-Droid
This is a community-maintained store and unlike the corporate-run stores, every app on the F-Droid store is free and open-source.
The Store was founded in 2010 with an app selection geared toward utility apps and power users. It's an alternative to the "geekier" app users, who needs more features than main-stream apps provide.
The app selection is rather small at approximately 3,000. But as an alternative APK store, it could be a good testing ground before releasing in the larger app stores. And to search for apps not found in other APK app stores .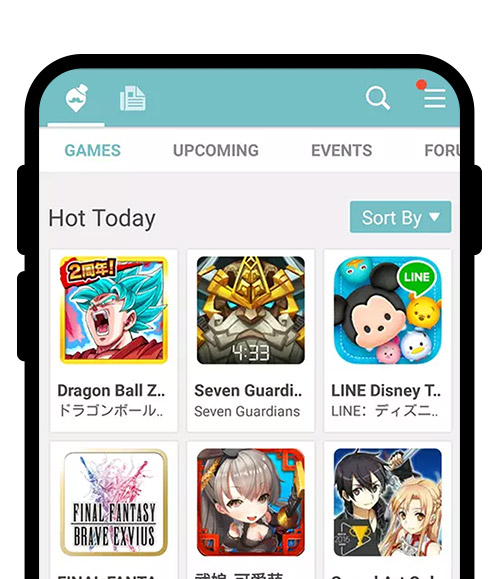 QooApp
The QooApp is an Asian app store specializing in anime, games and comics from Asian developers.
Many of the apps are non-English, so you may have to sort through the library to find English translated comics or games.
When you do find an APK app you are usually met with a manga or anime styled interface.
It's probably the best app store for finding anime styled games.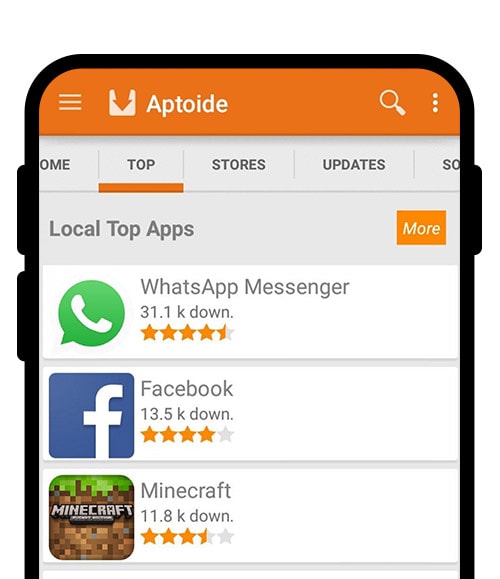 Aptoide
This is an alternative app store based in Portugal and initially released in 2009. Aptoide works different than traditional 3rd party app stores by not having a centralized store. Instead each APK app store is managed by individual users.
But don't worry, as with other app stores you are able to search the entire library from Aptoide's search bar. Popular apps include PlayerUnknown's Battlegrounds, TikTok, Netflix, Twitter and many more.
The content regulations are much less strict in this app store than others. This also reflects on the available APK app types. There is some adult content and piracy apps and you can download without having a registered account.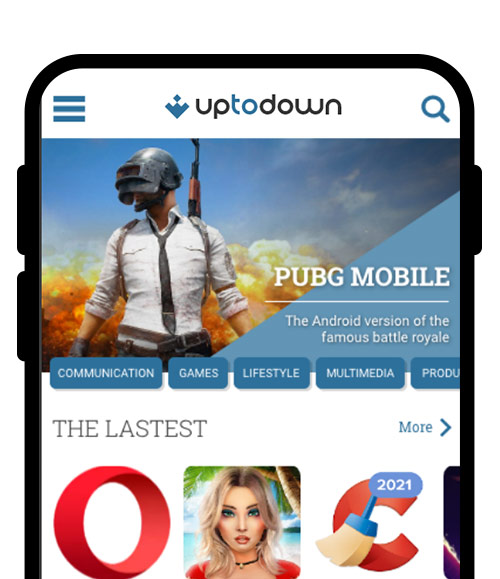 Uptodown
The Uptodown app store is another great alternative for finding quality APK files for Android.
Uptodown was founded in 2003 with headquarters in Spain. Originally a portal for downloading desktop programs, but with the success of mobile phones, Uptodown quickly saw a new market and started their own APK store.
The goal of Uptodown's app store is to be as non-restrictive as possible, while still protecting the safety of its users. Uptodown use Virustotal to scan apps for trojans, viruses and other malware before they get published on the app store.
Uptodown is an open app store without demographic restrictions and you don't need to sign up to use their app store.
Their revenue is advertisement-based, so they do not offer paid apps in the same way as the traditional Google Play store.
Some apps have in-app payment/freemium models, but Uptodown is not getting a piece of the revenue, and that usually results in cheaper APK apps overall.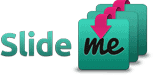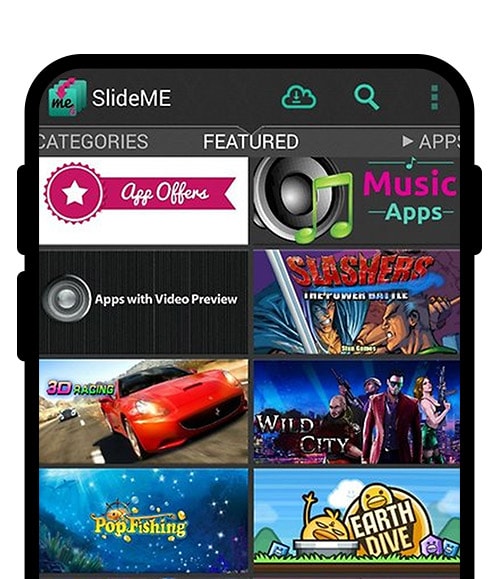 SlideMe
SlideMe was founded in 2008 and market themselves as "the best alternative to the Google Play app store". While they offer both free and paid apps, they don't have the same large number of apps as Google Play.
You pay for apps through SlideMe by using either a PayPal or Amazon account to fund your purchase.
App developers can take advantage of free developer services, including in app billing and SlideLock – a tool to protect your app.
It's a worthy alternative app store to get your APK apps from or to publish your own app from.

Bemobi Mobile Store
Formerly Opera Mobile Store, Bemobi Mobile Store offer not only Android apps, but also Java, Symbian, Blackberry, iOS and even Windows Mobile apps. They are available in 230 countries and boast 2 million downloaded apps per day.
They are not a traditional app store, but a hybrid between a traditional app store and an APK store library linking to apps from other stores.
For example, if you find an Android app you like and click download, you may get the app's APK file directly from Bemobi or be referred to the download link on Google Play.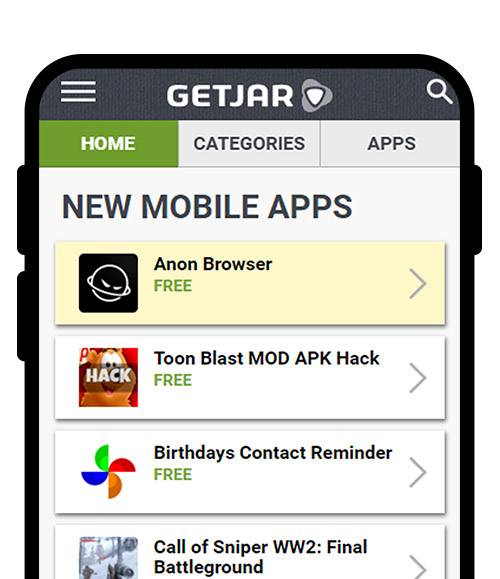 GetJar
The GetJar app store was founded in Lithuania in 2004 and acquired in 2014 by Chinese mobile app firm Sungy Mobile. They have more than 350,000 APK apps available for Android, BlackBerry, Java, Symbian and mobile web.
Getjar offer both free and paid APK apps in categories such as games, social messaging, productivity etc. similar to the official Google Play store.
You can download apps from within the GetJar app or directly from the GetJar website.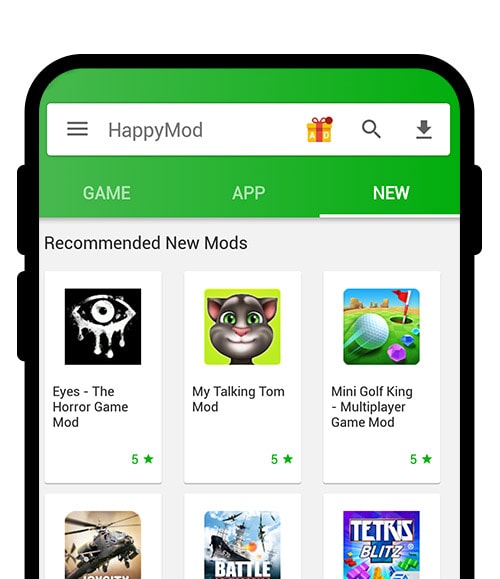 HappyMod
This is an unusual alternative app store as it doesn't offer original created apps, but rather "modded" apps. A modded app is an APK app file that has been modified to extend the functionality of the app or with certain original app restrictions removed.
For example, ads may be disabled from games, in-game currency is unlimited or the number of days of a trial period extended indefinitely.
Users will give feedback on whether the apps are working and malware free. If the APK apps get don't meet these requirements they will be removed.
HappyMod claims compliance with the Digital Millenium Copyright Act (DMCA) and publishers can request their app taken down from the APK store if they feel there is a DMCA violation.


Itch.io
We thought Itch.io deserved a bonus spot.
Itch.io is an app store only available via Itch.io's website. The APK store offer apps for Windows, macOS, Linux, Android, iOS and Web platforms.
For Android it focuses on delivering Indie games and currently have almost 24,000 games in the catalog. Some are free and some are paid apps.
Finding popular games like Among Us is unusual. The games are – for the most part – not listed in other app stores and created by game communities and volunteers who spend a short amount of time to release a game they are passionate about. The quality is usually high despite not being developed by a professional game studio.
Events are also held in which developers only get a few days to complete a game which is then published in this alternative APK store.

Final thoughts
When you download APK apps from an alternative app store, you are not protected against malware, viruses and security treats the same way you are from Google Play.
Be vigilant about what you are downloading and where it is coming from. Downloading from the Samsung Apps Store will likely be safer than downloading a modded app from HappyMod. That said, all of the app stores listed are well established and generally safe to use.
With many of the apps being downloaded from third-party app stores, you will have to accept to "install from unknown sources" on your device.
If you want to publish an app, there is no way around the Google Play store, but all of the stores listed are great alternative app stores to use for a wider reach.
---
About Inspire Visual
At Inspire Visual, we believe that compelling design, functionality and content help drive effective results. That's why we work hard to provide innovative, visually inspiring and functionally sound solutions to address your marketing challenges and extend your brand's reach.
We offer decades of experience helping brands worldwide with websites, mobile app development, email marketing, direct mail campaigns, brand identity design, UI/UX, graphic design, print design, tradeshow design and more. We feel privileged to be allowed into our clients' businesses, and we strive to provide personal service and close collaboration throughout your project.
Call 407.476.1950 or email [email protected] to contact us, so we can meet you, learn more about your business and answer any questions you have. We'd love to connect with you!
YOU MAY ALSO LIKE
Inspire Visual
How do you find the right mobile app development company to make sure you are in good hands? Doing the initial research and choosing the right company can mean the difference between sleepless nights or the beginning of a stress-free and exciting journey. There's a lot more to finding the right partner than looking at the cheapest bid. In fact, you're likely to get into trouble if you go with the lowest bidder. We'll tell why that is and what's important when looking for a mobile app development company.
Inspire Visual
iOS 15 and iPadOS 15 are jam-packed with features and they are both being released to your iPhone and iPad this fall. This time Apple is not focusing on the big visual overhaul of iOS 14, but instead making the focal point about introducing really cool new features that'll make your device even more versatile. We're taking a closer look at all the greatness you'll be able to use, including a heavily upgraded FaceTime experience, new Apple Maps with 3D view in cities, sleeker notifications design, Live Text enabling you to copy/paste text from images and - of course we dare say - better privacy with offline Siri integration on select device models.