NEWS:
The 5 Biggest Apple announcements for 2021
The spring hardware reveal event in 2021 was just held by Apple from California and a slew of new exciting devices are being released this year.
iPad Pros with fast M1 chip and a crispy clear Liquid Retina XDR screen, a redesigned iMac with a 24-inch, 4.5K retina display, a new snappier Apple TV 4K for your home entertainment, a new color option for the iPhone 12 and an iPhone compatible location-tracking device called AirTag.
Let's dive deeper into the new Apple releases.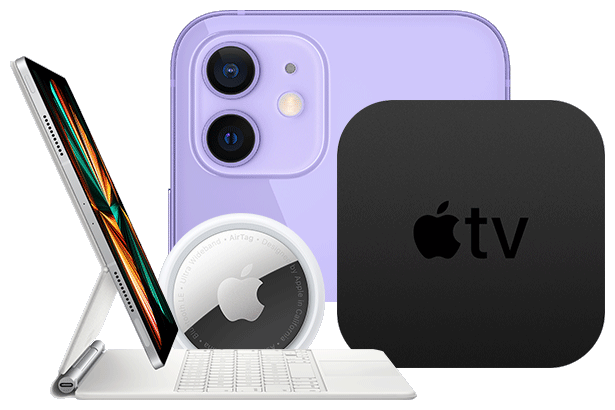 New iPad Pro with M1 chip, 12.9-inch Liquid Retina XDR display, and lightning fast 5G
Apple introduced the brand-new iPad Pro with an M1 chip. The M1 chip has so far only been used in the latest generation Mac and is replacing the smartphone chip carry-over Apple has used in iPads until now.
What the new M1 chip means for performance is a whopping 50% increase in CPU speed compared to last years iPad, but that's not all. The graphics will be 40% faster making for more advanced gaming and productivity tools on the iPad.
The new iPads will be equipped with a Thunderbolt/USB4 port to replace the USB-C port. This means new options of connecting to multiple displays, storage drives with much faster transfer speeds and even an option to add 5G connectivity on the go.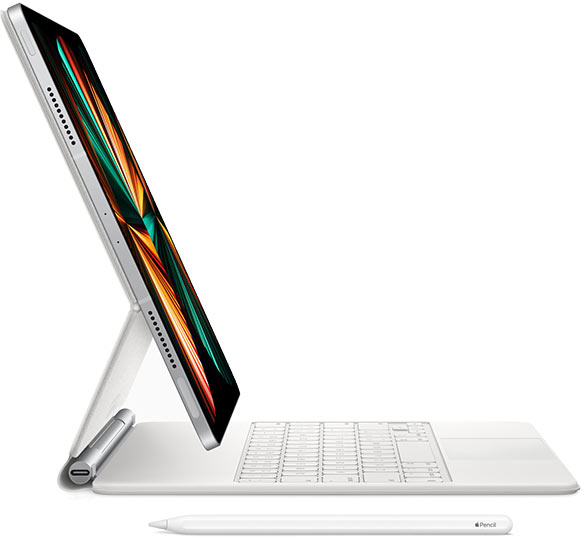 The new screen has also received an overhaul with a Mini-LEDs in the LCD display making for enhanced colors, contrast and brightness. Apple's intent is to match the quality of their high-priced Pro Display XDR monitor, hence why they are calling the iPad screen technology Liquid Retina XDR.
Especially useful for meetings, but also video recording is the new 12-megapixel TrueDepth camera with an ultra-wide lens. The new camera includes automatic panning and zooming for that professional video conference appearance.
With these new features, the new iPad Pro could be a strong contender to replace a small laptop for business use or gaming.
The new iPad will be available in an 11-inch model at $799, and a 12.9-inch model at $1,099.
If you want one, you can pre-order on April 30 with an expected ship-date shortly after.
New 24-inch iMacs
A cornerstone of Apple's products is to make their products thinner in every release. It has previously affected the keyboard quality on their MacBook Pro's and Magic Keyboards (sadly, not for the better). The trend continues with the new iMac now noticeable thinner at 11.5 mm. It's almost as thin as an iPad and half the size of older iMacs.
The new iMac has also been equipped with the M1 chip used with success in MacBook Air and MacBook Pro laptop, making the iMac almost twice as fast compared to its previous generation.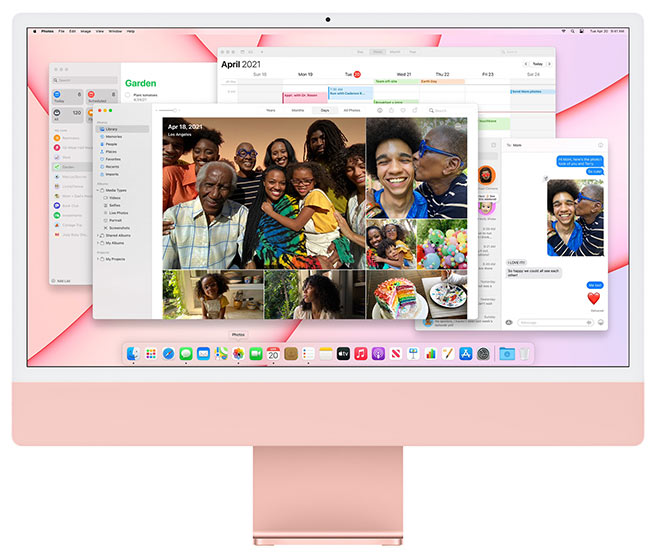 The display got an upgrade from previous generation's 21.5-inch screen. Marvel over the large 24-inch, 4.5K retina display in which Apple managed to fit six speakers for spatial audio, compatible with Dolby Atmos soundtracks. Movie buffs and designers rejoice.
If want to make a design statement or are just bored of beige and black hardware, you'll be happy to know the iMac will be available in seven vibrant colors; silver, blue, purple, red, orange, yellow, and green.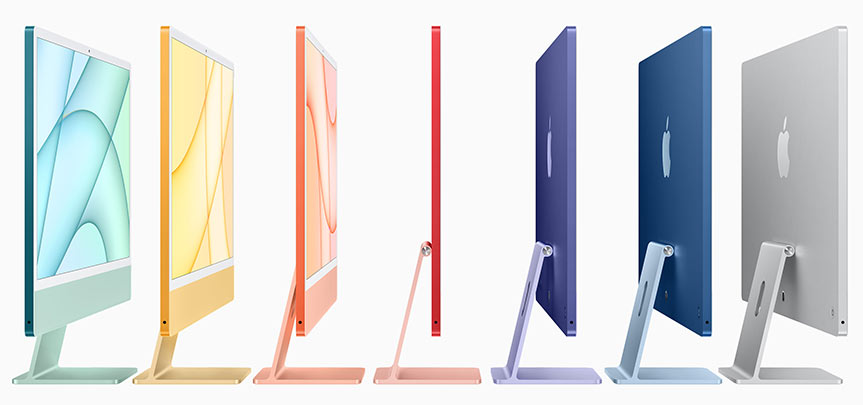 The 1080p front-facing camera has been updated for a better picture and audio experience, "the best microphones ever in an iPad" Apple says.
More good news is that it'll come with at least two Thunderbolt ports on the lower models, with an additional two USB-C ports and an Ethernet port on higher-end models. It'll make it easier to connect external peripherals, something that is often limited compared to its Windows based competitors.
You can order the new iMac today, available at $1,299 for the base model and $1,499 for flagship model.
Apple TV 4K
The first Apple TV was released back in 2007 and a lot has happened since.
The latest Apple TV is the fifth generation and features a lightning fast A12 Bionic chip known from the popular iPhone XR from 2018. Upgrading to an A12 Bionic chip allows for viewing HDR content at a smooth and high frame rate. Or if you prefer to watch 5K 60 FPS content, it can easily handle that too.
Design-wise the Apple TV 4K looks familiar. The small black box with rounded corners has not changed design. It's a simple, minimalistic formula that looks good, so Apple didn't see a reason to change it.
They did change the remote though. It now has a clickable, touch-sensitive pad remnant of how the old iPods worked, but of course with a refreshed layout fit for a remote control. There's also a Siri button on the side linking up to your iPhone for voice control.
For the nerdy who likes to calibrate everything to the smallest detail, you'll love the color-calibration tool pairing your iPhone with your Apple TV 4K. Right in line with Apple's methodology of making complicated tasks easy, you can use your iPhone's camera to calibrate content on your TV, so it'll looks its best without fiddling with complicated TV settings.
If you want an Apple TV 4K, you can get the 32 gigabyte version for $179 and the 64 gigabyte version for $199.
It's available the second half of May.
AirTags
The AirTag is a new gadget from Apple they have been talking about for a long time, but it hasn't been available for sale until now.
If you don't know what AirTags are, imagine a small keychain looking device with a GPS tracker built-in. They pair with Apple's Find My app that allows you to find any connected tag on a map if you lose it.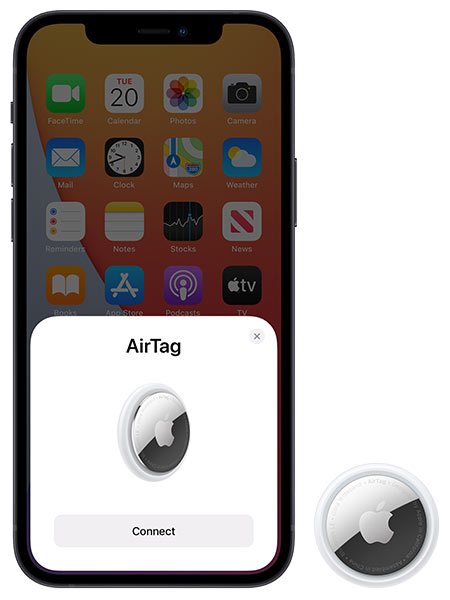 The AirTag includes a speaker, Bluetooth LE, accelerometer and – tadaa – a user-replaceable battery (Apple is notorious for not allowing any battery changes in its hardware). The battery is expected to last a year before it's time for a replacement.
The AirTag will feature ultra-wideband (UWB) technology used to pinpoint locations within an inch precision.
The tags can be attached to any item you want to be able to find if it's lost or stolen, whether a backpack, bicycle or car.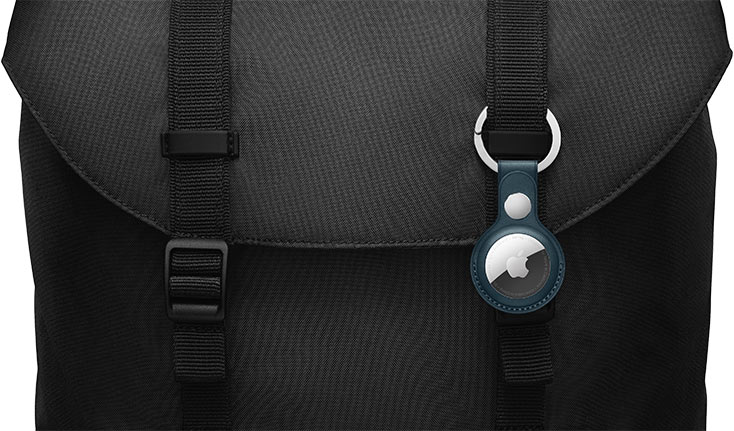 Apple is really good with protecting the privacy and security of its users and that's also the case for AirTags. They don't store any location data or history inside the AirTag, and they are using encryption for data transfers between the AirTag and Find My network servers.
You can purchase an AirTag for $29 or a four pack for $99.
iPhone 12 in purple
It's not the biggest reveal of them all, but for those who wondered why they couldn't get an iPhone 12 in purple, well… now you can.

Both the iPhone 12 Mini and iPhone 12 is now available in purple, maybe to compete with Samsung's purple Galaxy S21 released earlier this year. The inside is still the same as the original iPhone 12, meaning it's packed with the latest and greatest hardware such as a super retina XDR display, A14 Bionic chip, 5G and an advanced dual-camera.
The iPhone 12 in purple is available from $699 for the iPhone 12 mini and $799 for the iPhone 12.
Conclusion
The Apple April 20 event revealed exciting product updates to a wide palette of Apple's products, so there should be something for every Apple consumer, whether you are into smart phones, tablets, computers, TVs or simply protecting your valuables.
As leading app developers, we follow the latest trends and technology for both Apple's iOS and Google's Android devices, so we can keep being on the forefront and develop apps that are both stable, polished and ground-breaking.
And, if you'd like to learn more about what it takes to build an app, give us a call or reach out with questions. We'd love to talk to you about your app idea!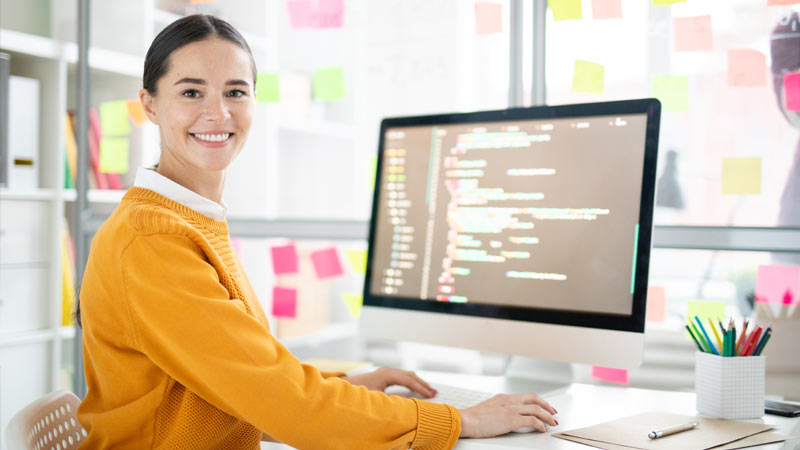 ---
About Inspire Visual
At Inspire Visual, we believe that compelling design, functionality and content help drive effective results. That's why we work hard to provide innovative, visually inspiring and functionally sound solutions to address your marketing challenges and extend your brand's reach.
We offer decades of experience helping brands worldwide with websites, mobile app development, email marketing, direct mail campaigns, brand identity design, UI/UX, graphic design, print design, tradeshow design and more. We feel privileged to be allowed into our clients' businesses, and we strive to provide personal service and close collaboration throughout your project.
Call 407.476.1950 or email [email protected] to contact us, so we can meet you, learn more about your business and answer any questions you have. We'd love to connect with you!
YOU MAY ALSO LIKE
Inspire Visual
Developing an app today is hard work for you or your app development agency. It requires a good understanding of the competitor landscape for any app category and how to take advantage of best practices, to remain relevant and exciting to the picky app users of today.
Inspire Visual
The online food delivery market is thriving and the popularity of using restaurant delivery apps keeps growing. Today, at-home restaurant ordering already accounts for 12 billion U.S. dollars spread across 50 million hungry app users. Restaurant owners are flocking to stick with the times and offer the food online. For good reason, the mobile app food delivery market is experiencing rapid growth and showing no signs of slowing down. The best time to get started was yesterday, the second-best time is today.
Are you ready to talk about your project?

Hello, I'm Angela, co-founder of Inspire Visual! Let's have a chat about your project. Send an email or fill out the form to get started. Talk soon!