MOBILE DEVELOPMENT:
How to Create a Restaurant Delivery App like DoorDash, Uber Eats or Grubhub?
The online food delivery market is thriving and the popularity of using restaurant delivery apps keeps growing.
The mobile app restaurant ordering is projected to become a 13,8 billion U.S. dollars business in two years.
Today, at-home restaurant ordering already accounts for 12 billion U.S. dollars spread across 50 million hungry app users.
Restaurant owners are flocking to stick with the times and offer the food online. For good reason, the mobile app food delivery market is experiencing rapid growth and showing no signs of slowing down.
Since you are reading this, chances are you already understand the monetary potential that is in offering a restaurant delivery app platform.
There is no better alternative for giving patrons the convenience of ordering online, and the cost-saving benefits for restaurant owners to save on staff, increase overall efficiency, and minimize the risk of human error in the ordering process by automating this part of the food catering cycle.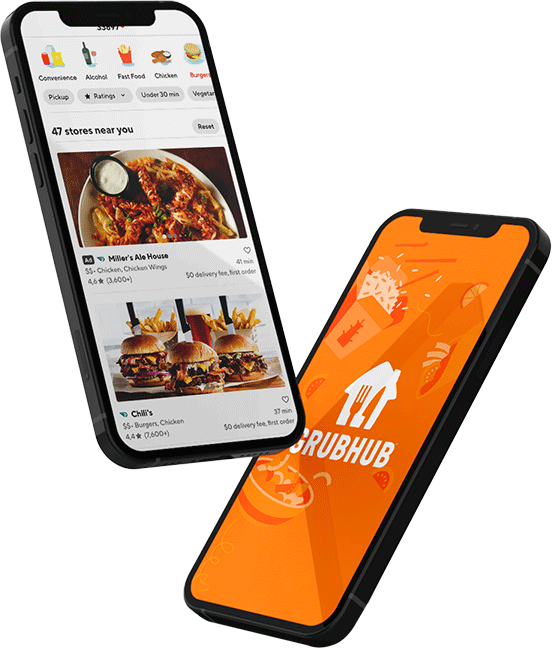 How to create a restaurant delivery app
It's best to have done some research on your market that you can deliver to the app development firm, as it helps them know how to best design and develop your app so it matches with your audience.
It also matters to the marketing that comes during or after your app has been launched in the app store.
Knowing the spread of guest types, old vs. young, urban vs. city, lower, middle or upper-class that you'll be targeting all shape the outcome of the app.
Check competitors apps for free valuable research
Download your biggest competitors apps from the app stores and be sure to check reviews to see what people like and dislike. There are high-paid research tools for this, but you can get a wealth of valuable information for free by just checking app reviews from users.
Check what other food delivery apps are doing right. Are there features you can improve or – even better – features competitors are missing that you can include in your food delivery app?
If you get an original idea, you can even patent your app idea to make sure no one else is going to run with it.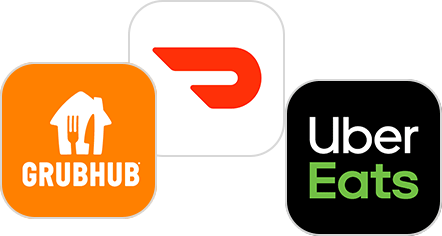 The frustration of hidden fees
Many patrons are complaining about online ordering apps tacking on a multitude of additional fees such as drivers tip, delivery fee, convenience fee, service fee, small order fee, once they have already invested a long time selecting food items.
While these fees may initially increase revenue, consumers are likely to abandon restaurant apps with this practice, due to the irritation it causes during food ordering.
Alternative ways to bring in revenue
The app of course has to bring in revenue, so consider alternative ways to bring in money, or at least make it obvious up front before patrons spend time selecting food items, so you don't risk the negative backlash, or even worse, getting sued for the practice like Grubhub did.
Maybe you could minimize the fee to only one service fee, and focus on other parts of the app becoming revenue generators. How about getting a percentage of the cut by up-selling during ordering for example, by suggesting delicious food add-ons.
Another popular option is to make delivery fees "free" by offering a monthly or annual subscription plan.
Find an app development partner
Once you've done your home-work, it's time to partner with an iOS and Android development agency like ours to build the app for you. You may already have an idea of which mobile phone platform to target, but if not that's something you can discuss with a reputable agency.
Considerations for which platform to target depends on your market. If 75% use Android for example, that's probably the system you want to target.
Your app agency can also target both iOS and Android by building a cross-platform app. They don't cost a lot more and it's a good choice if you're not sure of your target audience or just want to include every mobile owner.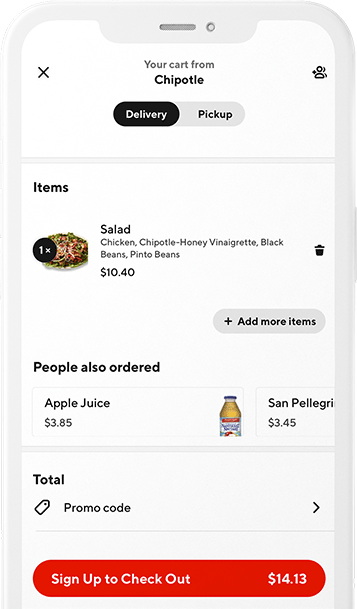 How does a food delivery app work?
There are different approaches to restaurant platform provider apps, depending on the requests and goals of the client. A typical example would be:
Step 1: The online ordering process by the restaurant customer
The restaurant patron loads the app
A local map is shown of participating restaurants and food categories
Browsing of restaurants and promoted restaurants are highlighted
Specific restaurant or a food category is selected
Food items are scanned and added to cart
Review of cart and any coupons entered
Purchase and payment of food items, delivery fees and taxes
Step 2: The restaurant process
The restaurant gets the order notification from the online delivery platform app
Preparing of the food is initiated
Once the food has been cooked it is packaged and readied for the delivery driver
The delivery driver is notified of the order being ready for pickup and the customer is notified the food is on its way
Step 3: Delivery of the food
The delivery driver picks up the food
A GPS guided map is shown to the driver with route instructions and estimated driving time
The customer gets live updates in the app about estimated delivery time
The app supports communication between the delivery driver and the customer in case of delivery issues
Once the driver arrives with the order, the customer is notified
The driver hands over the food and the app requests verification from both parties as well as an optional tip to the driver
Optional: A review is requested of the customer and driver about the experience
This is a high-level overview of how a food delivery app would work.
There is of course a lot more going on behind the scenes, such as user data captures, restaurant info submissions, chat option, restaurant bookmarking, payment processing and much more.
How much does a restaurant mobile app cost?
The cost varies widely and it all depends on who you work with, where they are located, how professional they are, which features you need in your app, and how quick you need it.
Grubhub, Uber Eats or DoorDash all have large app development teams working on their apps around the clock to do market research, app analysis, feature removal and additions, app maintenance, and more.
Their app expenses are in the seven figure range over the life of their apps. It may sound like a lot, but if you consider Grubhub made 1.8 billion in revenue last year, their app cost is a drop in the ocean.
The good news is that you don't need an app in that price range to be able to compete with the big guys.
You don't need to spend 7 figures on app
Everyone has to start out small and it's a good idea to focus on a niche that you can excel in. Maybe it's customer service, a certain market segment or an overall really well-functioning app.
If you work with a U.S. based app development agency like Inspire Visual, you can expect the app to cost anywhere from 65,000 to 150,000 U.S. dollars, usually averaging somewhere around the 100,000 U.S. dollars for this type of app.
For that amount you get a very experienced and motivated team dedicated to solely work on your app for the best possible result, and a guarantee that you app will actually make it all the way to the app stores.
What you should expect from a stellar app development agency
We staff business analysts, project managers, UI/UX designers, front- and back-end developers, quality assurance experts, and creative directors based on your needs.
Every project is customized for the lowest possible cost to the client and we always work to accommodate the best possible solution for specific budgets.
We also recommend checking out our article How Much Does it Cost to Build an App for a more comprehensive guide to what it entails to build an app, cost factors, and examples.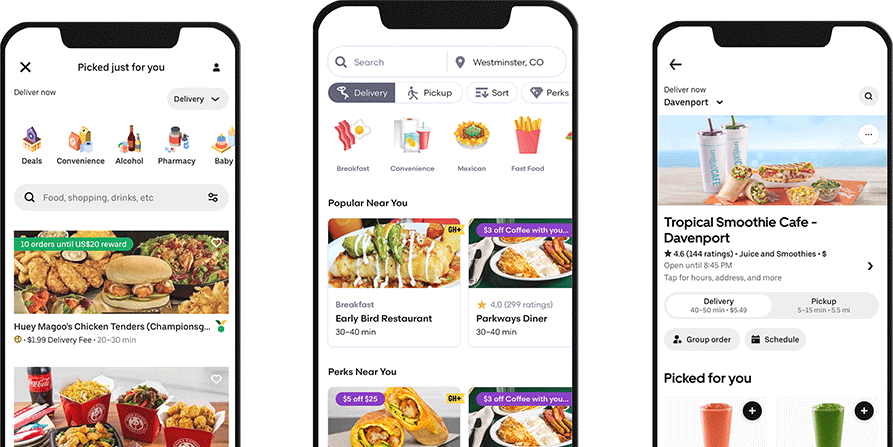 Can you make a food delivery app?
There are already a number of great food delivery apps in the app store, but that doesn't mean the market demand has been met.
The secret of how to make your app a success from the beginning lies in its qualities. You have a great chance of success if you offer a quality-built app that is easy to use and offers convenience to its users.
Focus on your food service delivery platform offering a pleasing experience
The user interface (UI) should include large enticing pictures of the food, an easy ordering process, tracking of the food delivery from ordering, preparing, cooking to delivery.
The user experience (UX) should offer as few steps as possible to make the purchase, with intuitive categorized food types and a strong back-end system to serve information without delays. In layman terms it should make ordering food a breeze.
If you, in addition to building this kind of quality food delivery app, also offer niche related features or even more general but unique ingredients, you've got a strong app to build or expand your brand.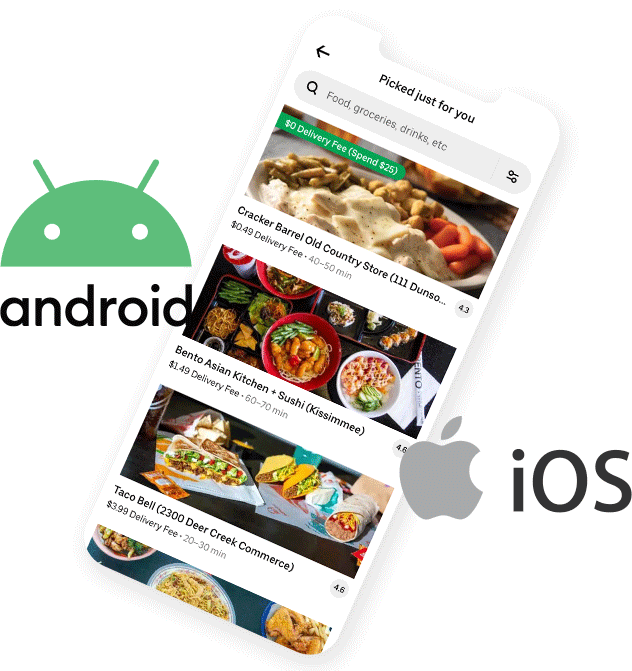 Is it best to make a food delivery app for iOS or Android?
The market share between iOS and Android worldwide has always been in Android's favor. Ten years ago they had a 50/50 market share, but ever since Android has been growing.
Android is the prime platform if you are targeting a worldwide audience
The market share for Android was at its highest in 2018 with 77 percent. Since then iOS has slowly gained traction but it's now 70/26 share in Android's favor (note: the percentage does not add up to 100 as there still are some older OS's around).
In North America iOS has the largest market share
In North America the numbers show a different ratio. Android accounts for 46 percent and iOS for 53 percent. Depending on your market, the need for building a restaurant app for one or the other platform can change completely.
The best option is to do your own research or hire a competent app development firm to include a research phase to answer that question.
Cross-platform app development target both Android and iOS platforms
Or you could have a cross-platform restaurant app built that will work across both devices and thereby target the entire mobile phone market.

Can you make a Grubhub or Uber Eats clone?
While Grubhub and Uber Eats have spent in the 7 figures range to build and maintain their apps, the good news is that you can spend a fraction of that to build a Grubhub, Uber Eats or DoorDash app clone.
There are several cost-saving factors if you want a clone of an already existing food delivery platform.
Save cost on less conceptualization time
Since the majority of ideas already exist, you don't have to spend valuable time inventing a completely new idea. The research phase of the app development phase typically lasts 3 – 4 weeks with several people involved.
Being able to cut down time of this phase dramatically, quickly saves tens of thousands of dollars.
Use existing technology
Instead of spending 50,000 to 100,000 U.S. dollars on building APIs to handle food orders, there are already high-end APIs available at a much lower cost.
Google Places API
Google is offering their Places API that can return results on restaurants in a specific area with location address, phone numbers, user reviews, photos and more at little cost.
The cost of an API like Google's is a good indication of the small cost to embed it in a restaurant delivery platform. Google charges less than 15 U.S. dollars for 1,000 queries up to 100,000 a day. They also give a 200 U.S. dollar credit every month, making this close to free.
Foursquare API
Foursquare has an API useful for serving personalized recommendations on food choices. They have over 50 million active users and charge from 5 U.S. dollars per 1,000 calls.
Uber Eats
It's even possible for mobile food delivery apps to get access to Uber Eats API. This API helps manage menu setup, stores and restaurant orders from customers. It's a huge resource for restaurant delivery platforms that don't have money to invest in their own API.
Everything is already built and ready to plug into. This API charges between 15 to 40 percent per order, so it's not cheap, but could be a starting point to test the waters before investing in a custom API.
Whichever choice you prefer, Inspire Visual has the experience to build your restaurant delivery app, with the latest technology, UI and UX required to be noticed and adapted by restaurant patrons looking for new choices in the app store.
How do I create a mobile app like Uber Eats or Grubhub?
Since there's already a lot of technology invented to help you build an Uber Eats or Grubhub clone, you're all set for a pleasant app development experience.
Cost will be much lower, concepts have already been tried and tested by the big players, and you probably already have an idea of what you expect of your new app.
You have some different choices when it comes to creating an Uber Eats or Grubhub mobile restaurant app.
Hire a freelancer to build your Uber Eats or Grubhub clone
Hiring a freelancer is by far the cheapest choice, but also the one with the biggest risk of failure. Android and iOS app developers freelancing typically charge 100 U.S. dollars an hour.
You can even outsource your restaurant platform app to a third-world country and get it for 30 U.S. dollars an hour. Sounds pretty good cost-wise, right?
Unfortunately, the saying "if something sounds too good to be true, it probably is" rings true.
Pros of hiring a freelancer
Cons of hiring a freelancer
Risk of lower app quality as a freelancer likely doesn't master all roles of app development, including UI/UX design, project management, app coding, app testing and project management.
Time to market is much longer with only one person assigned.
Your app project is at risk depending on one person's reliability.
Showstoppers if the freelancer can't solve an issue, there is no one to help.
Less brainpower for problem-solving.
Hire an app development agency to develop your Uber Eats or Grubhub clone
Working with an app development agency comes at a higher cost, but also with the peace of mind that you will work with an entire team of professionals, well-equipped to create a restaurant delivery focused app.
There is very little hands-on required from your part (unless you want it), when you work with a mobile app development company.
We let our clients decide how much they want to be involved. Some are too busy on other projects, so they prefer to be less involved and just get the highlights, others are more invested by providing ideas, and attend regular developer meetings throughout the project.
How the client is commonly involved during app development
A typical client with Inspire Visual will have an initial meeting to discuss requirements and expectations. We then schedule frequent meetings throughout app development cycles with our clients with app progress demonstrations.
Building an Uber Eats or Grubhub app clone is not difficult when you work with the right people. You just have to decide on budget, form requirements and contact either a freelance or app company to get an estimate.
Pros of hiring an app development agency
Experience and know-how to find the optimal and lowest cost solutions.
Better management of the project to ensure the app is delivered on time and budget.
Shorter development time with more team members working on it.
Less risk of failure with collaboration and problem solving throughout the app project.
Cons of hiring an app development agency
Initial investment is likely higher, though overall it can turn out to be cheaper due to less risk of pushed deadlines, showstoppers, and lack of motivation a freelancer could experience.


The 3 largest online food delivery apps

Uber Eats
Uber Eats was founded in 2014 by Travis Kalanick and Garrett Camp. The restaurant delivery app was launched after the success of Uber, a share-drive service launched in 2009.
In just 8 years Uber Eats annual revenue has increased to 17.44 billion U.S. dollars business, and with a 30% increase of customers during the COVID-19 pandemic.
Uber Eats originally charged a flat-fee $4.99 food delivery fee, but changed its pricing model to be based on distance and food value. Uber Eats currently charges 30 percent of the order amount along with a fuel surcharge. On top of these costs are the expected food delivery drivers tips.
Launch Date: 2014
Industry: Online food delivery
Market share: 24%
Quarterly sales per customer: $235
Annual revenue: $5.8 billion

DoorDash
DoorDash is an online and mobile prepared food ordering and delivery platform based in Palo Alto, CA. It is the largest food delivery company in the U.S. with 20 million active users and 450,000 restaurants in its listings.
DoorDash's revenue is generated from restaurant commissions ranging from 15 to 30 percent based on territory size and marketing support, service delivery fees usually at $1.99 to $5.99, and DashPass, a monthly $9.99 subscription for free restaurant delivery orders over $12.
Launch Date: 2013
Industry: Online food delivery
Market share: 58%
Quarterly sales per customer: $310
Annual revenue: $4.88 billion

Grubhub
Grubhub is an online food ordering and food delivery platform launched in 2004 as an alternative to paper menus. After initially securing 1.1 million U.S. dollars in funding, it quickly grew into the restaurant delivery service platform it is today.
Grubhub has over 20 million active users of their food delivery service app, spread across more than 3,000 cities and with 115,000 restaurants listed.
Grubhub's revenue model is based on charging a 12.5 percent commission fee, a 20-40 percent delivery fee, and a ranking fee from the restaurants to be higher in listings (from 2.5 to 17.5 percent).
Launch Date: 2004
Industry: Online food delivery
Market share: 14%
Quarterly sales per customer: $150
Annual revenue: $2.00 billion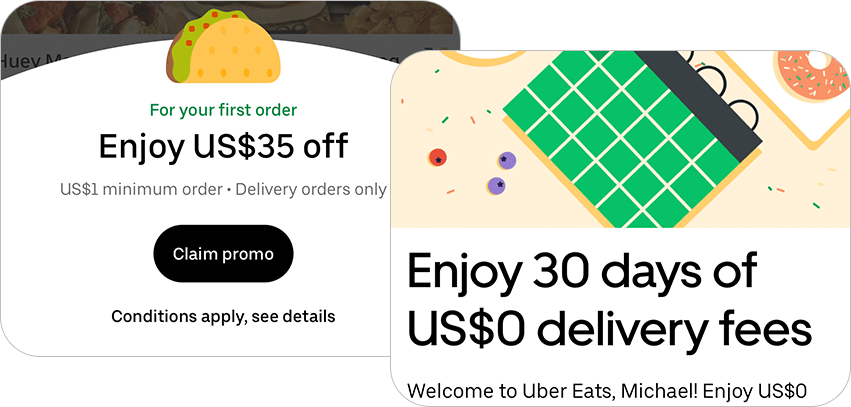 How can I make money on a food delivery app?
There are several ways to make money off restaurant delivery platform apps.
Some of the popular methods are to charge restaurants a commission fee for every sale, a percentage of the total sale amount.
The commission fee is usually in the 15 to 30 percent range among the most popular online food delivery providers. The commission fee is also dependent on surge pricing, where prices go up during popular restaurant ordering times.
Get a cut of the delivery driver fee
Another popular income generating method is to take a cut of the driver delivery fee. It's not uncommon to keep 40-50 percent of the delivery fee.
Offer a monthly subscription fee with perks
A monthly subscription is also an option. By charging a flat-fee every month, app users can order free deliveries over a certain amount.
DoorDash charges $9 for a monthly subscription for the DashPass. In return its members get free restaurant food deliveries for orders over $12, members-only offers, and free deliveries of their grocery shopping service.
Other ways to make money on an online food delivery app
There are quite a few additional ways to make money on a food delivery app platform. Partnering with restaurants and offering them prime spots in the app or higher rankings in the listings for a set dollar amount for example.
You can also make money by offering additional services such as subscription-based reward programs, monthly give-aways for sharing your brand to get more users, or selling restaurant gift card purchases with a cut for your business.
Conclusion
There is plenty of room for new online restaurant delivery platforms in the food services market. The restaurant industry is seeing consistently increasing benefits from offering their food through food ordering apps, especially fueled by the global COVID-19 pandemic.
Every new year, the popular food delivery platforms are seeing revenue growth, with investors eager to inject more venture capital.
If there has ever been a right time for developing an online food service ordering app it's now.
How to get your restaurant platform app built
To make your idea a reality you need a good idea and the assistance of an app development agency like Inspire Visual to bring it alive.
It's really important your app will be functioning flawlessly, look modern and take advantage of the latest available technologies. That's something we at Inspire Visual prioritize highly.
We don't send out any apps that we are not proud of ourselves. Commitment and integrity to app development are core parts of our development ethics.
If you are interested in how your food delivery app can become a reality, give us a call today at 407.434.9171 or use our online form to request a quote for your app.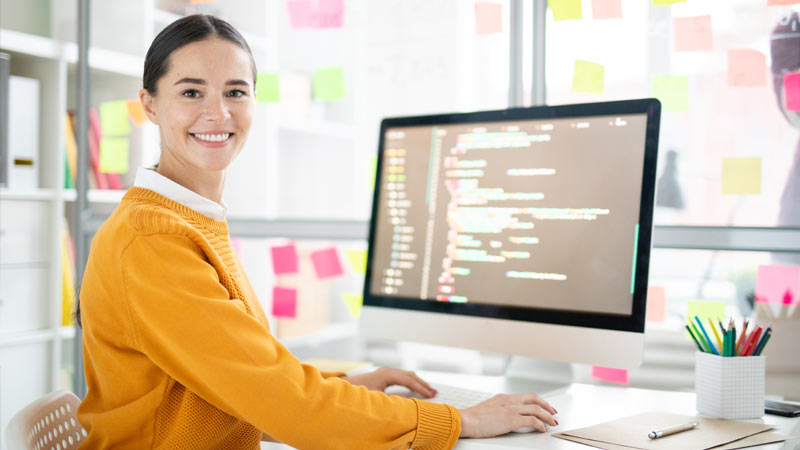 ---
About Inspire Visual
At Inspire Visual, we believe that compelling design, functionality and content help drive effective results. That's why we work hard to provide innovative, visually inspiring and functionally sound solutions to address your marketing challenges and extend your brand's reach.
We offer decades of experience helping brands worldwide with websites, mobile app development, email marketing, direct mail campaigns, brand identity design, UI/UX, graphic design, print design, tradeshow design and more. We feel privileged to be allowed into our clients' businesses, and we strive to provide personal service and close collaboration throughout your project.
Call 407.476.1950 or email [email protected] to contact us, so we can meet you, learn more about your business and answer any questions you have. We'd love to connect with you!
YOU MAY ALSO LIKE
Inspire Visual
Developing an app today is hard work for you or your app development agency. It requires a good understanding of the competitor landscape for any app category and how to take advantage of best practices, to remain relevant and exciting to the picky app users of today.
Inspire Visual
The online food delivery market is thriving and the popularity of using restaurant delivery apps keeps growing. Today, at-home restaurant ordering already accounts for 12 billion U.S. dollars spread across 50 million hungry app users. Restaurant owners are flocking to stick with the times and offer the food online. For good reason, the mobile app food delivery market is experiencing rapid growth and showing no signs of slowing down. The best time to get started was yesterday, the second-best time is today.
Are you ready to talk about your project?

Hello, I'm Angela, co-founder of Inspire Visual! Let's have a chat about your project. Send an email or fill out the form to get started. Talk soon!