MOBILE APP DEVELOPMENT: Don't Ignore Wearables When Developing An App
The market of smartwatch wearables is sharing the same aggressive growth tendencies as Apple iPhone experienced after it was introduced in 2007.
While the number of people wearing a smartwatch wearable was at 66 million in 2019, it's projected to grow to more than 105 million in 2023.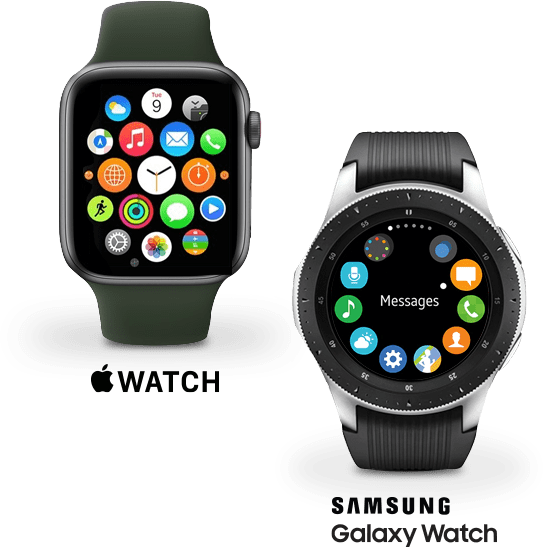 The smartwatch wearables era
While Apple was the inventor of smart phones, it wasn't the first to introduce a smartwatch. Actually that story goes back to 1972 where the NL C01 Pulsar watch was introduced. It could store 24 digits in its user programmable memory, quite a feat for 1972.
A lot has happened since then and smart watches are now a million times faster than the Apollo Guidance Computer that brought us to the moon. Equally amplified in numbers are the number of possibilities you can create with smartwatch apps.
Looking at the projected growth we mentioned in the introduction should make any app publisher take notice. Smartwatch Wearable apps are here to stay and they are growing in popularity every day.
Our article published on Entrepreneur goes in more detail about "Why Your App Should Target Smartwatch Wearables". Don't miss it.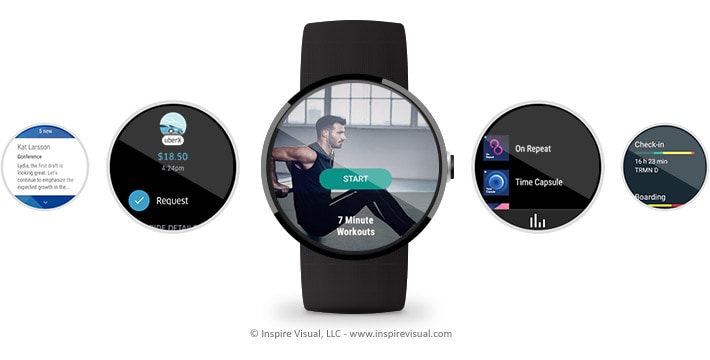 Need help with your app?
Mobile devices, smartwatches and their companion apps have changed the way we interact with both each other and businesses. It's an ever-changing landscape which businesses who wish to stay relevant must continuously adapt to.
If you are ready to implement any of these trends in your own app or build a new app — whether for Android, iOS or both, we can help. We have extensive experience with creating quality, high-performing apps.
If you'd like to learn what it takes to build an app, then be sure to check out this article and reach out with questions, since we'd love to talk to you about your app idea!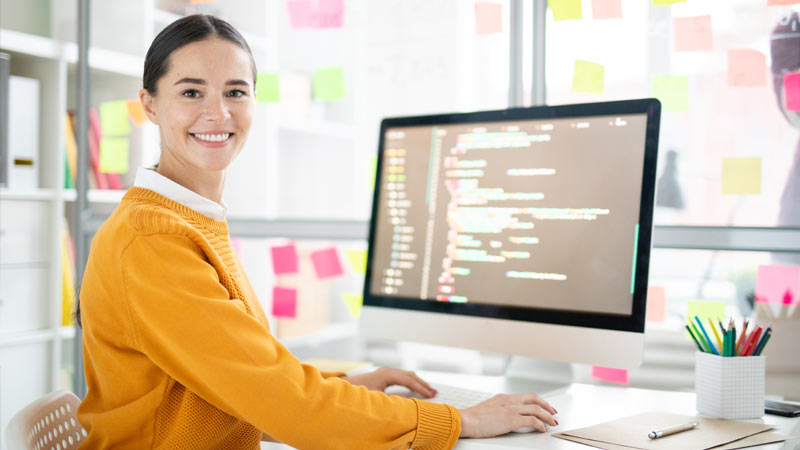 ---
About Inspire Visual
At Inspire Visual, we believe that compelling design, functionality and content help drive effective results. That's why we work hard to provide innovative, visually inspiring and functionally sound solutions to address your marketing challenges and extend your brand's reach.
We offer decades of experience helping brands worldwide with websites, mobile app development, email marketing, direct mail campaigns, brand identity design, UI/UX, graphic design, print design, tradeshow design and more. We feel privileged to be allowed into our clients' businesses, and we strive to provide personal service and close collaboration throughout your project.
Call 407.476.1950 or email [email protected] to contact us, so we can meet you, learn more about your business and answer any questions you have. We'd love to connect with you!
YOU MAY ALSO LIKE
Inspire Visual
How do you find the right mobile app development company to make sure you are in good hands? Doing the initial research and choosing the right company can mean the difference between sleepless nights or the beginning of a stress-free and exciting journey. There's a lot more to finding the right partner than looking at the cheapest bid. In fact, you're likely to get into trouble if you go with the lowest bidder. We'll tell why that is and what's important when looking for a mobile app development company.
Inspire Visual
iOS 15 and iPadOS 15 are jam-packed with features and they are both being released to your iPhone and iPad this fall. This time Apple is not focusing on the big visual overhaul of iOS 14, but instead making the focal point about introducing really cool new features that'll make your device even more versatile. We're taking a closer look at all the greatness you'll be able to use, including a heavily upgraded FaceTime experience, new Apple Maps with 3D view in cities, sleeker notifications design, Live Text enabling you to copy/paste text from images and - of course we dare say - better privacy with offline Siri integration on select device models.