MOBILE APP DEVELOPMENT: The Large, Lucrative and Untapped Smartwatch App Market
The market of smartwatch wearables is seeing the same aggressive growth tendencies as Apple iPhone experienced after it was introduced in 2007.
While the number of people wearing a smartwatch wearable was at 66 million in 2019, it's projected to grow to more than 105 million in 2023. These numbers should make any app publisher take notice, as it's probably time to target the smartwatch market for app development.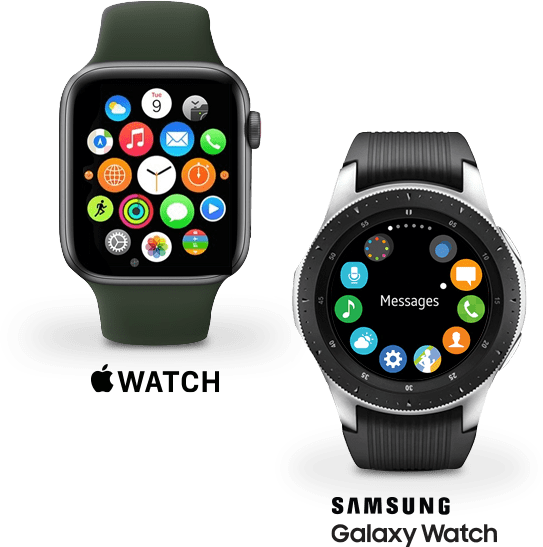 The smartwatch wearables era
Apple was the inventor of smart phones, but it wasn't the first to introduce a smartwatch. Actually that story goes back to 1972 when the NL C01 Pulsar watch was introduced. It could store 24 digits in its user programmable memory, quite a feat for 1972.
A lot has happened since then and smart watches are now a million times faster than the Apollo Guidance Computer that brought us to the moon. Equally amplified in numbers are the number of possibilities you can create with smartwatch apps.
The modern smartwatch re-entered the market in 2013 when Samsung released their Galaxy Gear watch.
Since then progress has happened at a rapid pace accelerated by the competitiveness of the Apple Watch released two years after Samsung's Galaxy Gear.
Why should you care about making a mobile app smartwatch compatible?
The uncontested leader of the smartwatch market is clearly Apple with a 52.5% market share in 2021. The second largest smartwatch manufacturers Samsung follow in second place with an 11% market share.
With an estimated more than 100 million people wearing a smartwatch by 2023, it clearly shows a solid market that would benefit from having apps developed on their smartwatches, something we as an app development agency make our clients aware of when it's relevant to their app's offerings. Some apps are better suited for wearable smartwatches than others.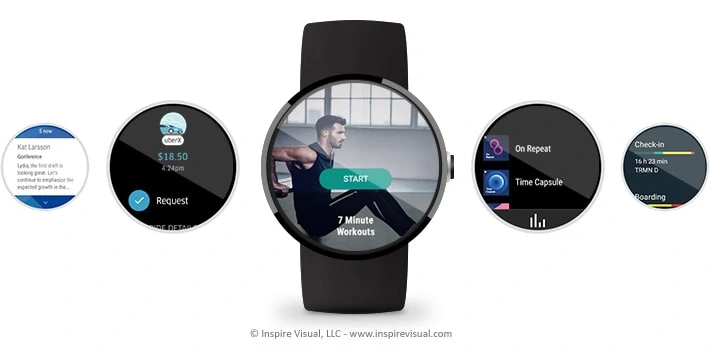 What app categories are a good fit for smartwatches?
The app market is saturated with almost 3.5 million apps available in Google's Play Store for Android devices and 2.2 million apps in Apple's App Store.
Those numbers stress the importance for a successful app to offer at least one unique differentiator to entice users to download and use it. Why else make the switch from a competitor's app?
We have been building apps for many years and find offering an app for the smartwatch market can be a major differentiator for users to select your app over others. Of course publishing an app on a smartwatch should offer convenience over its big brother, likely available on smartphones.
The most popular smartwatch app categories are:
Health and Fitness
Entertainment
iOT / Smart Device Control
Travel and Navigation
Contactless Payment
Personal Assistant
An obvious convenience category is Health and Fitness. If you like going to the gym and track your progress, it's helpful not having to carry your mobile phone along, the same goes for running. Instead you can manually log sets, reps, weight etc. on your wrist without breaking a sweat (pun intended).
Combine the Fitness and Health app with Apple's health tracker which automatically logs heartbeat, calories burned, steps taken, miles run etc. and you've got an app offering some serious data.
There are plenty of convenience factors in other app categories as well, you just have to sit down to think about what advantages you can offer or contact us to help you along on your smartwatch app adventure.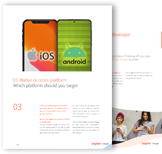 FREE EBOOK
Subscribe to our newsletter and get the free 40 page eBook "How to Launch an App" in your inbox.
What does it take to develop a smartwatch app vs a mobile app?
The process to build a smartwatch app is very similar to building an app for mobile devices. The biggest difference is the screen size and how to make the smartwatch app intuitive, and content rich in the limited view port.
If we were to build your smartwatch app, we would analyze how users are likely to interact with your app based on both from a user experience and a technical standpoint.
The user experience standpoint
Knowing which smartwatches the app needs to be available for dictates the entire UI (user interface) and UX (user experience) as buttons, gestures, font-sizes etc. must be easy to use and read in every scenario. Building apps for Android powered smartwatches are also different from iOS based smartwatches because users expect different app behaviors depending on the smartwatch platform.
Important to remember is also that some screens are rounded (Samsung for example), some rectangular (FitBit etc.) and some are closer to square (Apple Watch being one). The app must be designed for the exact screen(s) it is targeting.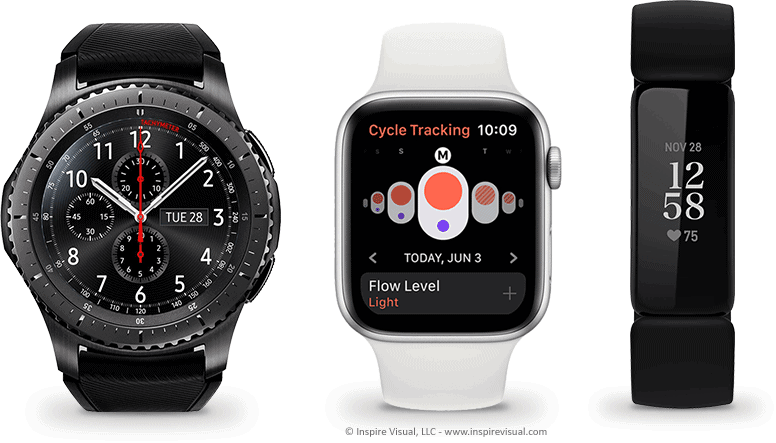 The technical standpoint
In our development phase, we also emphasize the importance of taking advantage of every smartwatch's advanced features, such as virtual assistants, navigational features, health tracking and more to get the most synergy and usefulness out of the watch features and the app features.
There's also a difference in the computing power of each smartwatch, so it's key to code the app with any limitations in mind, so every watch app displays peak performance.
If you are curious to understand more about what it takes to build an app, we've got a comprehensive article covering the entire app development process.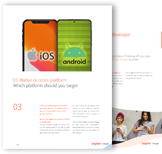 FREE EBOOK
Subscribe to our newsletter and get the free 40 page eBook "How to Launch an App" in your inbox.
Where do smartwatch apps shine compared to their mobile app brethren?
The mobile phone is much more powerful, has a bigger screen, more battery life, and is mostly easier to use so why even bother making a smartwatch app? Because there are things a smartwatch does better than a mobile phone.
Smartwatches have hardware that mobile phones do not. The advanced smartwatch models offer technology to record heart rate, blood pressure, oxygen levels and ECG. Those features combined with an accelerometer, gyroscope, barometer, and GPS can deliver useful, and in some cases life-saving uses.
The Apple Watch is perfect as a monitor device for any fragile senior, who is living on their own and there's a concern of well-being. If it detects a fall (gyroscope and accelerometer detection) or measures a critical heart rate, the watch can dial 9-1-1 as well as predefined family members, report the body vitals and geographical location of the individual. Another application could be to detect for epileptic seizures where prompt detection and treatment is crucial to minimize long-term damage. A mobile phone wouldn't be able to perform these tasks.
The combination of the small, nimble and easily accessible smartwatch with the hardware available opens up a wealth of opportunity to create a smartwatch app that is unparalleled by mobile phones.
Conclusion
We consider the mobile phone superior in many ways and advise our app clients to first and foremost target that device, however as our examples show there are areas where a smartwatch is in the lead.
The increased interest in wearing a smartwatch goes to show that people want and expect apps to perform on a watch as well.
Just as the early years of the iPhone, the smartwatch user base is growing at an explosive rate. It could be the difference between your app users choosing your app or a competitor's depending on which offers smartwatch support.
If you're ready to take the next step and offer a smartwatch app, we at Inspire Visual are a recognized and highly motivated app agency who can make your smartwatch app a reality, whether it's for Android or iOS based devices. Let's talk about your app needs today.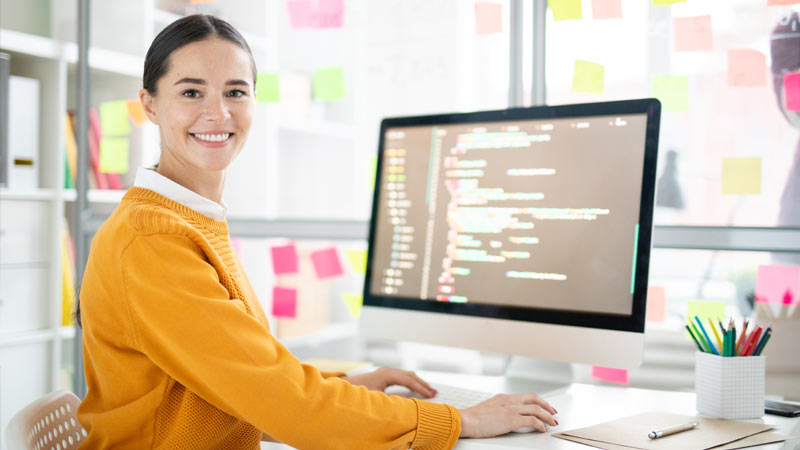 ---
About Inspire Visual
At Inspire Visual, we believe that compelling design, functionality and content help drive effective results. That's why we work hard to provide innovative, visually inspiring and functionally sound solutions to address your marketing challenges and extend your brand's reach.
We offer decades of experience helping brands worldwide with websites, mobile app development, email marketing, direct mail campaigns, brand identity design, UI/UX, graphic design, print design, tradeshow design and more. We feel privileged to be allowed into our clients' businesses, and we strive to provide personal service and close collaboration throughout your project.
Call 407.476.1950 or email [email protected] to contact us, so we can meet you, learn more about your business and answer any questions you have. We'd love to connect with you!
YOU MAY ALSO LIKE
Inspire Visual
Behind every successful app, there is a carefully crafted app user interface. You may not give it much thought when you use an app, but creating an intuitive and appealing user interface takes a long time and requires a lot of revisions before getting that final design nailed down.
Inspire Visual
Developing an app today is hard work for you or your app development agency. It requires a good understanding of the competitor landscape for any app category and how to take advantage of best practices, to remain relevant and exciting to the picky app users of today.
Are you ready to talk about your project?


Hello, I'm Angela, co-founder of Inspire Visual! Let's have a chat about your project. Send an email or fill out the form to get started. Talk soon!