App of the Week: Pluto TV with 250+ Free Channels and Movies
If you are tired of paying more than a hundred dollars a month for a cable TV subscription filled with close to 18 minutes of commercials per hour of TV, our app pick of the week should pique your interest.
Our smart phones have an abundance of entertainment apps available. Pluto TV is a streaming service similar to established subscription-based services such as Netflix, HBO and Hulu, with one big difference – it does not require a subscription. It doesn't even require you to sign up for an account.
How much does Pluto TV cost?
Pluto TV is a completely free streaming service and it won't cost you a dime to enjoy more than 250 channels of TV and even more on-demand TV shows and movies.
Just install the free app on your Android or iOS smartphone and you're good to go.
While you can sign up for an account to edit the channel lineup to your liking, receive news etc. it's not required.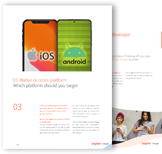 FREE EBOOK
Subscribe to our newsletter and get the free 40 page eBook "How to Launch an App" in your inbox.
You might wonder, what's the catch of this app?
Of course Pluto TV cannot offer a free app without monetizing it somehow.
They do it by offering the app as an ad-supported service, meaning you will not be to get around commercials interrupting your shows and movies.
In our many years of app development, we've found ad-supported services to work well for TV streaming apps who do not want to offer subscriptions – the monetization method we're most often asked include for our app clients.
But if you're already used to an old-fashioned cable TV subscription or just like free things, that may be benign to you.
The commercial variation is limited, so you're likely to see the same ads often if you use Pluto TV daily. It also seems like there is no pattern to how commercials are shown. Sometimes you'll have to watch commercials before a show starts and other times it starts streaming right away.
How do you use the Pluto TV app?
On app launch it'll immediately start playing a pre-defined TV channel in the upper 1/3 screen space on your smart phone.
In the bottom task bar you'll have two options; Live TV and On Demand.
The app defaults to Live TV which is set up like a cable package with a channel guide listing shows playing on various times throughout the day.
Live TV in the app
The Live TV channels are categorized into Paramount+ Picks, Featured, Movies, Entertainment, News + Opinion, Reality, Comedy, Home + DIY, Sports and much more. There's a shortcut menu just above the channel line-up, so you can click any category and quickly jump to it.
You'll be able to recognize some of the channels names such as CBSN, CNN, SkyNews, BBC Food, Comedy Central and Bloomberg, but most are labeled based on their content, such as CourtTV, AFV, This Old House, and MLB.
The channels are often a mix of the most popular shows taken from the official TV and movie providers website and bundled into the relevant categories.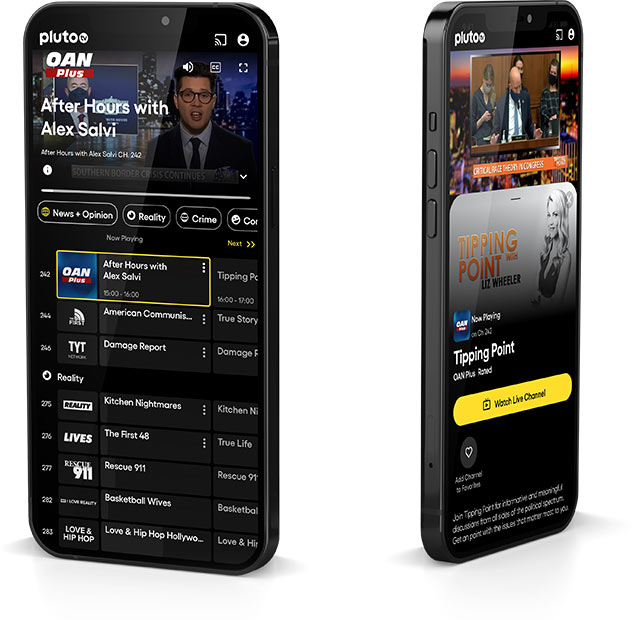 Watch on-demand movies and TV-shows when you want to
If you feel like watching a specific TV-show or movie, click on the On Demand button in the lower right corner of your app.
On the on-demand screen you can sort by Most Popular Movies, Top TV Series, New Movies This Month, Recently Added Series, Last Chance to Watch and categories such as Action, Sitcoms, TV Dramas, Comedy, Documentaries, MLB, Drama, Sci-Fi and much more. We counted over 60 categories before giving up.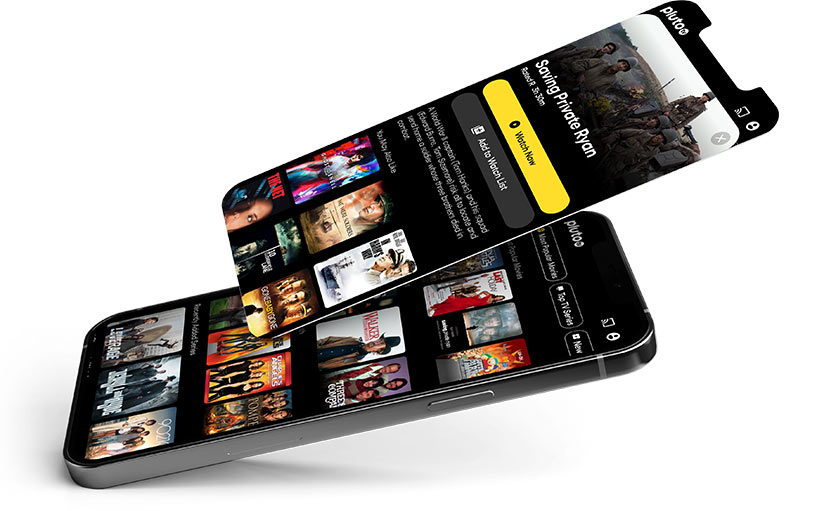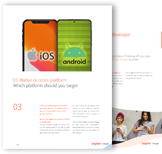 FREE EBOOK
Subscribe to our newsletter and get the free 40 page eBook "How to Launch an App" in your inbox.
How do you cast the Pluto TV app content to your TV?
If you do not want to watch the content on your smartphone or tablet, you can cast it to your TV.
With a Chromecast device or a Chromecast-enabled smart TV, it's easy to cast your content to your TV. Just click the Chromecast symbol in the upper-right corner in the app and it'll start playing.
If you have an iPhone, it's obvious to use AirPlay to cast your content to the big screen. While the Pluto TV app does not support Apple AirPlay, you can mirror your screen to an Apple TV or Apple TV compatible smart TV. You just need an iPhone 4S or later to mirror your show or movie.
We've found Chromecast and AirPlay to work really well in streaming audio and video apps. We consider these core features to include in any streaming app we build as more and more audio and TV hardware supports it.
Pluto TV also supports an array of other streaming devices, such as Amazon Fire TV Cube/Stick, Roku, Oculus, Playstation, TiVO and Xbox ONE.

What about subtitles and audio track selection?
In both the Live TV and On Demand section you have the option of choosing to enable/disable subtitles for shows and movies supporting this feature.
Unfortunately, there is not an option to switch between different language tracks (English, Spanish, commentary etc.). Maybe that's a feature Pluto TV will add in the future, but as of now it's non-existent.
To access the options for choosing subtitles, audio on/off, cast device and more, start a show and look for the symbols in the top-right corner.
Depending on what devices you have enabled in your house hold, they'll change slightly.
For example, if you have Chromecast, you'll see a Chromecast symbol in addition to an audio on/audio off, subtitle track and full-screen on/off symbol.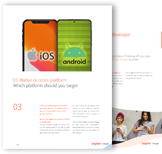 FREE EBOOK
Subscribe to our newsletter and get the free 40 page eBook "How to Launch an App" in your inbox.
Conclusion
The Pluto TV app is currently ranked a little over 4 out of 5 stars on Google Play and 5 stars on Apple's App Store with good reason.
It's a fairly simple app to navigate with an intuitive user interface, while enabling your smart phone to act as a sophisticated remote control to access a wealth of entertainment, all for free. Pluto TV
Many current cable subscribers see this as a worthy contender to their pricey package, but even for those only using Netflix and the other streaming subscription services, this app seems like a no-brainer if you want to enjoy free TV.
But enough said about others' apps, let's talk about yours.
Maybe you would like to offer a video streaming app in the Android and iOS app stores like Pluto TV. Or perhaps you are building a completely different new app or re-doing your old app for Android, iOS or both devices – in any case we can help.
Our app development team is ready to start working on your app. They are highly trained and eager to start.
And, if you'd like to learn more about what it takes to build an app, give us a call or reach out with questions. We'd love to talk to you about your next app!
---
About Inspire Visual
At Inspire Visual, we believe that compelling design, functionality and content help drive effective results. That's why we work hard to provide innovative, visually inspiring and functionally sound solutions to address your marketing challenges and extend your brand's reach.
We offer decades of experience helping brands worldwide with websites, mobile app development, email marketing, direct mail campaigns, brand identity design, UI/UX, graphic design, print design, tradeshow design and more. We feel privileged to be allowed into our clients' businesses, and we strive to provide personal service and close collaboration throughout your project.
Call 407.476.1950 or email [email protected] to contact us, so we can meet you, learn more about your business and answer any questions you have. We'd love to connect with you!
YOU MAY ALSO LIKE
Inspire Visual
Developing an app today is hard work for you or your app development agency. It requires a good understanding of the competitor landscape for any app category and how to take advantage of best practices, to remain relevant and exciting to the picky app users of today.
Inspire Visual
The online food delivery market is thriving and the popularity of using restaurant delivery apps keeps growing. Today, at-home restaurant ordering already accounts for 12 billion U.S. dollars spread across 50 million hungry app users. Restaurant owners are flocking to stick with the times and offer the food online. For good reason, the mobile app food delivery market is experiencing rapid growth and showing no signs of slowing down. The best time to get started was yesterday, the second-best time is today.
Are you ready to talk about your project?

Hello, I'm Angela, co-founder of Inspire Visual! Let's have a chat about your project. Send an email or fill out the form to get started. Talk soon!