BLOG:
The 5 Best Mobile Advertising Platforms for Digital Marketing
In-app marketing is growing in tandem with the success of mobile phones and in just 10 years the mobile advertising platform spending has grown from 729 million dollars in 2010 to almost 200 billion dollars in 2020.
There's no doubt digital marketing is a big industry, and to get your brand featured on the best mobile advertising platform, we have researched and analyzed the 5 best mobile advertising platforms to help you make an informed choice and make the most of your marketing budget.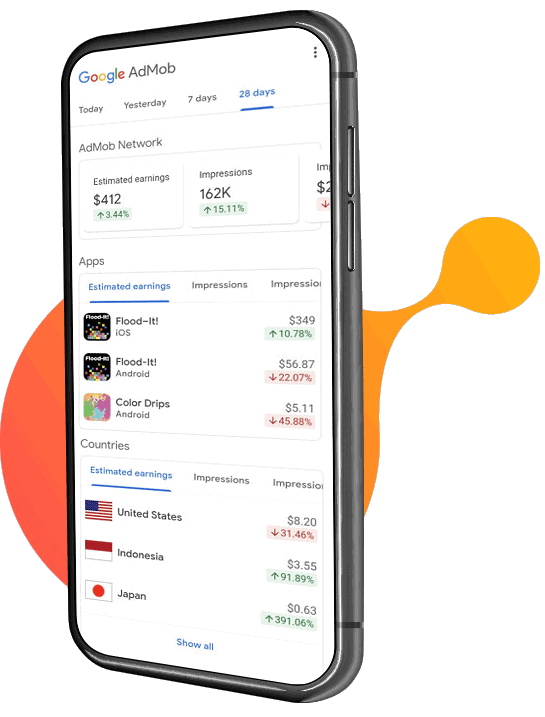 What the mobile advertising platforms offer
The most helpful mobile advertising platforms offer a customized client portal with an easy-to-use dashboard where you can create and manage campaigns, target demographics, set campaign budgets, and analyze their performance.
Each platform will give you multiple mobile ad-formats to choose from. The four categories mostly available are banner ads, native ads, interstitial ads and video ads. Some of those are then sub-categorized, for example video with playable video, interactive video and more. We talk a bit more about these in chapter 2 of "How to Launch an App – The Definitive Guide".
The four main types of mobile ads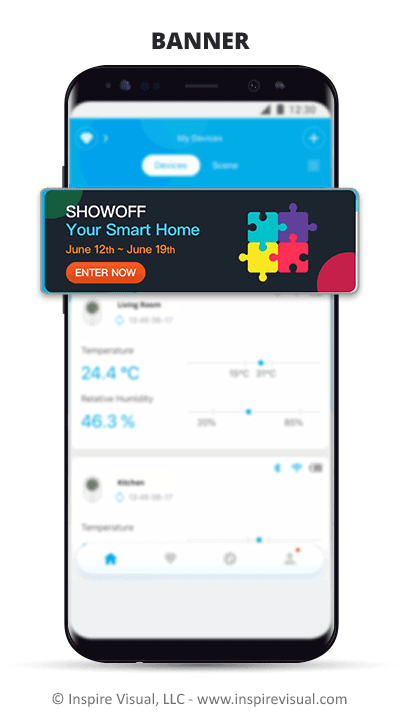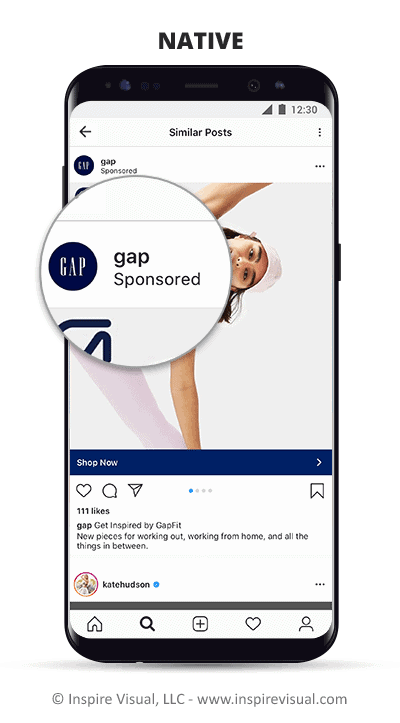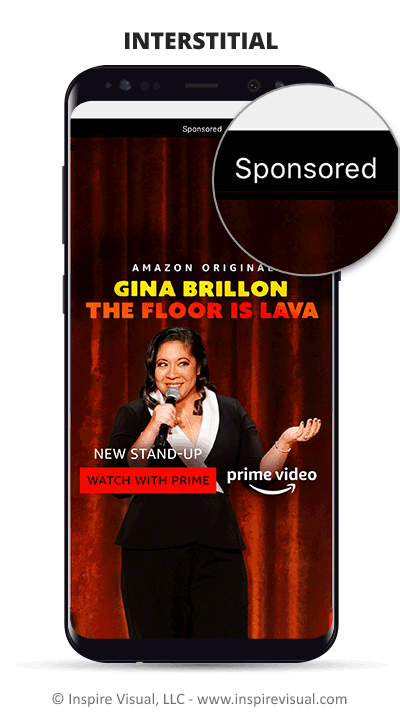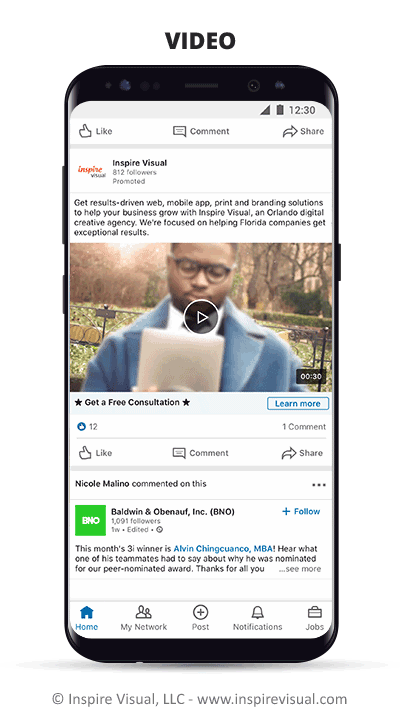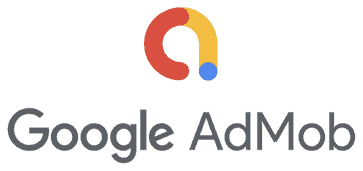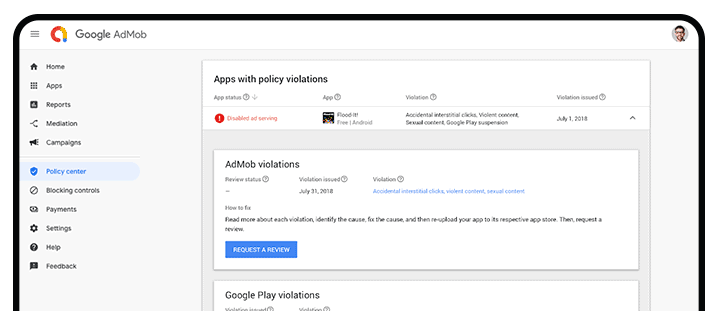 Google AdMob
Google bought AdMob in 2009 and it has since grown into one of the largest mobile advertising platforms on the market. Currently over 1 million apps are using AdMob with 97% of AdAge's 100 world's largest advertisers buying ads on the platform.
It has a complex analytics dashboard for obtaining detailed insights in how users are interacting with your app's ads and to help you focus on the ads that generate revenue and which ads are non-performing.
You can also integrate the dashboard with Google Analytics for a deeper understanding of your customers behavior.
There are four types of ad-formats available; banner ads, native ads, rewarded ads and interstitial ads.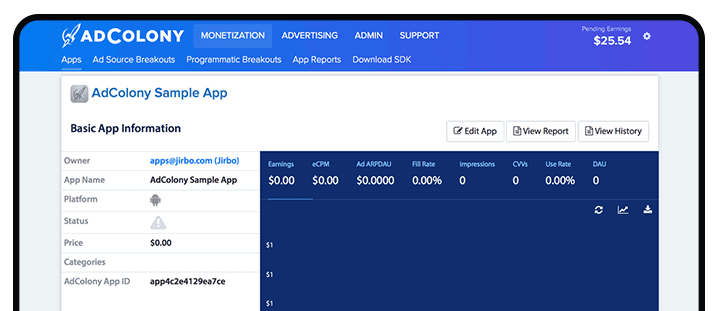 AdColony
AdColony offer in-app mobile video advertising and is used by some of the top companies in the world like Ben & Jerry's, Toyota and Hilton Hotels.
Because they only offer in-app mobile video advertising, they have a strong advertising platform built for that purpose, both technical and network wise. With more than 135 million iOS users and 310 million Android users they have a large reach.
Their ad formats include: full-screen video, interactive video, playables, interstitials and banners.
With AdColony you get an advanced dashboard where you can set demographics, budgets, geographical location being some of the parameters.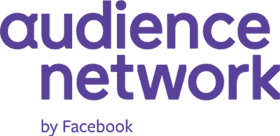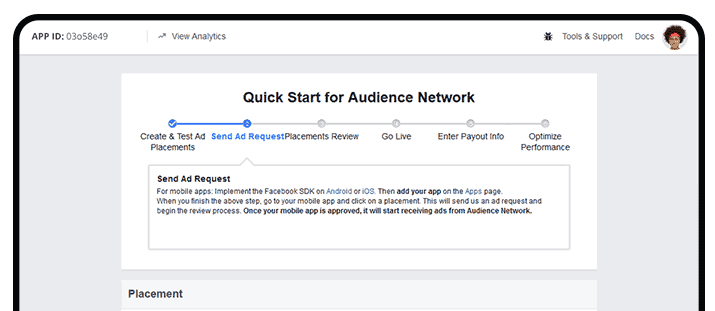 Facebook Audience Network
You may be aware of Facebook and Instagram's traditional ad network, where you are able to advertise your brand and services within Facebook and Instagram apps. Facebook Audience Network gives you the power to extend your campaigns beyond those apps and reach a wider audience.
They cover a broad range of industries, including games, entertainment, education and lifestyle and you can customize your target market based on these and many more parameters.
In addition to having pinpoint control of in which markets your ads should be displayed, you can also stop your ads from being shown next to certain content and block advertising on specific apps.
Facebook Audience Network lets you choose from the following ad formats; banner ads, native ads, interstitial ads and rewarded ads.
You can both during and after each campaign pull up a Publisher Delivery report with a list of publishers who have displayed your ads.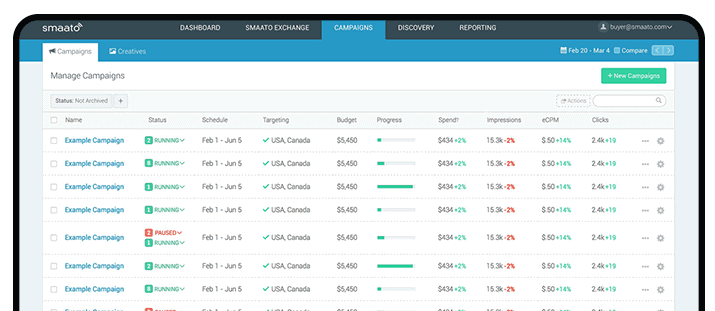 Smaato
With over 1 billion monthly mobile users, Smaato is one not to miss. Their global reach is more than 1.35 billion mobile users with an inventory of over 90,000 mobile apps.
They are a mobile real-time advertising platform offering real-time bidding and access to 190+ ad networks. The advantages of real-time bidding include cost effectiveness, optimization based on the current market and advanced real-time targeting.
With Smaato you can create and manage detailed ad campaigns using their reporting analytics tool. From within that tool you can also view the current supply and do your real-time bidding against other advertisers. The higher the demand, the higher the cost of showing an ad.
Smaato have a wide variety of ad formats, including instream videos, outstream videos, rewarded videos, native ads, expandable banners and interactive banners.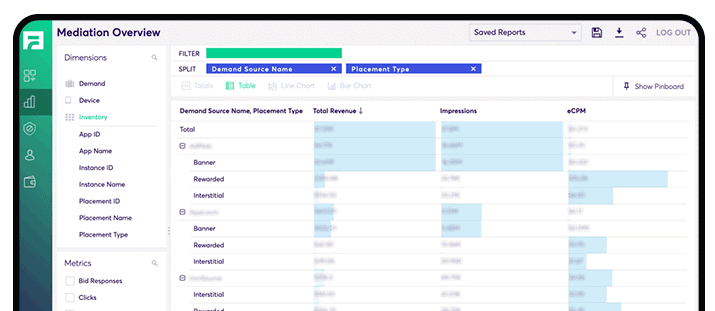 Fyber
Companies like Atari, Zynga and Verizon are already using Fyber. Their mobile advertising platform gives you access to over 10,000 curated top-ranking apps.
Fyber has users in 180+ countries and 1.2 billion unique monthly mobile app users. As their competitor AdColony, Fyber is a video-based ad platform.
In Fyber's dashboard you can set up audience targeting such as behavioral, demographic, ad engagement, device IDs and you can make your own whitelists/blacklists of target markets.
They have a wide range of video ad formats, including landscape, vertical, square, rewarded, banner, interstitial and MREC.
Conclusion
A survey shows that 77% of brands are already doing advertising in-apps. There's a reason for that. Almost a third of respondents in that survey stated that they experience a better user engagement and better targeting capabilities compared to mobile web advertising.
In-app adds can improve ROI by a staggering 41% and that is a number any marketer should be taking seriously when strategizing a new marketing campaign.
If you need help building your new app, Inspire Visual can help you. We have extensive experience with creating quality, high-performing apps.
And, if you'd like to learn more about what it takes to build an app, give us a call or reach out with questions. We'd love to talk to you about your app idea!
---
About Inspire Visual
At Inspire Visual, we believe that compelling design, functionality and content help drive effective results. That's why we work hard to provide innovative, visually inspiring and functionally sound solutions to address your marketing challenges and extend your brand's reach.
We offer decades of experience helping brands worldwide with websites, mobile app development, email marketing, direct mail campaigns, brand identity design, UI/UX, graphic design, print design, tradeshow design and more. We feel privileged to be allowed into our clients' businesses, and we strive to provide personal service and close collaboration throughout your project.
Call 407.476.1950 or email [email protected] to contact us, so we can meet you, learn more about your business and answer any questions you have. We'd love to connect with you!
YOU MAY ALSO LIKE
Inspire Visual
How do you find the right mobile app development company to make sure you are in good hands? Doing the initial research and choosing the right company can mean the difference between sleepless nights or the beginning of a stress-free and exciting journey. There's a lot more to finding the right partner than looking at the cheapest bid. In fact, you're likely to get into trouble if you go with the lowest bidder. We'll tell why that is and what's important when looking for a mobile app development company.
Inspire Visual
iOS 15 and iPadOS 15 are jam-packed with features and they are both being released to your iPhone and iPad this fall. This time Apple is not focusing on the big visual overhaul of iOS 14, but instead making the focal point about introducing really cool new features that'll make your device even more versatile. We're taking a closer look at all the greatness you'll be able to use, including a heavily upgraded FaceTime experience, new Apple Maps with 3D view in cities, sleeker notifications design, Live Text enabling you to copy/paste text from images and - of course we dare say - better privacy with offline Siri integration on select device models.