BLOG:
What Do Small Agencies Offer That The Big Guys Can't?
The United States Bureau of Labor Statistics reports that up to 68% of advertising and public relations firms in the U.S. have less than 5 employees.
The high percentage of small agencies that exist might be surprising to anyone whose first instinct would be to seek out a medium or large agency partner. Large agencies provide their clients with a sense of security, breadth of structure, services and/or perceived status that can be comforting.
So why do many businesses turn to small agencies to assist with their marketing, advertising and PR activities, and are there big benefits a small agency can offer that a larger one can't?
When you look at large vs small agencies, there's no doubt certain sizes and types of projects are better served by having a large full-service digital, creative or ad agency assigned.
Companies of all sizes, non-profits and government entities often turn to a smaller creative agency when they have one (or many) smaller ad-hoc projects, when their own in-house team is lacking expertise or when their larger agency's results have missed the mark.
Some small agencies excel in a particular specialty that attracts their clients to them, for example app development or specific programming expertise. And of course, smaller agencies are still the go-to for clients who want to accomplish more on a smaller marketing budget.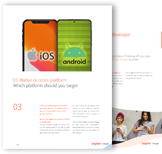 DO YOU LIKE THIS ARTICLE?
Sign up to to be the first to receive more exciting articles. We don't share your email, that's a promise!
Why clients leave their agencies
Beyond specialized skills, personal service, fresh creative ideas and lower costs that might bring clients looking to a smaller agency partner and a new agency relationship, there are a host of benefits small agencies can offer that rival the big guys and keep clients coming back after the first engagement.
In this article, we focus on four key benefits that a good boutique creative agency can provide that a big marketing firm can't:
Quality is never an accident; it is always the result of high intention, sincere effort, intelligent direction and skillful execution; it represents the wise choice of many alternatives.William A. Foster
Can a small agency deliver the same quality of results as a big one?
Small agencies need to have well-developed, specialized skillsets, and more importantly, the flexibility and creativity that will meet the expectations of their clients. Something most firms neglect to consider is that working with a large agency is not a guarantee of seasoned creatives working on your project.
In fact, unless you are a client with a large budget and the likelihood of bringing in future partnership opportunities, you will most certainly not have top executives working on your project — you are simply not the big fish.
Once the contract is secured, the large agency will most likely assign your account to a team with junior-level resources.
On the contrary, for small agencies' like ours, portfolios and reputations are much more dependent on the outcome of the projects. For us it's imperative to prioritize assigning the best possible talent to achieve the best possible outcome.
For example, on our own projects, it's certain that our principals will take part in some capacity of either production or quality assurance, and most definitely in the management of your account.
Small agencies know their reputation gets built one client at a time, so they tend to keep a very close eye on the relationship and the work before it goes out the door.
In order to carry out the same work without the large agency structure to fall back on, small agencies staff projects with team members who specialize in the exact skillsets that will make a project successful, so the client is not paying for multiple layers of resourcing beyond the ones needed to accomplish the task at hand.
Being a small agency, we screen the quality of our candidates and portfolios to ensure they are top notch talent before they work on any of our web or app development projects. Any reputable small agency should be doing this.
…we have to listen to consumers, we have to both deliver what they need and also have some creativity and insight and deliver what they don't yet know they need.Stephen Elop
Can a small agency offer creative strategies to rival the big guys?
Consider this question in the context of how a large agency is structured: with layers of account handlers, strategists, executives, analytics, creatives and directors – dozens of people could be involved at different stages in your project and faces can change with time.
Outside of your project contacts, your point of contact at a larger agency will usually be an account executive, who will hand down any message or direction you give them through several layers, for example to the project manager who often hands it over to a creative director who again hands it over to the designer or other worker bees. This comes with a risk of diluting your message on its journey down the line.
Large agencies can get crippled by their structures, sometimes leading to ineffective sharing of ideas, a lack of consistency or even a factory conveyor belt approach to creative work.
Big agencies also tend to have a relatively high employee turnover rate: many see annual turnover rates of over 30%, leading to even more fragmented strategy and creative approach that might not match the client's initial vision.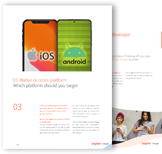 DO YOU LIKE THIS ARTICLE?
Sign up to to be the first to receive more exciting articles. We don't share your email, that's a promise!
That's not to say that large agencies haven't produced genius campaigns in spite of the bureaucracy – they certainly have, and in great numbers. But, they have also produced bad ones – and sometimes very expensive bad ones at that. Big agencies need to pay for their big structures, and are therefore more likely to present ideas that they can produce.
With a boutique creative agency, the client is likely to speak to the person who works directly with the creative and development team. This means that small agencies listen to your voice and opinions rather than second-hand (or even third-hand) interpretations, so they are more likely translate your vision into words and images – or packaging, products or experiences.
At our small agency, we have one point of contact assigned for every project we work on. It's usually a project manager who's available for planned status meetings or in case our clients have any impromptu questions.
Time and again we make sure our clients are involved in the work process to the extend they want to and instrumental in helping develop ideas that work for their brands.
It's a more personal, tailored approach to the client relationship and project work, more like that of a trusted friend – small agencies will do everything in their power to assure their clients aren't walking away unhappy.
Finally, a small agency can afford to take more risks in order to deliver concepts to a client who is looking for something new, while not losing sight of the client's marketing problem, since solving this is the key to assuring success.
You must always be able to predict what's next and then have the flexibility to evolve.Marc Benioff
Does the flexibility of a small agency vs a large agency matter that much?
Yes, it does – and in fact, in our opinion it's one of the key differentiators that has allowed our firm to work with clients who might otherwise have hired a larger agency.
Large agencies have more structure and reporting models that are necessary to root the company in process. Their policies and methods are outlined and templatized for efficiency, which looks impressive on the surface, but when change needs to happen, it can often be a slow and costly proposition for the client.
The large agency is structured with teams of people in different roles, support staff, office locations, often with big agency perks for their employees and big expense accounts…all paid for by their clients, of course. It's the perfect model resulting in more expensive projects and for hindering rapid decision-making.
With small agencies, it's typically the other way around: small agencies are typically light on structure and formality, employees and expense accounts, making them less costly and faster to react to change when it needs to happen. The structure of a small agency is lean and efficient, so there are not layers of paperwork or management approval needed before we can make decisions.
At Inspire Visual, our process includes adapting to our clients' methodologies and systems, working styles, pace and budgets, because it's essential to our success that we offer solutions that make working with us effortless.
When the client's budget or scope changes during a project, our team can make quick decisions to alter the project, including the resources working on it, if necessary.
We work hand-in-hand with the client to strategize and quickly execute on specific tactics that might not have been part of the initial scope of work.
Good small agencies also excel at being flexible with the types of services being provided that will add value to a project, while a large agency often might need to get another team and/or location involved.
For example, our app development services include strategic work to research and build detailed requirements to produce results in specific areas clients want to focus on, and we can help outline how clients can measure success if they aren't sure how.
Good small agencies are able to do this type of specialty work by diving much deeper into the product/service and demographics at hand than the client's internal employees or an inflexible large agency might be willing to do.
In marketing I've seen only one strategy that can't miss – and that is to market to your best customers first, your best prospects second and the rest of the world last.John Romero
How do small agencies excel in providing value over the big guys?
Value is not measured by the size of the team that produced the results.
Many factors come into play to assess value from including the type of project, timeline, budget and resources needed to carry out the work – but the bottom line is to provide value to companies, so agencies either need to help them bring in more revenue or save on production cost.
Boutique creative agencies are nimble enough to build custom pricing and terms, which can bring both financial rewards and a level of reassurance to clients.
Our team builds custom pricing for most of our clients, allowing them to be in full control over the level of service and delivery they want to budget for, whereas a global agency need to ensure steady income from a large client base and so, can't spend this kind of time doing "one off" custom pricing.
When we talk about value-based pricing, the small agency can invest the time it takes to really get to know the client's business, including the lifetime value of their customers and current cost of customer acquisition. Having this information means the agency can provide pricing that is based on either how much value, in the form of either revenue or cost savings, the agency expects to provide.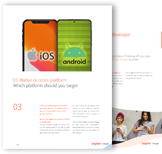 DO YOU LIKE THIS ARTICLE?
Sign up to to be the first to receive more exciting articles. We don't share your email, that's a promise!
Clients who don't have this level of insight into their marketing activities and/or where the project doesn't lend itself to this type of analysis could choose to by the project or the small agency's hourly rate instead.
We find that a lot of clients want the safety of a fixed-scope project estimate that includes a not-to-exceed amount, especially for larger projects where a client might not be comfortable working in an hourly rate model.
Custom, a la carte pricing like this would be harder to come by at a large agency, as there is obviously more risk taken on by the agency than by the client if the project runs over schedule or budget. To work with a larger agency, you'd better have an ample budget before this type of discussion even gets started.
Some clients are solely interested in the measurable return on their investment that can be expected. Others might want to get as many bells and whistles possible at a price they can afford. Still others might be looking to build something (though they're not always quite sure what) with their small budget as opposed to not building anything at all
Just as there are agencies of all sizes, there are companies of all sizes with different sized expectations, and small agencies often have the willingness and flexibility to provide value on projects that might run the gamut from large to small.
For our small digital agency, the potential of that next exciting challenge, the opportunity to offer up a great solution and the chance to build a life-long client relationship…all of that is worth a little risk and is why we do this job in the first place…otherwise, why wouldn't we just play it safe, go work for a large agency and call it a day?
---
About Inspire Visual
At Inspire Visual, we believe that compelling design, functionality and content help drive effective results. That's why we work hard to provide innovative, visually inspiring and functionally sound solutions to address your marketing challenges and extend your brand's reach.
We offer decades of experience helping brands worldwide with websites, mobile app development, email marketing, direct mail campaigns, brand identity design, UI/UX, graphic design, print design, tradeshow design and more. We feel privileged to be allowed into our clients' businesses, and we strive to provide personal service and close collaboration throughout your project.
Call 407.476.1950 or email [email protected] to contact us, so we can meet you, learn more about your business and answer any questions you have. We'd love to connect with you!
YOU MAY ALSO LIKE
Inspire Visual
The online food delivery market is thriving and the popularity of using restaurant delivery apps keeps growing. Today, at-home restaurant ordering already accounts for 12 billion U.S. dollars spread across 50 million hungry app users. Restaurant owners are flocking to stick with the times and offer the food online. For good reason, the mobile app food delivery market is experiencing rapid growth and showing no signs of slowing down. The best time to get started was yesterday, the second-best time is today.
Inspire Visual
The latest iOS 16 packs a slew of new features that app owners want to pack into their offerings to stay on the competitive edge. Notably fitness and health-related mHealth apps should take note as there are some major health tracking options added to the smartphone, smartwatch and tablet devices. Apps targeting the navigational/car segment, streaming entertainment and AR/VR apps are also up for some great opportunities to transform their apps to meet the demands of the next generation.