BLOG:
The 10 Best iOS 14 Features You Don't Want to Miss
iOS 14 and iPadOS 14 were released on September 16. They are packed with great new features and a visual redesign not seen in previous iOS releases in recent years.
We have looked at the biggest updates and features that will make your life easier. Get excited, because your mobile phone and tablet are about to get a whole lot smarter.
There's also good news for all iOS13 owners. You will be able to upgrade to iOS14 as Apple is supporting all the same iPhones and iPads as previously supported by iOS13. This means it can be installed on the iPhone 6S released in 2015 and newer, as well as the iPad 2 Air, released in 2014. We have included a full compatibility chart at the end of this article.
1. Widgets on your home screen
After installing the new brand-new iOS 14 on your iPhone or iPad, the first thing you'll notice is the new and updated home screen. It includes large Widgets, a new App Library, Compact Calls, a redesigned Siri Assistant and much more.
For previous iOS generations, Widgets were only available in the "Today" side dock (when swiping left on your screen). That has all changed in the new iOS 14. You can now drag and drop Widgets on to your home screen and organize them how you prefer. You can even scale Widgets to different sizes depending on their importance to you.
There's also a Smart Stack that shows Widgets dynamically curated based on the apps you use most and it will learn from your behavior. For example, it might show your Netflix app and News Widgets in the evening.
You can select which Widgets you want to show on your home screen from the Widget Gallery. You get to this by holding down your finger on the home screen until the icons start shaking, then click the "+" button in the top right corner.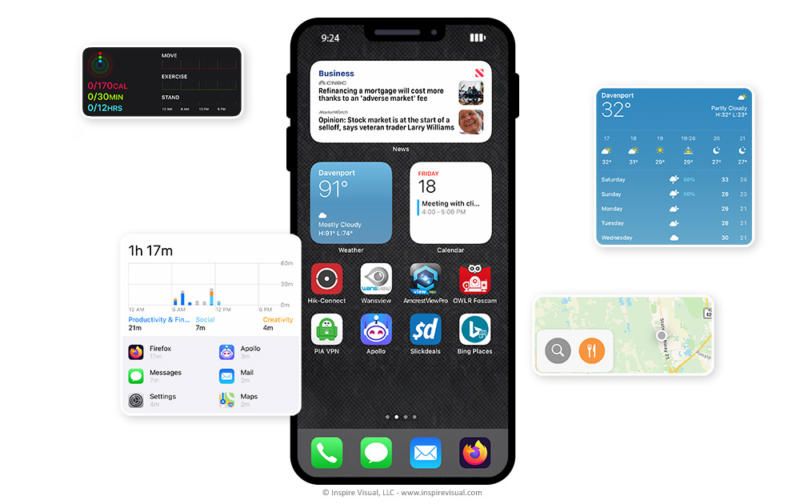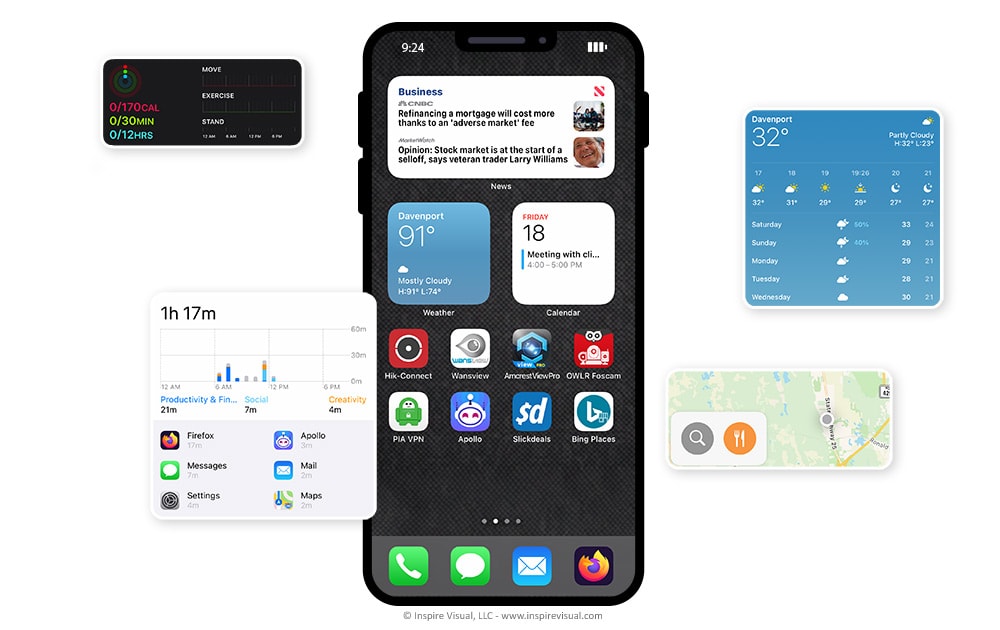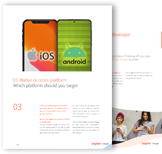 DO YOU LIKE THIS ARTICLE?
Sign up to to be the first to receive more exciting articles. We don't share your email, that's a promise!
2. App library
If you've ever felt overwhelmed by the number of apps on your home screens and difficulty finding a specific app, you will probably like the new App Library. It lets you hide apps on the home screen that you don't often use and access them through the App Library.
It automatically organizes your apps into categories like Suggestions, Recently Added, Entertainment, Social, Creativity, Shopping and so on. Suggestions are shown based on machine learning that determines which apps you use most frequently.
You get to the App Library by swiping right on the last home screen. On the App Library screen, you are able to search for a specific app or scroll down to see all of your apps.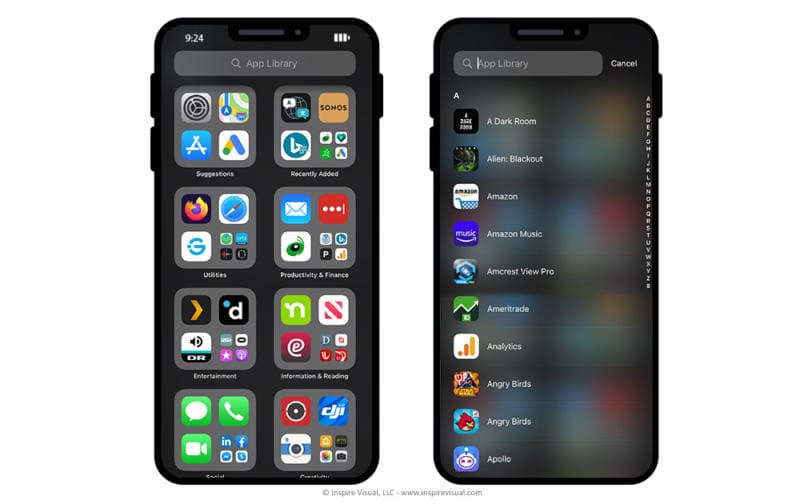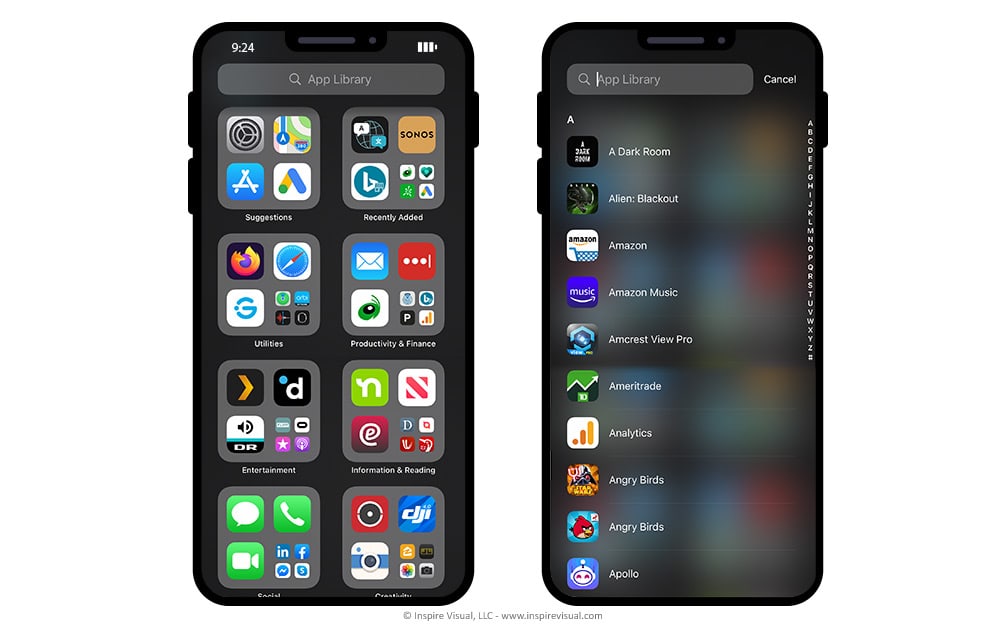 3. Picture-in-picture
You are now able to continue watching videos while using other apps, so if you get a message while watching the latest football game, you don't have to miss the action.
Video apps supporting this feature will place a thumbnail-sized video over your home screen or other third-party app. While the video is playing, you can drag it to any corner of your screen and control playback, expand it to full-size again or dock it out of view on the side of the screen while the audio keeps playing.
This feature is not only for videos, but also for FaceTime — for those calls where you are talking, but need to multitask.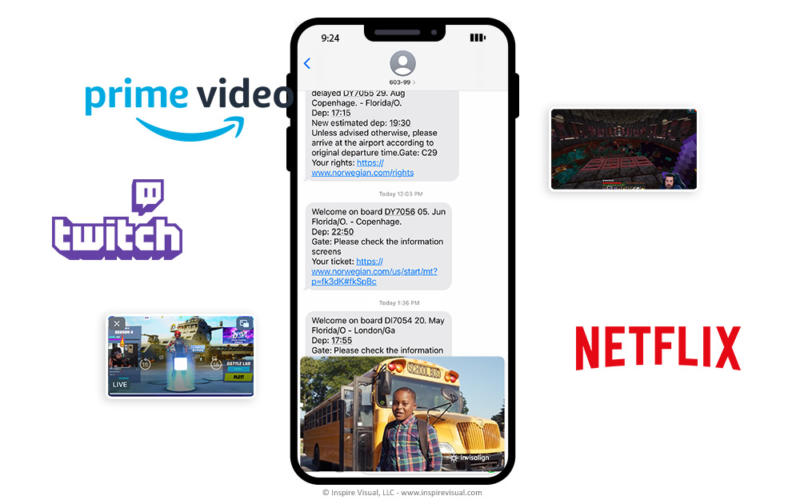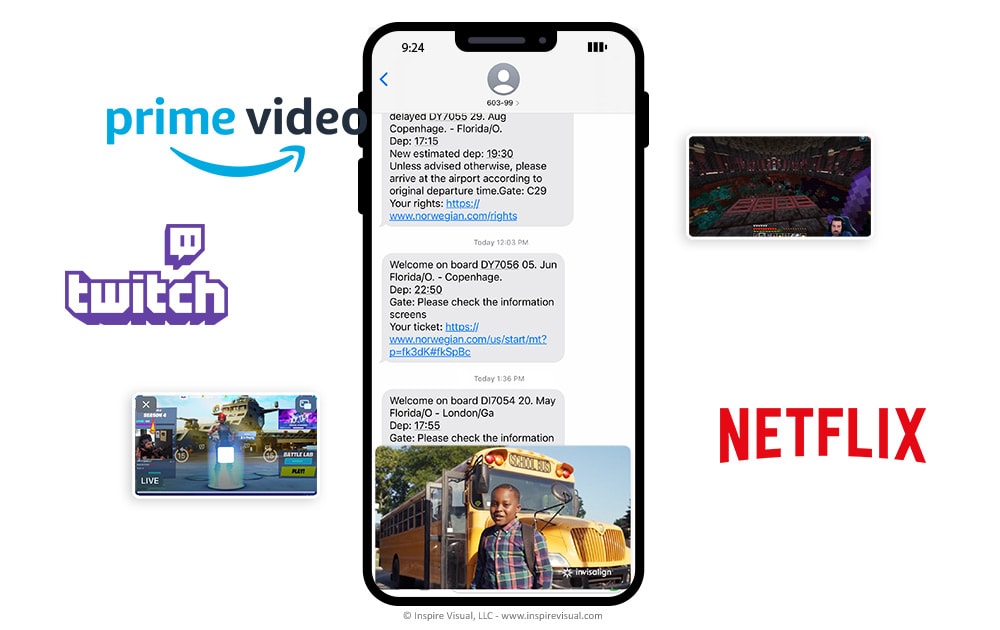 4. Compact calls
Finally, incoming calls don't cover your entire screen. Instead, calls from your iPhone, Facetime and third-party apps are now positioned at the top of the screen. No more accidentally picking up the phone while clicking around in another app!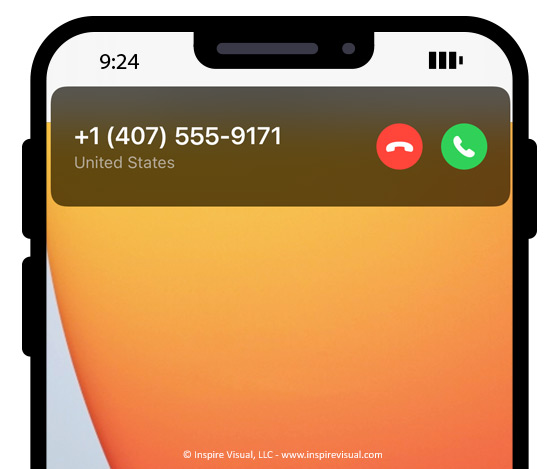 5. Messages
This is one of the most revamped apps of the new iOS 14 release and also one of the most used apps overall. With every new iteration, Apple makes improvements, and in this version Pin Conversations and Group Chats are introduced to streamline and make your communication easier.
Pin Conversations
Among other updates, you can pin up to 9 conversations to the top of your conversation list. It works just like a "Favorites" bookmarking feature.
When you get a new message from a pinned person or group conversation, it will pop up as a small speech bubble. You can then click on the conversation and it will open the regular text message screen you are used to from earlier iOS versions.
You pin a person or group chat to the top by holding down your finger on a conversation and then choosing Pin in the menu that pops up.
Group Chats
In group chats, you can now reply to specific messages as inline messages. Long-click on a message and choose Reply and it will be inline. You will get a visual cue in the form of a line drawn from the message you are replying to down to your reply. If you click on the inline message, it blurs the other messages and puts the focus on that message.
You also have the option to Mention a person using the @ symbol in front of their name. Using Mentions you can decrease the clutter of notifications in group chats. You can customize your message settings so that you only receive a notification when your name is mentioned. Any Mention will highlight your name for easier readability.
New Memoji's and Stickers
If you like to spice up your messages with Memoji's and Stickers, you're in luck, since the new iOS offers better customization options for them. You can now age your Memoji's and add face coverings. There are also 20 new hair and headwear styles to choose from, so have at it!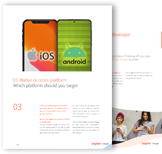 DO YOU LIKE THIS ARTICLE?
Sign up to to be the first to receive more exciting articles. We don't share your email, that's a promise!
6. Maps
Apple has beefed up Maps since its introduction in 2012 where it received major criticism for a bug-ridden app. That is a long time ago, and Apple Maps has for a long time been a worthy – or better – competitor to Google Maps.
In iOS 1,4 there are noteworthy new features such as integrated travel guides, red-light camera, speed-trap warnings, cycling navigation and more.
Apple has worked closely together with businesses to offer the integrated Guides. When using Apple Maps, you can create a Guide before leaving for your destination. You can tag places you are interested in, and they will be assembled in a list where you can click on each place and get detailed information. The information includes pictures, descriptions, addresses, opening hours, reviews and much more.
7. Translation
The world gets smaller every day, and whether you're traveling or just living in a multi-cultural society, your chances of meeting someone speaking another language has increased. Translation apps are nothing new. They have been around for years in more or less successful attempts to help you communicate in different languages.
Now Apple is introducing their own translation app. It is able to translate 11 languages in real-time; English, Spanish, German, French, Italian, Chinese, Portuguese, Korean, Japanese, Russian and Arabic.
When you go into the translation app, select the language, rotate your device sideways, click the microphone and start talking. Once translated, you can read the translated sentence or click the play button to have the sentence read aloud.
If you are going to be in a rural area, have bad network connection or just want to save on bandwidth, you can download languages so you are able to translate while being offline, which is a pretty nifty feature. You can also make your own phrasebook by saving your favorite phrases.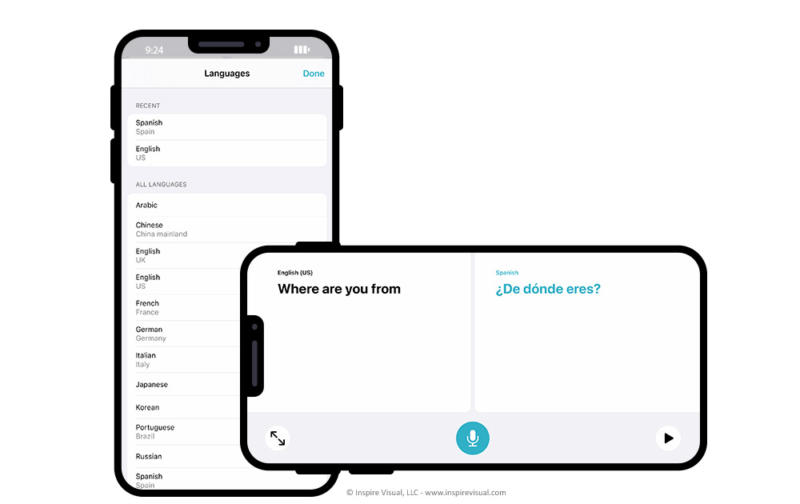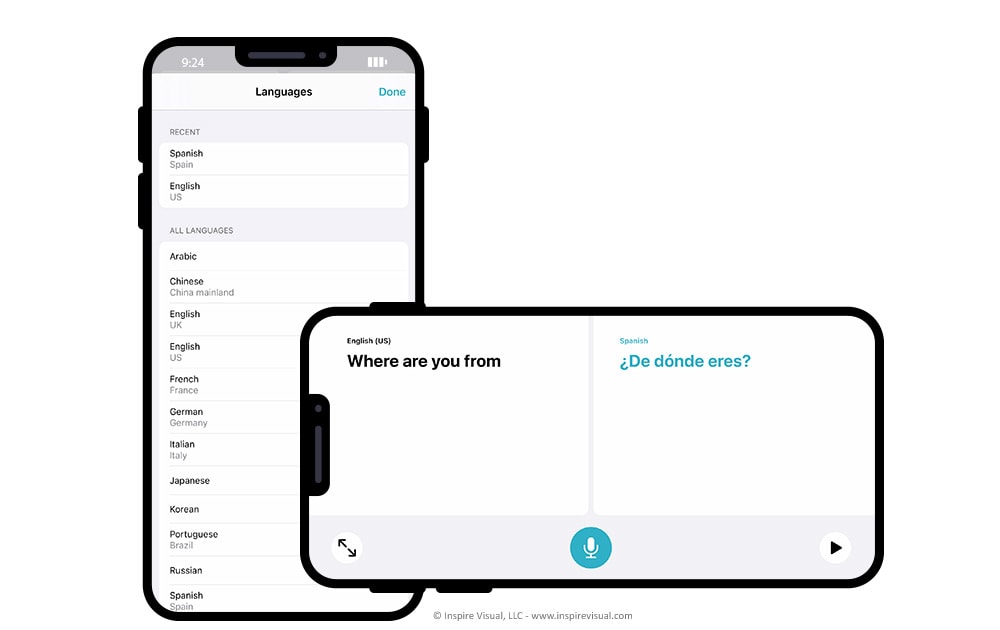 8. Siri voice assistant
Siri has also been redesigned in iOS 14. Much like the new Compact Calls feature, Siri won't be taking up your entire screen anymore, but instead is displayed in a small sphere encapsulated in its well-known Siri design.
Your answers will, depending on the amount of information, appear in a small text bubble on the top or bottom of your screen — or in some cases on an information panel overlapping most of the screen.
Apple has been working on making Siri smarter in an attempt to make it a more useful companion. Siri is now able to answer 20 times more facts than 3 years ago. She is also using the web more aggressively to search for answers than she has in the past.
You can also use the newly introduced Translation app directly from Siri. Just say "Translate 'how are you' to Spanish," and she'll write out the translated sentence along with the option to have Siri read the sentence aloud.
You can also send audio messages directly to your contacts. Say "Send audio message to ", and she'll then record your message, show you the recorded transcription and ask for confirmation to send.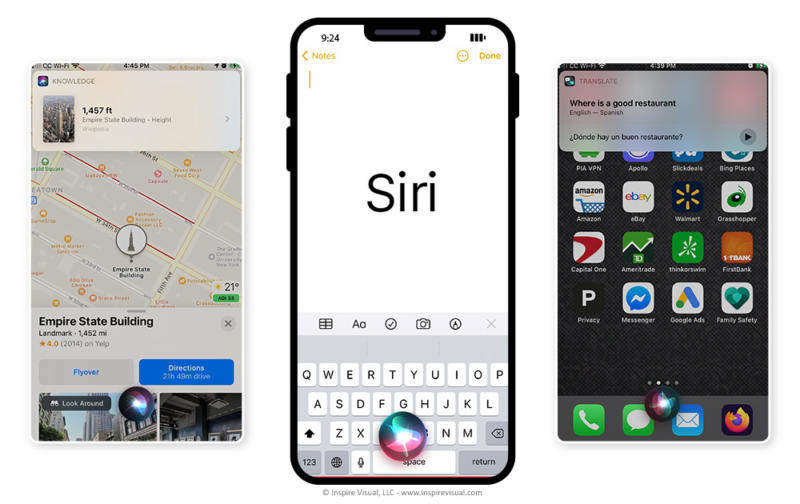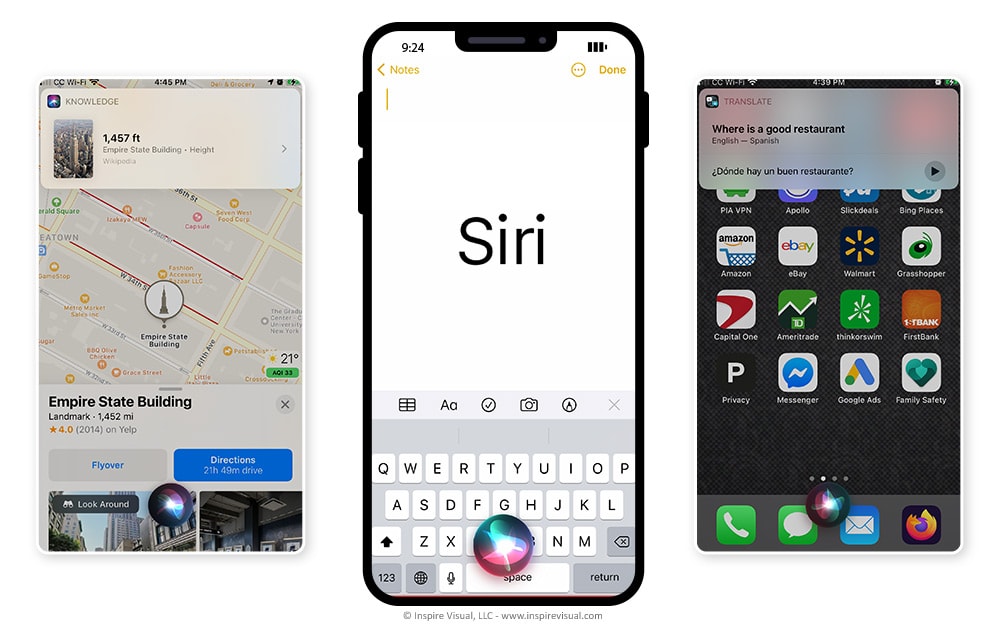 9. CarPlay
Some car makers will soon give you the option of controlling your vehicle with a digital car key — owners of compatible cars can add their key to the Wallet app on their iPhones. New car models will be rolling out of factories supporting this feature in the near future. You'll also need an iPhone released in 2018 or later with NFC technology.
With your car's keys in the Wallet app, you can use your iPhone or Apple Watch to unlock and start your car. You'll also be able to share your digital car key using iMessage, as well as having the option to enable a valet mode, limit top speed and radio controls, and more.
In case your phone's battery runs out, you will not be stuck without your ride if it happens within 5 hours of driving your car, since the phone will have a power reserve for digital keys that lasts 5 hours. To find out if your car is compatible, you have to contact your car's manufacturer or dealership.
For the rest of us, we have to be content with now being able to customize our CarPlay's wallpaper.
10. Privacy
You may not think of this as an exciting feature, but in a world where our every step and interaction are being tracked by Facebook, Google and the like, privacy is a commodity. Apple has always been a leader in safeguarding the privacy of the consumer.
In iOS 14, you get even more control over what information is being shared.
If an app is using your camera or microphone, you will be notified by a small indicator dot at the top right of your screen. You can go into Control Center to get more information about which apps have used them recently.
Previously, when an app asked for your location, it would pinpoint you accurately down to your address. In iOS 14, you are able to show your approximate location instead.
For apps asking permission to access your photos, you previously had to grant access to your entire photo roll. Not anymore. With iOS 14 you can select which photos specifically to share with the app.
The App Store also includes a new Privacy Information section for each app. It's an easy way for you to check privacy practices of the app developer before hitting the download button.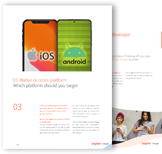 DO YOU LIKE THIS ARTICLE?
Sign up to to be the first to receive more exciting articles. We don't share your email, that's a promise!
Conclusion
These are the biggest changes to the new iOS 14, but a few other features include faster overall performance, a VP9 codec so you can play 4K videos off YouTube, and the ability to set your favorite browser or mail app as the default.
At Inspire Visual we are continuously researching and implementing the latest features in the apps we develop. This article about iOS14 is a peek into what we learn before every new iOS release, and what we make sure to take advantage of to increase the competitiveness of every app we release for our clients.
With every new iOS release there's always the risk of new inevitable bugs introduced by Apple's developers.
Apple has previously had battery drain issues and performance issues in their next-gen iOS releases, and many people choose to wait to get the worst bugs out of the way. However, iOS 14 has been out for a while now and it's as stable as it'll ever be, so you can install it today knowing that any initial bugs are long gone. We think you are going to enjoy the new iOS 14 once you start using it.
Be sure to check our article "Find the Best 10 Hidden Features in iOS 14" for more great finds. And don't miss our articles about the newer iOS 15 and iOS 16.
Or, maybe you'd like to learn more about what it takes to build an IOS app? Feel free to give us a call or reach out with questions. We'd love to talk to you about your app idea!
iOS 14 compatible iPhones
iPhone SE 2020
iPhone 11
iPhone 11 Pro
Phone 11 Pro Max
Phone Xs
iPhone Xs Max
iPhone XR
iPhone X
iPhone 8
iPhone 8 Plus
iPhone 7
iPhone 7 Plus
iPhone 6s
iPhone 6s Plus
iPhone SE
iOS 14 compatible iPods
iPod Touch 7th Generation
iPadOS 14 compatible tablets
iPad Pro 12.9-inch (4th generation)
iPad Pro 11-inch (2nd generation)
iPad Pro 12.9-inch (3rd generation)
iPad Pro 11-inch (1st generation)
iPad Pro 12.9-inch (2nd generation)
iPad Pro 12.9-inch (1st generation)
iPad Pro 10.5-inch
iPad Pro 9.7-inch
iPad (7th generation)
iPad (6th generation)
iPad (5th generation)
iPad mini (5th generation)
iPad mini 4
iPad Air (3rd generation)
iPad Air 2
---
About Inspire Visual
At Inspire Visual, we believe that compelling design, functionality and content help drive effective results. That's why we work hard to provide innovative, visually inspiring and functionally sound solutions to address your marketing challenges and extend your brand's reach.
We offer decades of experience helping brands worldwide with websites, mobile app development, email marketing, direct mail campaigns, brand identity design, UI/UX, graphic design, print design, tradeshow design and more. We feel privileged to be allowed into our clients' businesses, and we strive to provide personal service and close collaboration throughout your project.
Call 407.476.1950 or email [email protected] to contact us, so we can meet you, learn more about your business and answer any questions you have. We'd love to connect with you!
YOU MAY ALSO LIKE
Inspire Visual
Developing an app today is hard work for you or your app development agency. It requires a good understanding of the competitor landscape for any app category and how to take advantage of best practices, to remain relevant and exciting to the picky app users of today.
Inspire Visual
The online food delivery market is thriving and the popularity of using restaurant delivery apps keeps growing. Today, at-home restaurant ordering already accounts for 12 billion U.S. dollars spread across 50 million hungry app users. Restaurant owners are flocking to stick with the times and offer the food online. For good reason, the mobile app food delivery market is experiencing rapid growth and showing no signs of slowing down. The best time to get started was yesterday, the second-best time is today.
Are you ready to talk about your project?

Hello, I'm Angela, co-founder of Inspire Visual! Let's have a chat about your project. Send an email or fill out the form to get started. Talk soon!