BLOG:
Consider Your Future Needs When Deciding How to Build Your Website
What's the difference between custom websites and templated sites these days, and which should you choose for your website? The options can be overwhelming for the novice, so keep in mind that the right choice is entirely subjective and depends largely on your current situation, budget, timeline and overall business objectives.
We'll provide the most up-to-date information, plus give our opinions on the solutions out there today and how they measure up. Let's dive right into the types, differences and pros/cons, so you can start to map out which one is right for your needs.
First, to keep things simple we categorize the tools for building websites into to three main types:
website builders (templated)
content management systems (can be either templated or custom designed)
custom websites (never built from a template)
A challenge for both newly established companies — and of course even established businesses — is available marketing budget. The opportunity to get online exposure both inexpensively and quickly makes website builders an option that some small businesses and hobbyists turn to. Buy a hosted, template-based website builder (examples are Wix, Squarespace and Weebly), drag-and-drop your way to a new website or e-commerce site (with something like Shopify), and you're done, right? Mostly we would agree, but there is always a catch to anything that sounds too good to be true.
Building your site
Website builders are easy to use and the upfront cost is minimal. If you learn how to use that builder's UI and basic functionality, you will probably be able to build a small website by yourself. Layout, image placement and copy insertion is done by dragging and dropping elements into your pages from a predefined set of items like text boxes, image placeholders and buttons. The previews are instant, so you can see what everything will look like on your screen before committing changes. Usually there will be some element of customization possible, such as the size of images, button colors, font type and style, image galleries and other basic features should be available, but anything more complex than that and you'll quickly find yourself at a dead-end.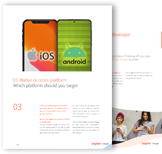 DO YOU LIKE THIS ARTICLE?
Sign up to to be the first to receive more exciting articles. We don't share your email, that's a promise!
Future upgrades
It's important to be aware that these tools are generally very limited in scalability and complexity, so don't expect to use the latest web technologies, organic interface designs, adding your own custom payment gateways for eCommerce or database back-end integration. Maybe these aren't elements you think your website needs right now, but what about in the future? Make sure you research and analyze how limiting your website's scalability and functionality might affect to your business in the future.
Pricing models
Most website builder providers have the same core business model: they want to entice you to buy into their system inexpensively or even free in some cases, but once they do so, they require subscription fees for however long you decide to use their service. These providers know that if you invest time in creating your own website, it's much more likely that you will keep paying subscription fees instead of having to start from scratch with another website provider all over again — it reminds us of the cheap inkjet printer we've all bought at one time or another that needs costly ink cartridge replacements every few months or so. And what do you do if the subscription price increases over time? Even though the up-front cost is less, the cost could surpass a more flexible, custom solution.
Security
Hackers often target widely used systems, since their potential number of victims are much larger. Case in point: Weebly was hacked back in 2016 and more than 43 million accounts were affected in the breach. Also in 2016, Wix had a bug on their hands that, if not caught, might have resulted in a computer worm that could do serious damage to websites all over the world. These kinds of vulnerabilities result from flaws in website coding, and hackers can potentially get access to users' browsers to run malicious scripts that can transmit computer viruses and other types of attacks. For example, the Wix vulnerability — corrected before it did any harm in thise case — could have allowed a hacker to take over a customer's website account on the Wix platform as part of a self-propagating exploit. It's the wide user base of website builders that increases the risk to website owners in these cases, because when 10,000 other people might be using the same plug-in as you are, hackers perceive a greater reward.
Pros
| | |
| --- | --- |
| | Cost – The cost upfront is ideal for limited budgets. Just remember that it is a subscription-based model where you will keep paying a monthly or annual fee to keep your website, and if you change providers or the website builder you're using goes out of business, you'll have to start from scratch. |
| | Simplicity – Dragging and dropping elements to build a website is fairly easy to master, so if you just need a simple site without much customization, it might be a good choice for you. |
Cons
| | |
| --- | --- |
| | Branding – A lot of site visitors can spot a website that has been built in a template solution. Depending on the type of website and business you have, your audience might not think you're a reputable business if your website doesn't provide a professional user experience. Additionally there is less flexibility in templated solutions for branding, which can be very important elements in building brand trust for your prospects and customers. |
| | SEO – Not all website builders are search engine friendly, and that can hurt your rankings and exposure. In order to be search engine friendly, the code behind the website will have to be built with search engine optimization and the latest search algorithms in mind. |
| | Hacking – Hackers often target widely used systems, since their potential number of victims are much larger, so site owners might be opening themselves up to more risk with a mass-marketed template-based solution. |
2. Content management system (CMS) websites
A website controlled by a content management system (CMS) is an option that's somewhere inbetween website builders and custom-built websites. CMS applications are used to create and manage digital content and control back-end services. There are numerous options for creating website pages including formatting options, history editing and version control. Some content management systems might include support for one-to-one marketing, language translation or other advanced features. Custom coding is allowable within a CMS to create additional features beyond what a template might provide.
The learning curve
As with website builders, there is a preview tool within a CMS's user interface for seeing changes as you make them. Most CMS applications are not drag-and-drop style, and you will have to learn how to navigate the user interface to accomplish specific tasks. You will often have pre-defined free or cost-based templates to choose from when you are deciding on the best interface for your website; the same goes for plug-ins: if you need a plug-in for search engine optimization (SEO) it has probably already been built, and you can use it for free (or for a small fee) on your site. Some CMS providers offer complex analytics, so you can track your visitors' behavior and buying patterns, enabling you to strengthen less effective sections of your site and test the success of campaigns.
However, the learning curve for creating websites within a CMS application is much steeper than with website builders, but the advantages are many: flexibility, customization and advanced features. If you are not already familiar with the CMS solution and have never done any website coding, you probably won't be able to build your own website without help from one or more developers, designers or an agency.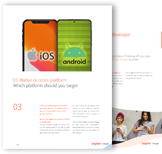 DO YOU LIKE THIS ARTICLE?
Sign up to to be the first to receive more exciting articles. We don't share your email, that's a promise!
Pricing
Some CMS applications are very expensive, while others are completely free (though third-party plug-ins might require a fee). Some ecommerce CMSs require a monthly fee, some priced based on the number of users and some may only have costs associated with their hosting. The most popular free, open source CMS solution is WordPress (61.3% market share), but other popular ones include Joomla (4.9% market share), and Drupal (3.1% market share). Enterprise content management systems are offered by IBM, Oracle, Microsoft and many more. For example, Microsoft's SharePoint is another popular CMS used by many organizations to store, manage and share their internal digital content.
Security
Like website builders, a drawback to using a CMS instead of having a custom-built solution is that they are prone to hacking due to their large popularity. The latest numbers from Sucuri (2018 numbers as the 2019 report is not out yet) show WordPress infections rose from 83% in 2017 to 90% in 2018, while Joomla! infection rates dropped from 13.1% to 4.3% and Drupal infections rose from 1.6% to 3.7%. The report states that "…The most notorious threats to CMS' stem from vulnerabilities introduced by add-on modules, plugins, themes, and extensions." This underscores the importance of keeping on top of updates and using reliable third-party plug-ins to stay safe — but most of all, it reinforces the fact that businesses need to have developers/agencies who know what they're doing to build and provide ongoing maintenance and upgrades.
Pros
| | |
| --- | --- |
| | Cost – CMS templates are often offered at the $50-100 price point. Additional costs are incurred if you need a developer to add content, photos and any custom changes. There are free templates from CMS providers like WordPress, Joomla! and Drupal, though their feature list and scalability is limited compared to custom-built websites. |
| | Development Time – Since the most difficult task of building the website structure is already complete, your site can be up and running quicker than with a custom solution; however, you should still expect to need help from one or more developers, designers or an agency. The more complicated the site, the more development budget you will need. |
| | Compatibility – There are many templates available today that are responsive across different platforms, browsers and devices, so this can be fairly easily handled in most CMS website templates. |
Cons
| | |
| --- | --- |
| | Generic – A lot of other companies will be using the same template. Even if you purchase the more expensive "exclusive license" (averaging at $5,000), everyone who previously purchased the same template will still have rights to use that design. In the last few years, you might have noticed that a lot of websites look similar — this is because they are using templates, and that alone can make a bad impression to some audiences. |
| | Learning Curve – Although a lot easier to learn than custom website building, CMS website development still requires deep understanding of the CMS application and user interface. |
| | Hacking – CMS websites are also often targeted by hackers since they have a large user base, and so their potential pool of victims is much larger. An estimated 37,000 websites are hacked every day, and even when CMS plugins and themes are kept up-to-date there is a risk. You mostly are at the mercy of volunteers working to (hopefully) diligently patch the compromises. |
Why go custom anymore?
If customization, creativity, advanced functionality and brand presentation are all priorities for your website, and your needs can't be met using a templated website builder or CMS solution, then a custom-built website is the right choice for you. Instead of trying to fit your site features, functionality and branding into a solution that already exists and may have limitiations, a custom-built website is specifically based on the ways you need to cater to your audience.
If you need to have custom code built to allow your site to work and/or look exactly as you want it to, a custom-built website could be a faster and easier solution — or the only solution. And some firms who need scalable website solutions to allow for very large, complex or multiple sites within the same ecosystem will likely want to look to a custom solution.
Remember that, as with any type of website, the goal should always be to deliver an engaging user experience that gives value to your visitors. With a custom-built website, you will be able to make decisions about details like user interface, site layout, advanced features, current database(s) integration, payment gateways if needed, design elements/styling and many other pieces that can all work together to give your brand a unique and strong presence, help drive more traffic with advanced SEO techniques and ultimately make conversions and/or deliver the rich user experience you are trying to provide to your audience(s).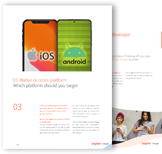 DO YOU LIKE THIS ARTICLE?
Sign up to to be the first to receive more exciting articles. We don't share your email, that's a promise!

Pros
| | |
| --- | --- |
| | Flexibility – Custom websites are flexible and scalable — once the groundwork is laid, your site can be revised as much as you want over time to add/remove elements, intergrate new tools and offerings and keep your site fresh and exciting through the years. Whether you decide to add, for example, an e-commerce platform, back-end integrations, social network additions, custom product areas or a customer portal, these can all be integrated into the custom-coded backbone that your developer/agency has already built. You won't have to throw away the work you have already paid for, because reworking the code will allow for just about any kind of addition to your site that you can think up. |
| | Control – With a custom-built website, your developer and/or agency will test the site in all browsers and platforms and across a wide variety of popular mobile devices to make sure there are no issues that need to be corrected. This should also be the case with a CMS-driven website, but with a custom website, any defects found can be corrected more easily and efficiently directly in the code your developer has created for the site. In a CMS environment, the code revisions you need to make to the CSS will have to be cross-referenced and tested within the confines of that CMS system. |
| | SEO – Everyone still wants their website to be at the top of the search engine results. You can either pay to buy ads (they are pricey as competition drives prices up) or you can use every tool possible before you even start building your custom website, so the code includes the most advanced and up-to-date search engine techniques available. |
| | Uniqueness – With the influx of templates in recent years, a lot of websites look repetitive. A custom-built website is tailored around your brand and vision, and being unique, it stands out from the crowd. |
| | Technology – Having a functional and fast website is important; with a custom-built website, your developer can limit code bloat for the fastest experience. 47% of people expect a website to load in two seconds or less, so making sure to use the latest optimization technologies is key. |
Cons
| | |
| --- | --- |
| | Cost – There is more work involved in building a custom website in most cases, as there can be longer phases (for example conceptualization, planning, design, development and quality assurance). |
| | Finding an Agency – You will have to spend some time looking for an agency to find the right fit. It's important to ask them questions like how they manage client communication and collaboration, how they report on progress, their coding practices how they handle QA, and so on. |
Still not sure what the right solution is for your company website? Contact our team to setup a website discovery meeting to help answer any other questions you have to help assure you're making the right choices in the planning, layout, design and technology behind your site.
---
About Inspire Visual
At Inspire Visual, we believe that compelling design, functionality and content help drive effective results. That's why we work hard to provide innovative, visually inspiring and functionally sound solutions to address your marketing challenges and extend your brand's reach.
We offer decades of experience helping brands worldwide with websites, mobile app development, email marketing, direct mail campaigns, brand identity design, UI/UX, graphic design, print design, tradeshow design and more. We feel privileged to be allowed into our clients' businesses, and we strive to provide personal service and close collaboration throughout your project.
Call 407.476.1950 or email [email protected] to contact us, so we can meet you, learn more about your business and answer any questions you have. We'd love to connect with you!
YOU MAY ALSO LIKE
Inspire Visual
Behind every successful app, there is a carefully crafted app user interface. You may not give it much thought when you use an app, but creating an intuitive and appealing user interface takes a long time and requires a lot of revisions before getting that final design nailed down.
Inspire Visual
Developing an app today is hard work for you or your app development agency. It requires a good understanding of the competitor landscape for any app category and how to take advantage of best practices, to remain relevant and exciting to the picky app users of today.
Are you ready to talk about your project?


Hello, I'm Angela, co-founder of Inspire Visual! Let's have a chat about your project. Send an email or fill out the form to get started. Talk soon!