App of the Week: The Swiss Army Knife of Cash Apps
Remember the old days when you had to pay someone, you'd usually write them a check. In best case scenario you could hand over the check instantly, but the recipient would still have to run to the bank to make a deposit or in worst-case scenario wait for it to arrive by mail and it would take up to a week before the funds could be deposited.
Fortunately, that is how it used to be. Nowadays you can transfer money instantly using the device most people have within an arm's reach, the mobile phone.
There are a plethora of cash apps available such as PayPal, Zelle, Venmo, Google Pay and Facebook Messenger. They each have their strengths and weaknesses, but if you are looking for a cash app that is the swish army knife of cash apps, look no further than the aptly named Cash App.
Cash App for money transfers (and much more)
Cash App is a peer-to-peer (P2P) payment service available on both Android and iOS mobile devices and it is an easy method of sending, investing, saving and spending your money at your convenience.
Once you have signed up, you can start sending your first payments right away or receive money just as easy. You initiate a transaction from within Cash App in just a few steps and the funds gets deposited to another bank account up to two days earlier than using the traditional bank transfer methods.
Whether you dine with friends and need to split the bill or you have to pay a contractor for work on your home, it's an easy way to get the payment squared away.
But wait there's more…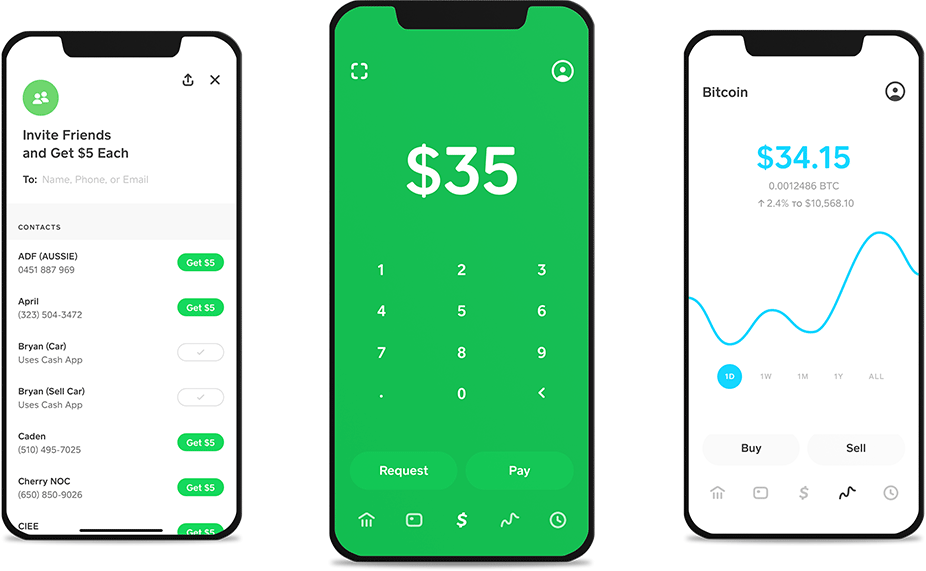 Custom Visa debit card
If you'd like to order a custom Visa debit card, there's that option too. You can create a virtual card instantly and start using it for online purchases or in-store purchases by adding it to your digital wallet. In less than a week you will receive a physical cash card to use in stores across the country. Some participating stores, websites and restaurants even offer cash boost – instant discounts that are applied during your purchase process.
Receive your paycheck early
Within Cash App you can deposit your paychecks, unemployment benefits, tax returns or government stimulus payouts into the app by adding your account and routing number. Using Cash App's speedy service can make it possible to receive your payments up to two days earlier as using other banks.
Invest in Bitcoin
You may have heard about Bitcoin? It's a virtual currency introduced back in 2008. It was initially available for $0.0008 per bitcoin and has since jumped to today's price at $48,735 per bitcoin. That's quite a markup for the early investors. Several high profile financial experts predict bitcoin will be worth $100,000-$318,000 by 2022 (depending on who you ask) and up to $1,000,000 by 2027. Now, we're not financial experts and not advising you to buy Bitcoin, but it is an option to speculate and buy, sell, deposit and withdraw Bitcoin within Cash App from as little as a $1 investment.
Get involved in the stock market
If you have a little Wall Street investor bubbling to come out and play the market, Cash App can make it happen. Within the app there are commission-free investments offered and you can buy stocks starting with only a $1 investment. The app shows real-time quotes so you can monitor your portfolio on the fly.
Conclusion
So how much does a service like this cost? That's the best of it. For you as a consumer it's free.
Square, the company behind Cash App, make their money by charging businesses 2.75% per transaction as well as fees on premium consumer services such as charging a 1.5% fee for expedited payments and a 3% fee for anyone wanting to make personal payments using a credit card. But those are voluntary services and easy to avoid so you can enjoy the convenience of Cash App's free services.
But enough said about others' apps, let's talk about yours.
Whether you are building a new app or re-doing your old app for Android, iOS or both devices, we can help. We have extensive experience with creating quality, high-performing apps.
And, if you'd like to learn more about what it takes to build an app, give us a call or reach out with questions. We'd love to talk to you about your app idea!
---
About Inspire Visual
At Inspire Visual, we believe that compelling design, functionality and content help drive effective results. That's why we work hard to provide innovative, visually inspiring and functionally sound solutions to address your marketing challenges and extend your brand's reach.
We offer decades of experience helping brands worldwide with websites, mobile app development, email marketing, direct mail campaigns, brand identity design, UI/UX, graphic design, print design, tradeshow design and more. We feel privileged to be allowed into our clients' businesses, and we strive to provide personal service and close collaboration throughout your project.
Call 407.476.1950 or email [email protected] to contact us, so we can meet you, learn more about your business and answer any questions you have. We'd love to connect with you!
YOU MAY ALSO LIKE
Inspire Visual
Developing an app today is hard work for you or your app development agency. It requires a good understanding of the competitor landscape for any app category and how to take advantage of best practices, to remain relevant and exciting to the picky app users of today.
Inspire Visual
The online food delivery market is thriving and the popularity of using restaurant delivery apps keeps growing. Today, at-home restaurant ordering already accounts for 12 billion U.S. dollars spread across 50 million hungry app users. Restaurant owners are flocking to stick with the times and offer the food online. For good reason, the mobile app food delivery market is experiencing rapid growth and showing no signs of slowing down. The best time to get started was yesterday, the second-best time is today.
Are you ready to talk about your project?

Hello, I'm Angela, co-founder of Inspire Visual! Let's have a chat about your project. Send an email or fill out the form to get started. Talk soon!